Kaspa (KAS) has been on an explosive streak, riding a bullish trend and climbing the ranks as one of July's top-performing altcoins. Whispers are spreading that traders are ditching Bitcoin (BTC) to jump on the KAS train! Surging to all-time highs of $0.046, KAS has made an impressive 130% gain in just a month, while Bitcoin faced a 3% loss.
And that's not all! The crypto market is buzzing with other exciting coins making waves too. Wall Street Memes ($WSM), XRP20 ($XRP20), and Shibie Coin ($SHIBIE) are catching investors' eyes with their own remarkable rallies. But first, let's uncover the secret behind the KAS bullish surge!
KAS Token on the Rise – $30,000 Crowdfunding Marks a Turning Point
Kaspa has been causing quite a buzz since launching with a different approach in the blockchain world. It is based on Directed Acyclic Graph (DAG) technology to achieve better scalability while keeping the security of pure Proof-of-Work (PoW) intact. It's a smart blend that sets them apart in this competitive space.
One major reason for its recent surge in price is its successful $30,000 crowdfunding campaign. The community rallied together and exceeded the $30,000 target, showing their strong support. Currently, KAS is only available on Kucoin, but this successful crowdfunding campaign opens doors for other tier-1 CEX listings by covering associated fees to drive accessibility. Plus, they're going to do a robust marketing push after the listing to raise awareness, attract new users, and boost trading activity. All of this is essential for wider KAS adoption.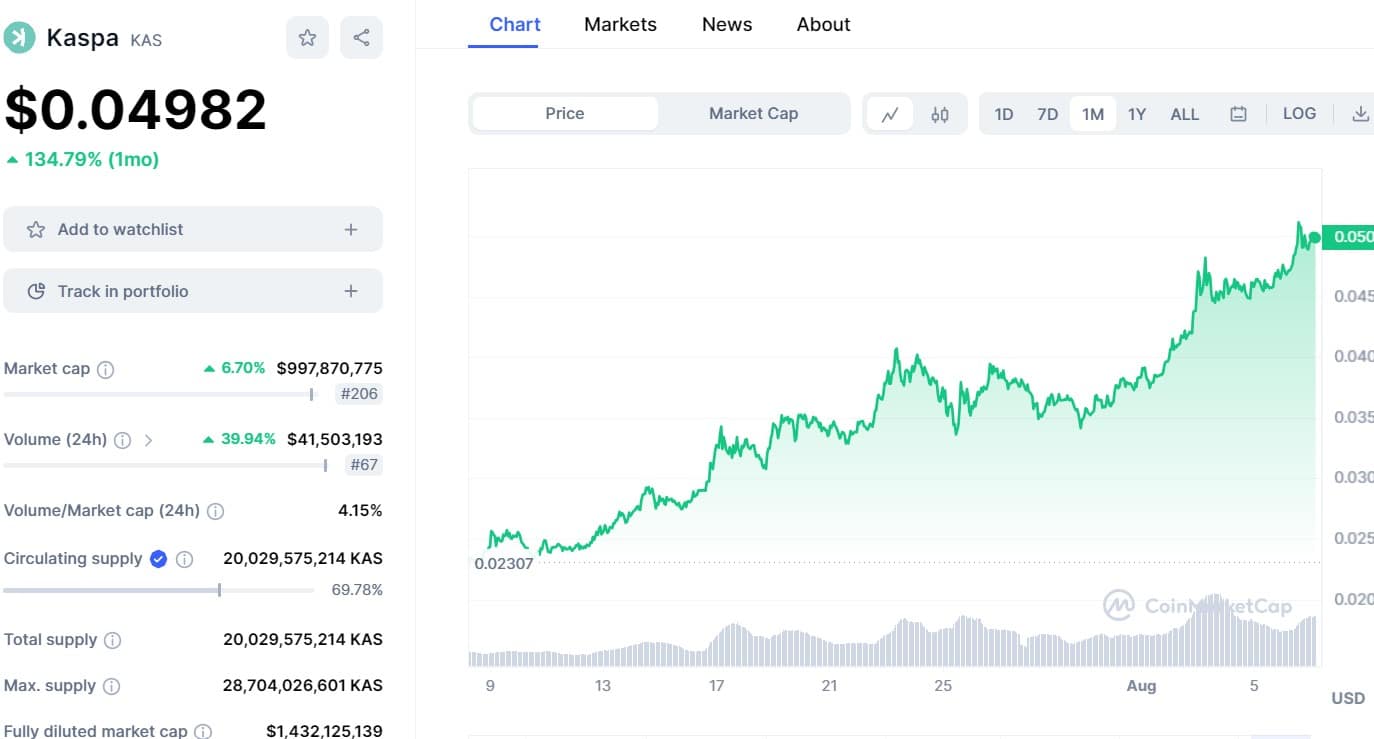 Thanks to this campaign, KAS climbed up to the top 50 in market cap – a significant milestone showing increased investor interest. The momentum is building, and there's potential for new all-time highs in the future.
Now, while KAS is killing it, there are also other coins making waves in the crypto market. So let's take a look at those!
1. Wall Street Memes ($WSM) – The Ultimate Meme Coin with $20M Raised and Elon Musk Approval
Wall Street Memes ($WSM) has taken off like crazy right now and is set to be the biggest meme coin of 2023! Recently a mega crypto whale dropped a jaw-dropping $850K into $WSM, spread across 5 wallets! That's like a rocket booster for their presale, which has already raised over $20 million!
The secret to their success? An insane community of over 1 million followers across social media platforms. These guys are the coolest online trading meme community, and their hilarious memes get a mind-blowing 40 million impressions every month! Even Elon Musk is a fan of them!
And guess what? The brains behind $WSM are no rookies. They're expert crypto developers who already launched a sold-out Wall St Bulls NFT collection, making a whopping $2.5 million in just 32 minutes!
Now, here's the kicker – the $WSM token sale is different from the rest. They're giving the entire supply to the public with NO cuts for the team or private sales. And with 50% of tokens up for presale and 30% reserved for community rewards, the potential for gains is off the charts.
These guys are aiming for a $1 billion market cap, and with the explosive growth and massive hype, it might just become a reality! So don't miss the train; jump in early and ride the wave of 2023's most epic meme coin.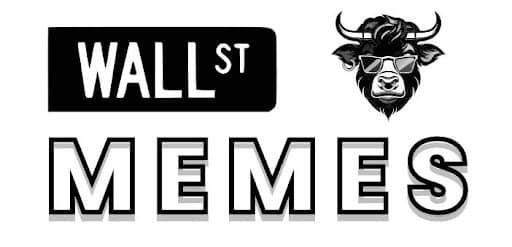 >>>Buy Wall Street Memes Now<<<
2. XRP20 ($XRP20) – The "Second Coming of XRP" Token with $200K+ Already Raised
Check this out, man! XRP20 ($XRP20) is the hot new token riding high on the excitement of Ripple's legal victory! It's been just a few days since the presale launched, and already it's got over $200k in investments, quickly approaching its $1.85 million soft cap.
They're calling it the "second coming of XRP," and the best part? It's super cheap at just $0.000092 – way less than XRP's all-time low! So, if you missed out on XRP's crazy 22,700% bull run, this is your second chance!
$XRP20 is getting all the attention for its on-chain Stake-to-Earn feature, something missing in the original XRP token. Plus, being an ERC-20 token, it works well with existing Ethereum apps and wallets. So, easy peasy trading, tracking, and storage!
What's even cool is that it has got an efficient burn mechanism going on! 0.1% of every buy/sell transaction gets burned, and 20% of the total supply will keep reducing the tokens, boosting their value over time.
The cherry on top? Their hard cap is just $3.68 million, making it a real low-cap gem with the potential for massive profits. So, don't miss out on this second chance with $XRP20.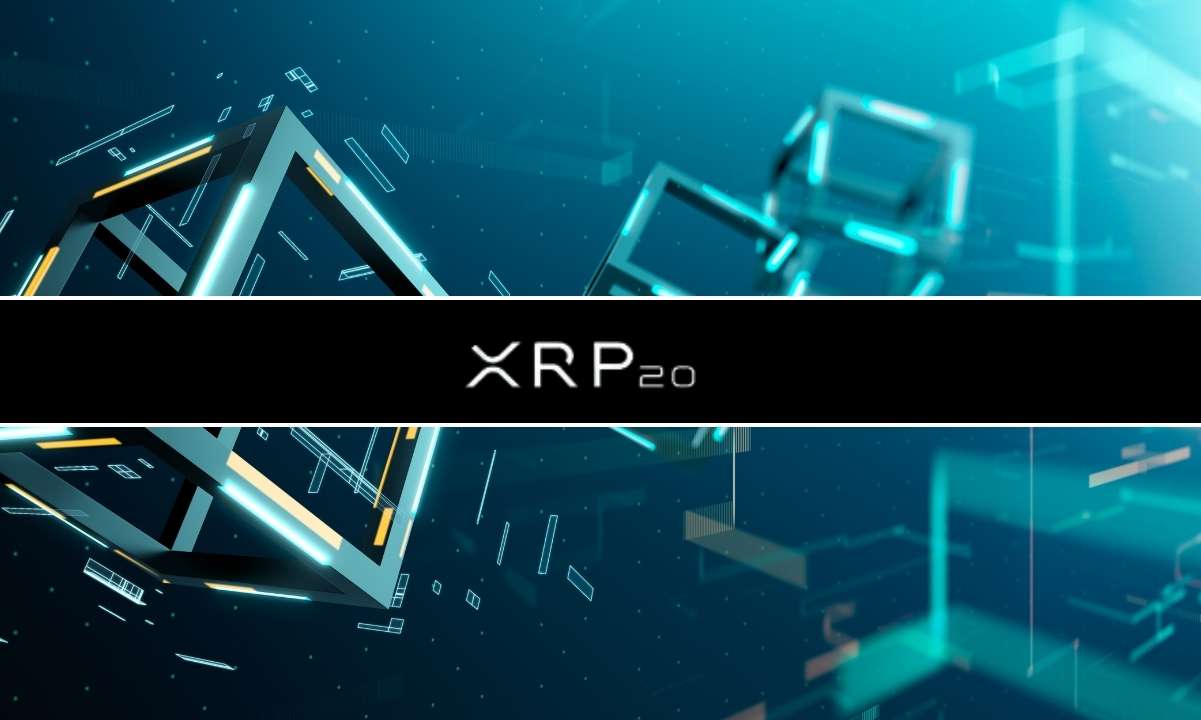 Shibie Coin ($SHIBIE) – The Shiba Inu-Barbie Mashup Crypto Gem with Big Plans for Growth
Shibie Coin ($SHIBIE) is a fresh and playful meme coin that brings some fun to the crypto world with its Shiba Inu-Barbie mashup persona. But it goes beyond memes, as this crypto gem has a strategic low-cap investment opportunity up its sleeve!
They've got a total supply of 10 billion $SHIBIE tokens, and right now, 60% is up for grabs in their ongoing presale at just $0.000167 per token. The rest is being used wisely – 20% for DEX liquidity, 10% for CEX listings, and 5% each for marketing and development. This well-thought-out structure is all about building a strong community.
And here's the exciting part – the presale gives you a chance to buy $SHIBIE before it hits the public listing! You can get in on the ground floor with just 100 tokens. 
But it doesn't stop there! $SHIBIE has big plans for CEX listings and marketing campaigns. More listings mean more exposure and trading volume. And guess what? There's even an AI-Telegram bot in the works to take meme coins to the next level!
Unlike other meme coins, $SHIBIE aims for long-term growth and has a solid roadmap. With its unique personality and strategic approach, $SHIBIE is all set to make its mark.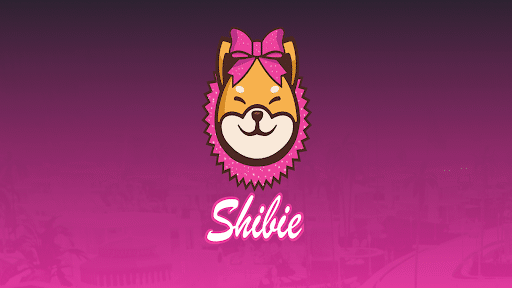 Conclusion
With KAS on an explosive streak and its successful crowdfunding, it's definitely worth checking out! But don't miss the hype train of the other top-performing coins: $WSM, $XRP20, and $SHIBIE – they're making waves in the crypto world too! So grab this chance and make some serious gains.