Hot new crypto has just hit the market, offering a chance to investors to become millionaires with a $100 investment. Just like in the wildest Bitcoin days, Bitcoin BSC (BTCBSC) has the potential to make a new batch of crypto millionaires overnight.
Bitcoin success stories are legendary among the crypto community. There are numerous tales of people who went from $100 to millionaire with Bitcoin, and most crypto investors are still dreaming of one such trade that will set them up for life. BTCBSC is offering one such opportunity. Today we are trying to determine whether this is a real deal or just another crypto scam.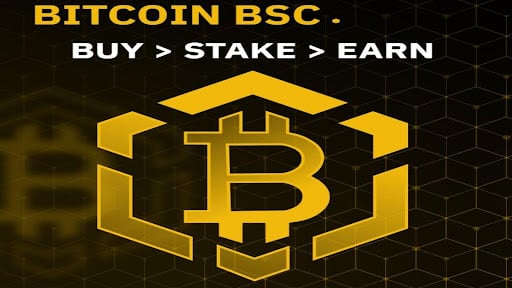 Bitcoin Millionaires – Can the BTC Success be Repeated?
Bitcoin BSC is currently on presale, with a price tag of $0.99. The price was deliberately chosen as an homage to the original Bitcoin and its price in April 2011. BTC was still in its early days, but that was the time when it started climbing and attracting the public's attention. Until then, Bitcoin as known to only a few crypto enthusiasts and the general public knew almost nothing about the coin that would change the world.
In February 2011, Bitcoin reached parity with the US dollar for the first time. In April, it was the last time it traded at that price. By June, the coin's price was $30, but then the price started fluctuating wildly for the next two years. Then, in 2013, it breached the $100 barrier; the rest is history. The world's premier cryptocurrency soon became a household name, creating millionaires in its wake as it raced toward stardom.
Most of us have missed that chance to live out our lives on some tropical island, but now we have another opportunity. As Bitcoin BSC is ramping up its presale, investors are turning to this latest crypto wonder, betting that it will make history. People who have missed out on Bitcoin bull run now have the opportunity for a redo. 
Investors Eye Bitcoin BSC as a Tempting Alternative As BTC Price Falls to Under $25,000
With a recent Bitcoin slump, many investors are starting to reconsider their position. The current feeling amongst traders is that the future of BTC is uncertain and while there is no doubt that the coin will recover, the question is when. Many can't afford to wait and are ready to dump their BTC holdings in order to pursue more short-term gains and BTCBSC may be an ideal opportunity for them.
Bitcoin has had a rough few weeks, following a flash crash in August, losing more than 7% of its value in under seven minutes. This was enough to send a panic wave among the investors, and some of them were trigger-happy enough to start dumping BTC from their portfolios. Considering last year's crash, it is easy to understand their panic and their desire to rid themselves of liability. Two weeks later, Bitcoin still hasn't recovered, causing even investors less prone to panicking to start considering whether it is worth it to keep BTC. The launch of BTCBSC couldn't come at a better time, as it offers a solution for their doubts and a clear short-term investment opportunity.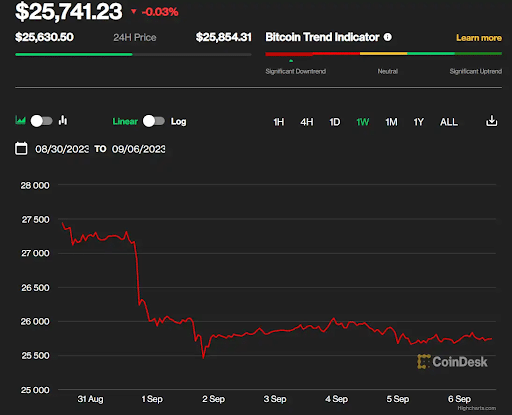 Bitcoin BSC – A New Bitcoin Based on Binance Smart Chain
Bitcoin BSC is launched on the Binance Smart Chain network, which is in turn based on the Ethereum technology. The advantages of BSC over the original Bitcoin blockchain are numerous. BTC network is the oldest blockchain in existence and despite several upgrades, it is showing its age. On the other hand, BSC is a more modern solution that allows token creators to fully exploit all the advantages a contemporary blockchain offers.
One of the biggest concerns in the crypto world today is security and this is where BSC shines. The network utilizes Ethereum's excellent and track-proven security system that minimizes the risk of malicious network attacks. Widely regarded as the most secure blockchain on the market, Ethereum fully deserves that title.
Binance Smart Chain is becoming a more and more popular choice for crypto app developers because it offers cheap transactions. Gas fees are lower than even Ethereum's, allowing users to make significant savings.
As a BEP-20 token, BTCBSC is easily accessible through secure wallets like MetaMask and Trust Wallet, providing an easy and convenient way of storing and trading tokens on crypto exchanges.
Bitcoin BSC Offers an Exciting Staking Option
One of the advantages of Binance Smart Chain over the original Bitcoin network is staking. Staking is an inherent feature of all Ethereum networks and Bitcoin BSC takes full advantage of that fact. It offers a significant passive income stream, encouraging people to hold on to their tokens and not sell them at the first price jump. In turn, this provides a steady upward pressure and generates value for both stakers and short-term investors.
The combination of Bitcoin's name recognition and lucrative staking option is an excellent way to drive the value of BTCBSC tokens. On top of that, mining is not an option, allowing users to make massive savings and access the Bitcoin BSC supply directly through purchase. Staking is a much more elegant solution for rewarding holders and is one of the most popular crypto features for a reason.
Bitcoin BSC Tokenomics and Presale Details Revealed
BTCBSC tokenomics is another nod to the original Bitcoin. The total supply of the new token is capped at 21 million. 6,125,000 of them are offered in presale, mirroring the Bitcoin supply from April 2011. The soft cap for presale is 4 million tokens, which will be sold in the first presale stage. The price will remain stable throughout the entire presale, set at $0.99. However, judging by the early results, the limiting factor will not be the price, but rather the presale token allocation. There simply won't be enough tokens to satisfy the demand, so you will need to hurry if you plan on adding this highly lucrative token to your portfolio.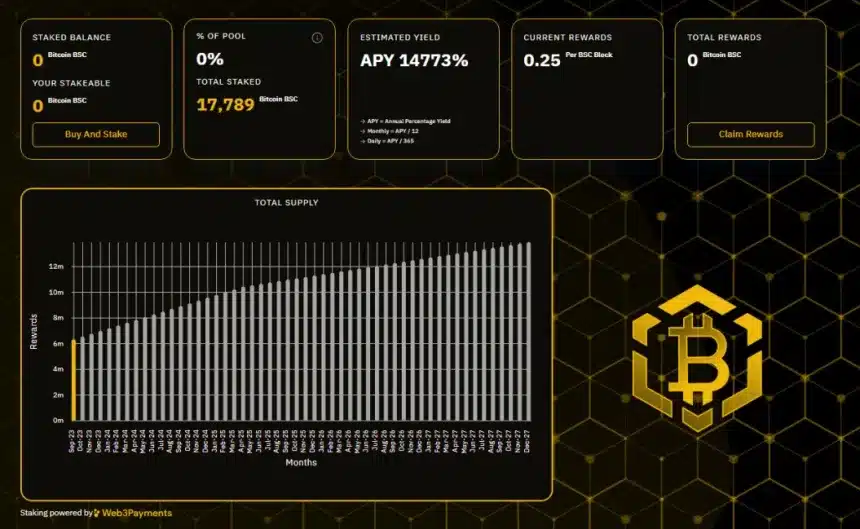 Conclusion
Several Bitcoin clones have recently hit the market and all have achieved significant successes. Bitcoin BSC plans on mimicking them and so far, is doing an excellent job. However, the number of tokens allocated for presale is relatively low and investors will have to act fast to secure their share.