The Virginia-FSU game sure looked familiar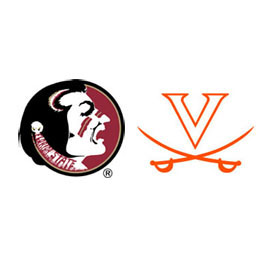 I knew when I saw Ty Jerome hit the breakaway layup around the 10-minute mark of the second half last night to give Virginia a one-point lead over Florida State that I had seen that game before.
A week and a half earlier, down in Durham.
Wednesday night, UVA played the role of Duke from Jan. 27. Florida State was Virginia from that date.
Key difference: Virginia won both games.
But first, to the similarities.
The 'Noles led 32-22 at halftime last night. UVA led Duke 30-20 at halftime back on Jan. 27.
The 'Hoos shot 44.8 percent from the floor at Duke, which shot 37 percent and had eight turnovers.
Florida State shot 47.8 percent from the floor against UVA, which shot 34.5 percent and had five turnovers.
There was no reason to expect anything different in the second half in either game. The teams ahead at the break were thoroughly dominating their opponents.
So, then, yeah, of course, it always happens, things changed.
Coming out of the locker room on Jan. 27, Duke stormed back quickly, taking the lead with 11:50 to go on an and-one by Grayson Allen that made it 44-42.
UVA, similarly, stormed out of the locker room last night, taking the lead with 9:58 to go on the layup by Jerome that made it 44-43.
Florida State regained the lead, briefly, but Virginia took the lead for good with 6:06 to go.
Back in Durham, UVA regained the lead at Duke on a Jerome three with 6:40 to go, mirroring what Florida State had been able to do to stanch the bleeding against the Cavaliers, but a De'Andre Hunter jumper at the 4:59 mark gave the 'Hoos the lead for good.
That was where the script flipped. Duke rallied, but Virginia had the answer, holding the Blue Devils to 5-of-13 shooting in the final 7:01.
At FSU, it was Virginia rallying, then holding the 'Noles without a basket for the final 9:01.
Another key difference to point out: Virginia was the road team in both games. Duke, as the home team on Jan. 27, had the energy of Cameron to help feed its run; UVA had to create its own energy, and seemed to have no trouble doing so, posting runs of 11-4, 11-2 and another one at 11-2.
To be fair to Duke, then, it had to rally against Virginia, and Virginia had to rally against FSU, which, to be fair to FSU, is an NCAA Tournament-caliber team, but it's not Virginia.
Story by Chris Graham