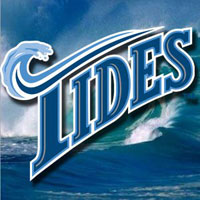 The Norfolk Tides dug themselves an early hole Wednesday night at Harbor Park before falling to the Toledo Mud Hens 4-3 in front of 4,162 fans.
Chris Tillman (3-3, 4.17) nearly didn't make it out of the 1st inning after surrendering four-straight two-out hits that led to four runs from the visitors. Jeff Salazar put the visitors ahead with an RBI single that plated Argenis Diaz. The Mud Hens added a second run on a double steal that saw Timo Perez successfully steal home after Adam Donachie threw down to second base. Hits by Danny Worth and Clete Thomas added the other two runs for Toledo.
Tillman settled down after the early trouble, retiring 11 consecutive batters before giving up a one-out single in the 6th inning. His night ended after 6.0 innings. He was charged with four runs (three earned) and gave up nine hits. He also struck out four batters and walked one.
As Tillman settled in, the Tides closed the gap. Brandon Snyder scored the home team's first run on a wild pitch from starter Adam Wilk in the 4th inning. Norfolk added two more runs in the 5th inning on a Jake Fox RBI single and a sacrifice fly by Snyder. The Tides put the tying run in scoring position on five separate occasions after cutting the lead to a run but couldn't produce a big hit.
Ryan Perry (3-0, 1.69) earned the win in relief after Wilk didn't go the necessary 5.0 innings to qualify. The reliever tossed 2.0 shutout innings but twice stranded the tying run at second base. He allowed two hits on the night and walked one while striking out two.
Chance Ruffin earned his seventh save of the season by tossing a shaky 9th inning. The closer gave up consecutive singles to leadoff the final frame, but Snyder grounded into a double play that turned the momentum and Robbie Widlansky struck out to the end the game.
The same two teams will play the finale Thursday afternoon at 12:15. LH Brian Matusz (0-2, 2.74) will try to salvage the series for the Tides opposite RH Brayan Villarreal (1-5, 4.70).
A blood drive will be held in the Harbor Park parking lot Thursday from 10:00-3:00. Fans that give blood will be rewarded with a free Tides ticket that can be used anytime this season.