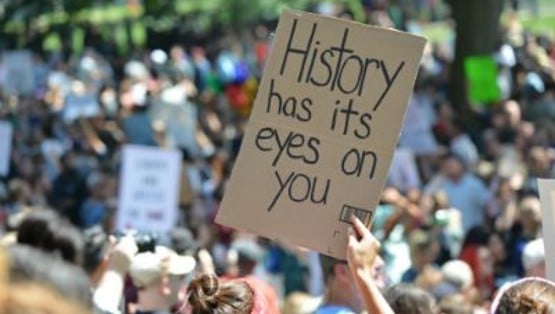 This fall I celebrate 20 years as a journalist.
In fall 2003, I began to write for my college paper at the University of Mary Washington and began a journey to share the truth and stories of every day individuals.
When I began the journey, a few topics of interest were in the back of my mind, many of which I never dreamed I would actually ever get to write about.
But I did.
At UMW, I interviewed a campus police officer and former local police officer who had served in the Vietnam War.
As a child of the 1980s, I watched "The A-Team" and kept wondering what had happened to the men who fought in Vietnam. What caused these men to be on the run for the rest of their lives from what had happened there? I wanted to know.
So when I had an assignment for a journalism course to write a profile on an individual and I found out an officer at my college had served in Vietnam, I was beyond excited. My story appeared in the Fredericksburg newspaper and my college newspaper.
Later, living in southern Maryland, I began to write more stories about veterans, which I continue to enjoy today as a journalist, but I also got to interview more Vietnam War veterans for another story. And now I know why the men who fought in Vietnam live with the scars.
Another story I wrote as a college student for a journalism class assignment was about feminism. Specifically, I was curious about the role of women as we entered the 21st century. Did college-age women have plans to raise children and stay home? Or were they focused on careers? A surprising number of them still hoped to stay home and raise children although living on one income was already challenging for American couples and families.
After college, I wrote for The Free Lance-Star in Fredericksburg where I ended up interviewing Jimi Westbrook of Little Big Town, one of my favorite country music bands. They were opening for George Strait that summer in Richmond, in what would be one of Strait's last tours before retirement. My favorite question to ask bands is how they came up with the name of their band. Westbrook said members of the band wanted a name that conveyed small town but also big time. Since our phone interview, Little Big Town has taken over country radio, including with their summer hit "Pontoon." For the record, I was a fan long before that song. I still love "Boondocks."
After Fredericksburg, I wrote for a weekly paper in Caroline County that is now gone. Future 1973 Triple Crown winner Secretariat was born Big Red in Doswell in Caroline County. I grew up knowing Big Red. My family mourned his death in 1989. But I never dreamed I would get to write about him or the farm where he was born in 1970.
A book about the farm and Big Red came out while I was a reporter: Secretariat's Meadow, co-written by Secretariat owner Penny Chenery's daughter, Kate Tweedy. Guess what I got to write about? As well as when Chenery and Tweedy visited the farm for tours.
Five years out of college and I'm writing about the greatest horse who ever raced.
In 2013, I moved to Waldorf, Md., and my apartment was five minutes from the Dr. Samuel Mudd House. For non-American history fanatics like myself: Dr. Mudd gave asylum and medical assistance to actor John Wilkes Booth after he had shot and killed President Abraham Lincoln in April 1865.
Lincoln has always been one of my favorite presidents. I wrote a paper about him in high school. I not only toured the Mudd House but also wrote about it, including for the 150th anniversary of Lincoln's assassination.
I also wrote about Rich Hill near Bel Alton, Md., the home of Col. Samuel Cox. Cox's foster brother aided Booth and conspirator David Herold for five days in the woods near the home before they crossed the Potomac River and journeyed into Port Royal, Virginia, where they were caught.
My lead for this story will always be one of my favorites: "His name is not quite Mudd, but Col. Samuel Cox's name is close to it in the history books."
My first summer in Waldorf marked the 50th anniversary of the March on Washington for Jobs and Freedom, led by the Rev. Dr. Martin Luther King Jr., one of my favorite historical figures. I had the opportunity to interview local members of the community who marched in D.C. and were there when King gave his "I Have a Dream" speech.
I never planned to have the opportunities to write these stories, but they happened.
Since moving to the Valley, I've been able to write about local education, theater and organizations.
I got to write about "The Sound of Music" production in March at ShenanArts. I grew up watching that movie, which is one of my mom's favorites.
I wrote about The Wayne Theatre's production of "The Importance of Being Earnest," a play I had never read or seen performed, but now adore.
Waynesboro High School's production of "Grease" and "Anastasia" were also milestones for me. The film "Grease" was in theaters four months after I was born, and has always been one of my favorites, as well as the 1997 cartoon film "Anastasia." Oh, the music in both productions!
This year I've begun writing about local LGBTQ, including a story several weeks ago about a transgender youth in Staunton. More will come.
I'm also keeping Augusta Free Press readers up to date on the horseracing scene in the U.S., and federal legislation regarding healthcare, artificial intelligence (AI), technology and China.
Last week, I wrote three articles about the Titanic as the world followed the story of the submersible Titan, at first lost as it submerged to survey the Titanic's wreckage. I even got to write about how the Titan's pilot was married to a descendant of a couple who died on the Titanic.
So, what stories are left? Local productions of "Rent" and "Cats" would be amazing. But, again, I never planned the stories I have had the opportunities to write.
Sounds a lot like history, doesn't it? We just don't know what will happen next.
I have a 2003 Washington Post cartoon on my desk that I cut out of the newspaper. The cartoon is about the influence of media. At the bottom it reads: "'Journalism is the first draft of history', as they say."