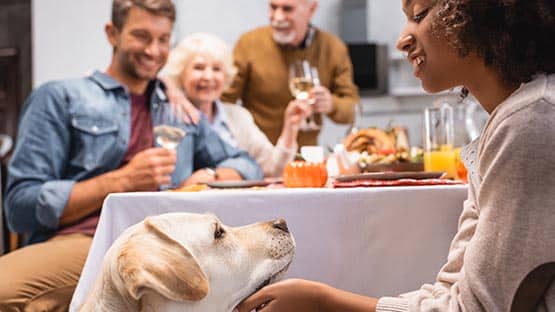 Thanksgiving is a time for family, friends and food, and of course, our pets are with us as we celebrate the season. However, it's important to let your guests know not to feed your pets table scraps.
A doctor of veterinary medicine weighed in on the holiday and its impact on pets.
"Pancreatitis and 'garbage intoxication' are very common after the holidays, said Jamie Freyer, DVM. "Protect your pet by making sure only to feed them healthy items, and let your families know as well."
A survey of 1,000 dog owners in the U.S. by Veterianarians.org looked at Thanksgiving plans with dogs.
The survey found:
55 percent of U.S. dog owners say their dog has eaten something they shouldn't have during Thanksgiving.
Dogs are more likely to engage in this behavior when living in households with children, than when living in child-free households (59 percent vs. 50 percent).
Approximately 1 in 6 dog owners have had to take their dog to the vet as a result of their pet eating something they shouldn't have during Thanksgiving
1 in 8 have had to call a poison control hotline for the same reason.
For dogs, the average cost of a foreign body removal surgery in the U.S. is $2,000-$5,000. Thanksgiving foods such as turkey bones and corn-on-the-cob can easily cause blockages that would require this type of surgery.
Just over a quarter of U.S. dog owners (26 percent) say they would not be able to cover this amount should their dog encounter such an emergency during Thanksgiving.
It's important to know which traditional Thanksgiving foods are dangerous to dogs in order to keep our pets safe.
Toxic and harmful foods for dogs:
Turkey skin and bones: While lean turkey meat is safe in moderation, the skin is often seasoned and cooked with spices, making it too fatty and potentially leading to pancreatitis in dogs. Turkey bones can splinter and cause choking or blockages in the digestive system.
Rich, fatty foods: Foods high in fat can cause upset stomachs in dogs and lead to more severe conditions like pancreatitis. Be cautious with gravies, butter-laden dishes and creamy casseroles.
Dough and batter: Raw dough and batter can be a hidden hazard. The yeast in dough can cause it to expand in a dog's stomach, leading to bloating and severe discomfort. Similarly, raw eggs in batter pose a risk of salmonella.
Onions and garlic: Found in many Thanksgiving dishes, onions and garlic can cause gastrointestinal irritation and could potentially lead to red blood cell damage in dogs. Even small amounts, whether raw, cooked, or in powder form, can be toxic.
Grapes and raisins: Grapes and raisins, often ingredients in salads and desserts, are extremely toxic to dogs. Ingesting even a small quantity can cause sudden kidney failure.
Chocolate/Xylitol: Chocolate is a well-known toxin for dogs. Theobromine, found in chocolate, can cause vomiting, diarrhea and even more severe reactions like seizures and heart problems in dogs. Be mindful of desserts or any baked goods containing chocolate. Xylitol is also an ingredient to be aware of. This artificial sweetener, found in sugar-free baked goods and gum, can cause insulin release and hypoglycemia in dogs, leading to liver failure.
Alcohol: Alcohol is harmful to dogs and can lead to vomiting, diarrhea, difficulty breathing and even death. Be cautious with alcoholic beverages and desserts that may contain alcohol, like certain puddings and cakes.
Nutmeg: Used in pumpkin pie and other desserts, nutmeg contains a compound called myristicin, which is toxic to dogs in large quantities. When ingested, nutmeg can cause a range of unpleasant and dangerous symptoms in dogs, including disorientation, increased heart rate, high blood pressure, dry mouth, abdominal pain and potentially seizures.
Nuts: Certain nuts, like macadamia nuts, are particularly toxic to dogs, causing symptoms like weakness, vomiting and hyperthermia. Even non-toxic nuts can be high in fats and oils, leading to stomach upset and pancreatitis.
Corn on the cob: Corn on the cob poses a significant risk to dogs primarily due to the cob itself. While the corn kernels are generally safe for dogs to eat, the cob can be very dangerous. Dogs often find cobs tempting to chew on, but they cannot digest them. If ingested, the cob can cause a blockage in the dog's intestines, which is a serious medical emergency.
For more advice on safety for dogs this Thanksgiving, click here.