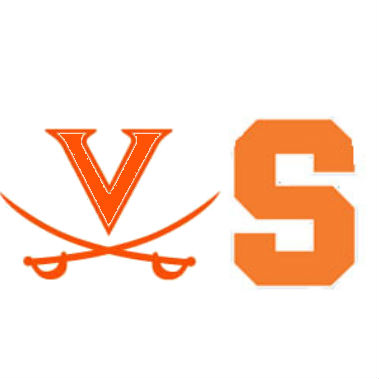 Top seed UVA led by 14 at the half, 16 early in the second half and 15 with 9:32 to go, but a 25-4 Syracuse run turned the game around and lifted the Orange to a 68-62 win in the Midwest Regional final Sunday night in Chicago.
Syracuse (23-13) trailed 54-39 after a London Perrantes three with 9:32 to go. After a Tyler Roberson dunk 16 seconds later, Orange coach Jim Boeheim had his team go to a full-court press to try to speed up tempo.
It worked.
Virginia (29-8), in its next 10 possessions, over a span of 5:22, committed three turnovers and missed four layups, and Syracuse used the opening to create a bevy of open shots.
Back-to-back threes by Malachi Richardson and Tyler Lydon cut the deficit to three at 58-55 with 6:50 to go, and driving layups by Michael Gbinije and Richardson gave the Orange its first lead since the opening minutes, at 59-58, with 5:50 left.
A three by Richardson with 4:37 to go pushed the lead to four at 62-58, and a Richardson layup at the 3:27 mark had the margin at six at 64-58.
An Anthony Gill layup with 1:42 to go cut the lead to four, and Virginia would close back to within two on a pair of free throws by Brogdon with 27 seconds left.
Gbinije missed the first of two free throws with 25 seconds left, leaving the door open for the Cavs.
Devon Hall ended up taking the most meaningful shot of the season, a contested three from the left wing that missed badly with 12 seconds left.
Syracuse closed the game out at the foul line.
The 'Hoos led 35-21 at the break, holding Syracuse to 30.8 percent shooting (8-of-26) from the field and 1-of-9 shooting from three.
Perrantes was on fire in the first half for UVA, connecting on 5-of-7 from long-range. The junior was just 1-for-3 from deep in the second half and finished with 18 to lead the Cavs.
Brogdon had 12, but had a horrid night from the field, shooting just 2-of-14 from the floor and 1-of-6 from three-point range.
Gill and Mike Tobey each had 10 for Virginia.
Syracuse benefitted from getting to the line early and often in the second half, going 16-of-18 from the stripe in the final 20 minutes and 20-of-25 for the game.
Virginia was 10-of-12 at the line, with Brogdon going 7-of-7.
UVA committed 13 turnovers, and Syracuse had a 15-2 advantage in points off turnovers.
Virginia has not been to a Final Four since the 1984 season.
NCAA Tournament Notes
Virginia is 28-20 all-time in 20 NCAA Tournament appearances
Tony Bennett is 9-6 career in five trips to the NCAA Tournament and also is making his first Elite 8 appearance (reached tournament in 2008 at Washington State, 2012, 2014, 2015 and 2016 at Virginia)
London Perrantes set a UVA NCAA Tournament record with six 3-pointers (previous record was five, set five times previously)
Team Notes
Virginia recorded 89 wins over the last three seasons, setting a program record (88, 1981-83)
UVA's senior class finished with 112th wins, matching a school record, set by the 1983 squad
Virginia finished 23-3 this year when leading at the half and squandered a 14-point halftime lead, its largest of the season (previous was three at Florida State)
Virginia is 4-4 all-time against Syracuse, including a 1-2 mark in NCAA tournament play
UVA recorded assists on 21 of its 22 field goals (26 on 32 field goals

Friday

)
This marks just the fifth game this year in which UVA scored more points in the first half than the second (Syracuse twice, Duke, Clemson)
Virginia used a 19-2 first-half run over an 8-minute span to turn an 8-2 deficit into a 21-10 lead
Virginia committed a tournament-high 13 turnovers, leading to 15 Syracuse points (15-2 in points off turnovers)
Virginia's six-point deficits (8-2, 64-58 and 68-62) were its largest of the tournament
Player Notes
London Perrantes scored 15 first-half points after hitting his five 3-point attempts in the first and tallied 18 points, his most since a 19-point game on

Feb. 15

against NC State
Malcolm Brogdon matched a career high with seven assists, set three times previously
Brogdon scored 12 points and finished his UVA career with 1,809 points, ninth in program history
Mike Tobey scored 10 points, his third straight game in double figures
Darius Thompson scored nine points, his most since an 11-point effort against Villanova on

Dec. 22