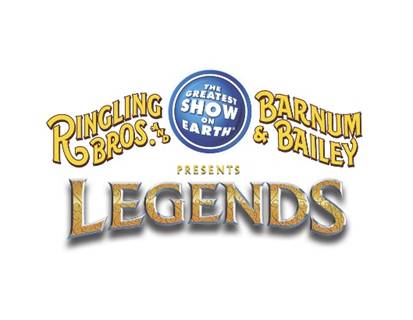 Ringling Bros. and Barnum & Bailey® Presents LEGENDSSM unveils the unbelievable to Children Of All Ages™. Experience epic family fun as legendary circus artists from around the globe perform awe-inspiring feats of daring, spectacles of strength and thrills of wonder to summon the mythical and the mysterious visions that have only existed in your imagination until now: the Unicorn, Pegasus and Woolly the Mammoth! Join us for an unforgettable family night of legendary proportions at Ringling Bros. and Barnum & Bailey Presents LEGENDS at the Richmond Coliseum fromMarch 11-15. Tickets are on sale now.
Uniting iconic circus stars with living mythological creatures in a celebration of the LEGENDS that have captured imaginations for centuries, Ringmaster Johnathan Lee Iverson guides Paulo, the Legend Seeker, on his quest to discover real, living legends.
Be thrilled by The Riders of the Wind, Cossack trick-riders who thunder into the arena on the backs of thoroughbred horses stealing your breath with their daring stunts. The Solar Hawks, a dream team of acrobats come together to amaze audiences by attempting three consecutive triple somersaults on a one-of-a-kind double-wide trapeze specifically designed for
The Greatest Show On Earth®. Audiences will also witness Alexander Lacey and his legendary bond with his lion, majestic leopard and tigers during one of the most captivating acts. They all come together with more thrilling acts, and of course Ringling Bros.' legendary Asian elephants, in this spectacular production that you can only see this year!
Free to all ticketholders, the All Access Pre-show starts an hour before the show. Come down to the arena floor and meet the performers of The Greatest Show On Earth, get autographs, take photos and enter to win a one-of-a-kind pachyderm painting.
For more information visit Ringling.com.
Performance Schedule:
Wednesday, March 11 –

7:00 pm

Thursday, March 12

–

10:30 am

,

7:00 pm

Friday, March 13

–

3:00 pm

,

7:00 pm

Saturday, March 14 – 11:00 am

,

3:00 pm

,

7:00 pm

Sunday, March 15

–

11:00 am

,

3:00 pm

,

7:00 pm
Tickets for Ringling Bros. and Barnum & Bailey Presents LEGENDS start at $15.  All seats are reserved, and tickets are available by calling 800-745-3000.  For group rates and information, call 804-592-3401.