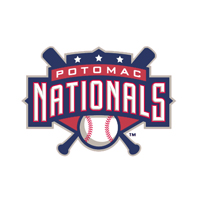 Reynaldo Lopez turned in a career night for the Potomac Nationals (53-62-Overall, 27-29-Home, 20-25-Second Half) against the Winston-Salem Dash (59-57-Overall, 27-29-Road, 29-17-Second Half) on Wednesday night in an 8-2 win at Pfitzner Stadium.
RHP Reynaldo Lopez (6-7, 4.22) hurled a season high tying seven frames, holding the Dash scoreless while relinquishing just two hits, he hit a batter, and he struck out a career high 11 batters en route to earning his sixth win of the season. Lopez was so dominant he only went to a three-ball count three times and never allowed a Dash baserunner to get to second base. The Dominican born righty hurled 103 pitches with 69 in the zone, also a season high. Lopez held the number four and five hitters of 3B Trey Michalczewski and 1B Keon Barnum to a combined 0-for-6 with six strikeouts and he struck out the final four batters he faced in the outing, including the side in the seventh.
Potomac, against RHP Yency Almonte (2-1, 2.29), was held off the scoreboard for the first three frames. In fact, Almonte was perfect through three innings, retiring all nine P-Nats he faced.
In the bottom of the fourth Potomac took the lead for good. CF Rafael Bautista reached on an infield single. OF Narciso Mesa was the next man up and Bautista decided to swipe second and then third. Mesa reached on a tapper infield single that scored Bautista for a 1-0 Potomac lead.
The Red, White and Blue blew the game open in the bottom of the fifth, plating four runs against Almonte. The first five Potomac batters reached base starting with DH Alec Keller singled to extend his hitting streak to eight games. SS Stephen Perez followed with a double, pushing Keller to third. 2B Khayyan Norfork walked to load the bases. C Craig Manuel, with the infield pulled in, singled through the right side scoring Keller and Perez for a two-run knock to push the lead to 3-0 P-Nats. LF Estarlin Martinez laced a double down the left field line for an RBI that scored Norfork for a 4-0 advantage. Two batters later Mesa roped a sacrifice fly out to left field that scored Manuel for a 5-0 lead.
Almonte pitched a scoreless sixth inning and that spelled the end of the night for the righty. He logged six innings and got dinged for five runs (all earned) on six hits, two walks and four strikeouts, taking his first loss in the Carolina League.
LHP Jefferson Olacio entered for Winston-Salem and Potomac picked up where they left off in the fifth, scoring three times. Manuel reached on an error charged to Olacio and moved to second base on a Mesa single with two outs. 3B John Wooten extended his on-base streak to 21 games with an RBI single that scored Manuel and increased it to a 6-0 lead. 1B Grant DeBruin followed with an infield RBI single, plating Mesa for a 7-0 lead and Keller notched his second hit of the night, an RBI single that scored Wooten for the final run and an 8-0 Potomac lead.
RHP Jake Johansen entered and threw a scoreless eighth inning with a strikeout and RHP Brian Dupra entered for the ninth. Dupra hit a bump in the road when CF Adam Engel led-off with a double. SS Eddie Alvarez drew a free pass. 2B Jake Peter struck out for the first out and Michalczewski knocked in the first run for the Dash with an RBI groundout to cut the lead to 8-1. Barnum followed with an RBI single to make it an 8-2 ballgame and that was the final after LF Nick Basto struck out to end it.
Dupra ended his night with an inning pitched, allowing two runs (earned) on two hits, a walk and he struck out two.
Potomac's pitching staff recorded 14 total strikeouts in the ball game and Winston-Salem never took an at-bat with a runner in scoring position against Lopez and went 1-for-3 with runners in scoring position in the game.
Potomac now sits 6.5 games behind the Lynchburg Hillcats with 25 games remaining on the 2015 schedule, including three against Lynchburg.
Tomorrow's rubber match will feature RHP Ian Dickson (1-2, 4.24) for Potomac against RHP Matt Heidenreich (12-2, 2.67) for the Dash.
First pitch is set for 12:05 pm at Pfitzner Stadium with gates opening at 11:00 am. The "P-Nats Lead-Off Show" will kick off the broadcast at 11:50 am and you can listen live via the TuneIn Radio App or at www.potomacnationals.com.