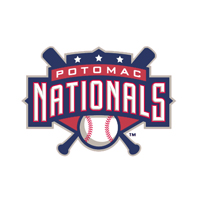 The Potomac Nationals (29-26, 15-11) banged out 16 hits and 12 runs in a 12-11 slugfest against the Salem Red Sox (27-28, 13-14) at Pfitzner Stadium on Sunday afternoon. The two teams managed at least one run between them in every inning of the ballgame except the 4th frame.
Washington Nationals 3B Ryan Zimmerman made his third rehab start in a row with Potomac on Sunday going 2-for-4 with two RBI base hits, including a double. Zimmerman also played seven innings in left field. Unlike yesterday, he was allotted an opportunity to make a play in left when he retired LF Kevin Heller on a high fly ball that came down into his leather in shallow left. Both of Zimmerman's hits went to right field.
Salem started the back and fourth battle with three runs in the first off RHP Ian Dickson. Dickson totaled 4.1 innings giving up seven runs on seven hits. DH Reed Gragnani knocked in CF Matty Johnson and SS Ryan Dent with a triple. Gragnani scored on a wild pitch in the following at-bat. Gragnani and Dent reached base safely the first nine times they stepped up to the plate.
Potomac countered in the bottom of the 1st with a run off Red Sox starter RHP Luis Diaz. SS Oscar Tejeda brought home RF Randolph Oduber with a sac fly to center.
Diaz gunned through 4.2 innings and allowed five runs on seven hits.
The P-Nats piled it on in the 2nd inning with four more runs. 2B Tony Renda cleared the loaded bases with a triple to deep center field. Zimmerman then summoned Renda to the plate with a double.
Salem came right back in the 3rd with a three-run base hit of their own when C Carson Blair smacked a double to right-center. The Red Sox also put up a run in in the fifth with a 1B Tim Roberson RBI-single and the same result in the sixth from Gragnani. RHP Wander Suero (1-1) was excellent in 3.1 innings of relief allowing one run on three hits.
The scoring then shifted to the home team for the 6th, 7th and 8th off of the eventual losing pitcher RHP Kyle Kraus (2-1). After a DH Justin Miller leadoff double in the sixth, Zimmerman collected his second RBI of the afternoon with an opposite field single. 1B Shawn Pleffner grabbed the first of his three singles to score Renda.
The P-Nats brought out the power bats in the 7th inning for their first homers of the series to take the lead. C Cole Leonida tied the game with a solo shot to left followed two batters later by Miller's first tater of the season to take a 10-8 lead.
Potomac collected two very valuable insurance runs in the 8th inning when CF Will Piwnica-Worms darted a single up the middle scoring Pleffner and 3B Khayyan Norfork making it a 12-8 game.
Before it was all said and done, Salem rallied in the 9th inning against RHP Derek Self (3 SV) with a Blair two-run home run. Three soft base hits later, it was a 12-11 game after a 5-for-5 performance from Ryan Dent was complete. Self then froze Dent looking to end the game in a wild affair that warranted 23 runs and 31 hits in total.
The Potomac Nationals Baseball Network, which is accessible at www.potomacnationals.com, will broadcast the final game of this four game series on Monday, June 2nd. Broadcast coverage will begin with the P-Nats Leadoff Show at 6:50pm in preparation for the 7:05pmfirst pitch. RHP John Simms (0-3, 4.50) will take the mound for Potomac as he faces off against RHP Pat Light (1-2, 5.06).
It's another Dollar Monday presented by: The Washington Post with $1 hot dogs and general admission tickets at the Potomac Nationals Ticket Office.