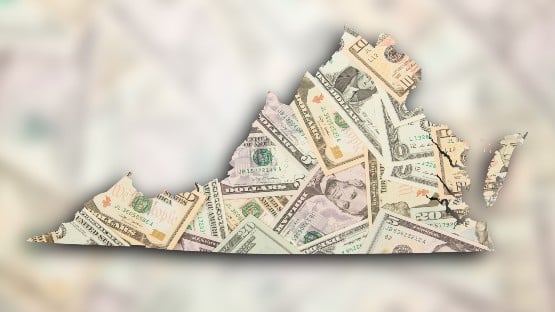 More than one-third of Virginians believe that inflation and the rising cost of living is the most important issue facing Virginia today, followed by education, women's reproductive rights and gun control.
"Our recent Wilder School poll showed Virginians are concerned about the costs of living," said L. Douglas Wilder, who served as the 66th governor of Virginia. "I've always had a one-word definition for politics — money — and the people are likewise focused on inflation and the skyrocketing cost of living."
The Commonwealth Poll obtained landline and mobile telephone interviews from July 14-25, 2023, with a representative sample of 804 adults living in Virginia. It has a margin of error of plus or minus 5.46 percentage points.
Full results may be found at research.wilder.vcu.edu/commonwealth-polls.
Breaking down the poll results
Inflation and rising cost of living
Some of the demographic groups most likely to cite inflation and the rising cost of living as the most important issue were Asian respondents (55 percent), those who completed some college but did not obtain a degree (53 percent), Independents (47 percent ) and those ages 18 to 34 (47 percent).
Black Virginians were the only demographic group that said an issue other than inflation is the most important issue facing Virginia, with a higher proportion of Black respondents citing education (28 percent), followed by women's reproductive rights (21 percent) and inflation (20 percent).
Allocation of Virginia's budget surplus
A slight plurality of Virginians said they would prefer that Virginia's $1 billion budget surplus be used for projects such as building or repairing schools, compared with 43 percent who would prefer that the surplus be used for tax relief for Virginians.
Responses varied along party lines, with 64 percent of Republicans favoring tax relief while 68 percent of Democrats favored projects such as building or repairing schools. Independents, like Republicans, preferred tax relief (50 percent) to projects such as building or repairing schools (38 percent).
Impacts of climate change
Most Virginia households (59 percent) report they have not experienced any impacts from climate change, while 38 percent report they have experienced impacts such as coping with extreme heat and sea level rise.
The majority also said they are strongly or somewhat concerned about future impacts of climate change (69 percent), compared with 29 percent who said they are not concerned.
By political affiliation, 92 percent of Democrats and 68 percent of Independents said they are either strongly or somewhat concerned about future impacts of climate change, while a majority of Republicans (55 percent) said they are not concerned.
The future of artificial intelligence
When asked whether they think the development of AI will be a more positive or negative change for American society, most Virginians (53 percent) said they believe the effect will be negative, while 30 percent believe that the changes will be positive.
Younger people are more likely than older people to believe that the changes will be positive, with 46 percent of respondents ages 18 to 34 citing a positive impact of AI, compared with 25 percent of those 55 and older and 23 percent of 35- to 54-year-olds.
Responses also varied by ethnicity and race, with 46 percent of Hispanic or Latino Virginians believing that the effect of AI will be more positive, compared with 27 percent of white Virginians and 18 percent of Black Virginians.
Nearly two-thirds (63 percent) of Virginians said they believe it is likely or very likely that AI will perform most of the job tasks that people do now in the next 10 to 20 years. Black Virginians (85 percent) and Independents (82 percent) were the most likely to hold this belief.
New K-12 standards for history classes
The K-12 standards for student learning and achievement in the area of history are required to be reviewed by the State Board of Education every seven years. Recently, with most members now appointed by Gov. Glenn Youngkin, the board approved new standards.
While 35 percent of Virginians didn't know about this or had no opinion, 31 percent said they approve of the new history standards, while 35 percent said they disapprove.
Perceptions of the new standards were split along party lines, with 52 percent of Republicans approving and only 14 percent of Democrats indicating approval. Men were more likely than women to approve (36 percent and 26 percent, respectively), and white Virginians were more likely to approve than Black Virginians (35 percent and 12 percent, respectively).
The value of a four-year college degree, affirmative action, student loan forgiveness
Virginians were evenly split on whether the total cost of college at a four-year state institution in Virginia is worth it, with 47 percent agreeing and 47 percent disagreeing. Democrats (54 percent), those in households whose income is more than $70,000 per year (53 percent) and respondents 55 and older (64%) were most likely to agree that a four-year college degree is worth it. Most people (55 percent) also agreed that college is preparing students for the workforce, with 38 percent disagreeing.
A similar even split was found in a separate question about higher education in the new Commonwealth Poll, as reported last week: Virginians were divided on the recent Supreme Court decision on affirmative action in college admissions, with 41 percent agreeing it should be banned and 41 percent disagreeing.
Regarding a court decision prohibiting President Biden's student loan forgiveness proposal, more Virginians (49 percent) believe the federal Department of Education should be able to move forward with it than do not (42 percent).