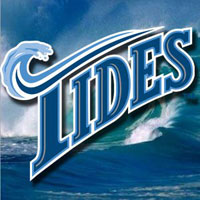 Brian Matusz couldn't stop the Toledo Mud Hens Thursday afternoon at Harbor Park, and the Norfolk Tides were swept with an 11-3 defeat in front of 5,656 fans.
Matusz (0-3, 4.72) lasted just 3.2 innings, his shortest outing of the year after allowing eight runs (seven earned) on eight hits. The former first round draft pick ran into trouble in the 2nd inning after allowing the first three batters to reach base. Ben Guez put the visitors on the board with an RBI single. One out later, Max St. Pierre increased the lead with a bases loaded, RBI single of his own. The Mud Hens added two more runs in the frame on an error by Brendan Harris and a sacrifice fly by Argenis Diaz.
Jake Fox did his best to bring the Tides back, knocking a three-run homer in the 3rd inning that brought the home team to within 5-3, but the troubles for Matusz continued before he was run from the game after allowing an RBI single to Danny Worth in the 4th inning.
Nick Bierbrodt didn't fare much better in relief of Matusz. Following an RBI single from Guez, Clete Thomas crushed a three-run homer off the bottom of the scoreboard in right-center field that broke the game open for Toledo.
Brayan Villarreal (2-5, 4.68) kept the Tides off balance all afternoon and allowed just three batters to reach scoring position. He lasted 6.0 innings and gave up three runs on five hits.
Will Startup served up a home run to Guez on the first pitch he tossed in the 6th inning. It was the only hit Startup allowed in 2.0 innings. Jose Diaz and Jeremy Accardo each pitched a scoreless inning of relief.
The Tides will welcome Gwinnett to town Friday night at 7:15 for the start of a four-game series. RH Mitch Atkins (2-3, 3.11) will take the ball for Norfolk opposite RH Todd Redmond (6-8, 3.24).
The first 2,000 kids 17 & under will receive a Norfolk Tides Baseball Card Set (1-of-3) compliments of John's Tax Service. Former Virginia Tech quarterback Tyrod Taylor will also make an appearance to sign autographs for fans throughout the game.