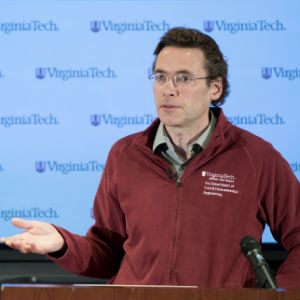 Virginia Tech's Marc Edwards, who led a team of university students and researchers that helped bring international attention to the lead-in-water and legionella contamination in Flint, Michigan, has been selected for the 2016 TIME 100, Time magazine's annual list of the most influential people in the world.
Edwards and Flint pediatrician Dr. Mona Hanna-Attisha were honored and featured in a TIME 100 story written by MSNBC's Rachel Maddow. The full list of honorees is available online and will be on newsstandstomorrow.
Edwards and Hanna-Attisha will be among those honored at the annual TIME 100 Gala on Tuesday, April 26, at Jazz at Lincoln Center in New York. This event, which will include many current and former TIME 100 members, will bring together the world's leading figures in politics, technology, science, philanthropy, media, business, and entertainment and attracts worldwide media coverage.
Edwards is the Charles P. Lunsford Professor of Civil and Environmental Engineering at Virginia Tech and a nationally renowned expert on municipal water quality. In 2007, Edwards was named a MacArthur Fellow because of his work in ensuring the safety of drinking water and in exposing problems with deteriorating water-delivery infrastructure in America's largest cities.
Last year, Edwards become involved in Flint when resident Lee-Anne Walters reached out to him regarding the quality and safety of her tap water after her children suffered illnesses and rashes that were becoming alarmingly common across the Michigan city. After testing with Virginia Tech, Walters learned that her tap water had extremely high levels of lead.
In collaboration with other Flint residents, Edwards and a team of 17 Virginia Tech students and researchers conducted a comprehensive city-wide sampling effort of 277 homes last fall.
They concluded that Flint's water suffered from serious lead contamination as well as bacteria problems, including Legionella.
The efforts of many outsiders including the Edwards-led Virginia Tech Flint Water Team, Hanna-Attisha, and Miguel Del Toral of EPA, and many others help bring attention to the dangers facing Flint residents.
Since January, Edwards has served on Michigan Gov. Rick Snyder's Flint Water Interagency Coordinating Committee, which seeks long-term solutions to Flint's water system. He has been called upon twice in 2016 to testify before the House Government Reform Committee regarding the Flint water crisis, and testified to Congress four times in his career.
It was more than a decade ago, in 2003, that Edwards became involved in a even worse water crisis in Washington, D.C. With help from his student volunteers Edwards discovered corrosion in the water system had caused lead to seep into the city's tap water, exposing children to high lead levels.  He also found that the traditional method for testing for lead in water was misleading and needed to be changed.
After Federal agencies claimed that no one had their blood lead elevated above levels of concern, Edwards spent the next six years challenging authorities to acknowledge the extent of the problem, despite numerous attacks by the agencies on his personal and professional reputation.
It wasn't until a 2010 Congressional investigation–when it was proven that the Centers for Disease Control and Prevention report that Edwards had been sharply criticized, indeed contained misleading information about the Washington water crisis—that Edwards's claims were completely vindicated.
Edwards came to Virginia Tech from the University of Colorado at Boulder, where, in 1996, the National Science Foundation selected him as one of only 20 young engineering faculty in the nation to receive a Presidential Faculty Fellowship.
He completed his master's degree and Ph.D. in environmental engineering at the University of Washington and earned his bachelor's degree in bio-physics from the State University of New York at Buffalo.