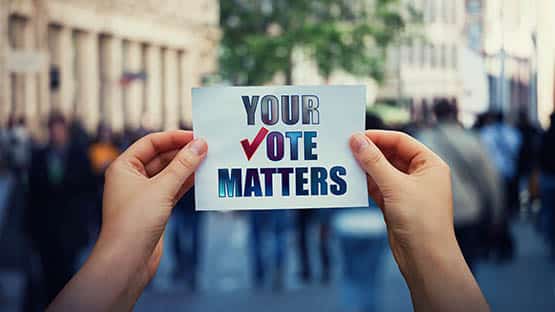 House Democrats introduced H.R. 14 last month, the John R. Lewis Voting Rights Advancement Act.
Lewis, who died in July 17, 2020, was a Georgia Congressman from 1987 until his death. Honored with the Presidential Medal of Freedom in 2011, Lewis was an American civil rights icon who was one of the 13 original Freedom Riders in 1961 and led the first of three marches in 1965 from Selma to Montgomery across the Edmund Pettus Bridge.
In April 2020, after endorsing Joe Biden for president in the 2020 election, Lewis recommended that Biden pick a Black woman as his running mate.
The legislation would protect the right to vote and safeguard our democracy by restoring and modernizing the full protections of the Voting Rights Act of 1965 (VRA).
The VRA was gutted 10 years ago by the Supreme Court in its Shelby County v. Holder decision, which unleashed a wave of discriminatory state laws targeting voters and restricting voting access. The laws closed polling stations, curbed early voting and voting by mail, imposed strict identification requirements, limited multi-lingual voting materials and made voter registration difficult. By restoring the VRA's authority, the John R. Lewis Voting Rights Advancement Act would prevent such laws from taking effect in states and localities with a recent history of voter discrimination.
"In a government by, of, and for the people, your vote is your power; however, it took centuries before African Americans, women, and other historically marginalized groups could exercise their fundamental right," Congresswoman Jennifer McClellan of Virginia said. "I grew up on the stories of my great-grandparents, grandparents, and parents, who lived in the segregated South during Jim Crow and faced discriminatory voting laws that sought to bar their access to the ballot box due to the color of their skin. Today, we see state legislatures across the nation systemically work to disenfranchise voters and restrict voting rights. We cannot allow these alarming trends to continue."
The VRA prevented states and localities with a history of voter discrimination from restricting voting access by requiring such jurisdictions to acquire preclearance for new elections laws from the Department of Justice or a U.S. District Court. The Shelby County v. Holder decision struck down the formula used to determine which jurisdictions are subject to federal oversight. In July 2021, the Court further weakened the law in its decision in Brnovich v. Democratic National Committee, making it more difficult to challenge discriminatory voting laws under Section 2.
"As the late John Lewis said in his final words, 'Democracy is not a state. It is an act and each generation must do its part to help build what we called the Beloved Community, a nation and world society at peace with itself,'" McClellan said. "Throughout my time in the Virginia General Assembly, I fought to preserve the right to vote. From my first bill in the House of Delegates to make it easier to vote absentee, to passage of the Voting Rights Act of Virginia in 2021, which made our Commonwealth the first state in the South with its own comprehensive voting rights act, I always fought to ensure every Virginian can exercise their most fundamental right. Now in Congress, I am continuing those efforts alongside Congresswoman Sewell and my House Democrat colleagues as an original cosponsor of the John R. Lewis Voting Rights Advancement Act."
The legislation would establish a framework to determine which states and localities have a recent history of discrimination and require that they preclear new election changes, and prevent restrictive and discriminatory voting laws from taking effect. The bill restores Section 2 of the VRA by eliminating the heightened standard required to challenge discriminatory voting laws created by the Supreme Court in Brnovich v. Democratic National Committee. 
McClellan is a lifelong advocate for voting rights. In Congress, she is a proud member of the Task Force on Strengthening Democracy and the Voting Rights Caucus. She is an original cosponsor of H.R. 11, the Freedom to Vote Act, and a slate of eight bills that aim to protect and expand voting rights, safeguard our democracy, and improve our physical and election infrastructure.