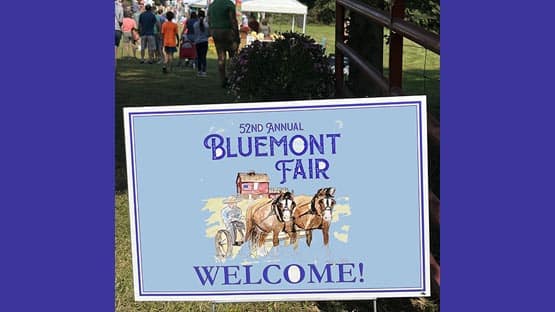 The organizers of the 53rd annual Bluemont Fair are looking for a design for this year's poster and t-shirt.
The theme for 2023 is the Blue Ridge Mountains and Bluemont's pastoral views. Artists are urged to be inspired by details that relate to the scenery around the village (such as fields, streams, stone walls, grazing cattle) as well as the Blue Ridge Mountains.
The fair will be held Sept. 16-17 in western Loudoun County.
Contest details
Artists of all ages and abilities may submit designs for consideration.
Artists' interpretations can be as broad or narrow as they choose, however design and colors should be suitable for replication on Bluemont Fair's distinctive poster (14"x22"), t-shirt and merchandise.
The request is for design only as an illustration or graphic.
Details will be added after the winning design is selected.
The selected artist's name will be printed on the poster and their work acknowledged in fair publicity.
Multiple entries per artist permitted.
Artwork should be mailed to Bluemont Fair Poster Design Competition, P.O. Box 217, Bluemont, Virginia, 20135, and must be received by April 21.
The artists' name should be on the back of the art. Organizers would also like artists to include contact information and a brief biography with the submission.
Individuals requesting return of their submission should also include a self-addressed, stamped mailing receptacle.
Past designs may be viewed at www.bluemontfair.org
For further information, call (540) 554-2367 or email [email protected]