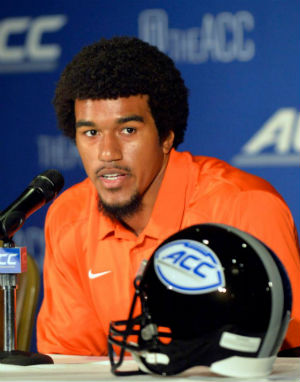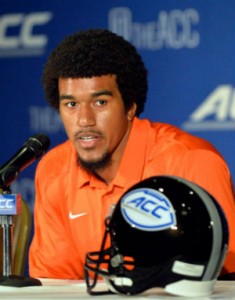 Q. You've got Florida State earlier this year. What kind of things do you think you need to do after seeing what happened last year in Death Valley that you need to change in order to get the win?
VIC BEASLEY: I think we can change the way that we approach the game. We came into that game, we had the right mindset, but a momentum shift early in the game really swayed our momentum. So I think that being able to rebound and just focusing on rebounding from mistakes and getting better at our mistakes will definitely play a big role in our success against Florida State.
Q. Vic, you have a new player now in your division in Louisville. What do you know about the Cards' program?
VIC BEASLEY: I don't really know too much about that program, but I know last year they had a pretty good season. We look forward to playing them this year.
Q. I can't quantify this, but it seemed watching you guys on TV that you made more plays defensively to win games than I can remember maybe since the great Clemson teams of the '80s. What about the defensive mentality on the defense has taken you guys from more than just stopping people but forcing turnovers and making game-winning plays?
VIC BEASLEY: Last year we had a big chip on our shoulder as a defense, and the year before that we came into the year with a chip on our shoulder. A lot of people thought that we was the weak link of the team, so we came into that season last year with a chip on our shoulder, and we were just ready to make a statement to the country. I feel like that's what we did last year, and we're looking to do the same thing this year.
Q. Someone asked just a little while ago that in terms of quarterback protection, they asked kevin parks is it tough to stop certain members of the defense in the ACC. Are there certain pass blockers that you find to be more challenging than others?
VIC BEASLEY: Definitely, guys like Cameron Erving from Florida State, have a lot of respect for him. He was one of my toughest match-ups last year, and Morgan Moses, too, also from Virginia.
Q. This year you're coming in as the leader on the defense. How have you embraced your role as being a captain and a leader?
VIC BEASLEY: I embraced it well. This year I look to be a more vocal leader than I do a leader by example on the field. I feel like the experience that I have has really been good to my team, and they need my vocal leadership now.
Q. This team, at least as far as we up north, has been dominated by the offense. How much will it be a defensive dominated team this year do you think?
VIC BEASLEY: I think we have the potential to be the best defense in the country. With the experience up front like we have with guys like Grady Jarrett, Corey Crawford, just to name a few, and then our linebackers Stephone Anthony and Tony Steward, I feel like the guys on the front seven are capable of being very beneficial to the team this year, and I feel like we have the ability to be the top defense in the country this year.
Q. I'm going to ask you about the offense. You see them every day. The ACC now keeps a stat, percentage returning — percentage passing returning, percentage running returning, percentage receiving returning. Clemson's returning numbers are lower than most of the other leagues, and yet listening to Cole he clearly believes there's talent to win. They also have to mesh well. What are you seeing? What gives you confidence about the offense?
VIC BEASLEY: I mean, the way I hear Cole talk, it always motivates me, him coming into this year being the starting quarterback is beneficial to this team. He's had great experience playing behind Tajh Boyd, and with Cole being a leader, I feel comfortable with the success of our offense this year.
Q. Vic, we talked about the defense a lot, obviously, but how would you define it, its characteristics? You said it could be the best in the country. When all is said and done, what makes you say that?
VIC BEASLEY: Experience. I mean, we led the country last year in tackles for loss, and we've got experience with guys like Grady Jarrett, Corey Crawford, and then we've got guys like Shaq Lawson who isn't even a senior yet making a big contribution to the team last year. With guys like that, I feel like we just have so much experience, and with all the knowledge that we have as a defense, I feel like there's no reason why we shouldn't be the top defense in the country.
Q. What are your personal goals for this year, and do you think you can work yourself into the Heisman race?
VIC BEASLEY: I feel like I could. My goals for this year is really to win the national championship and be the best influence my team needs. It's to lead my teammates and leave a legacy at Clemson University.