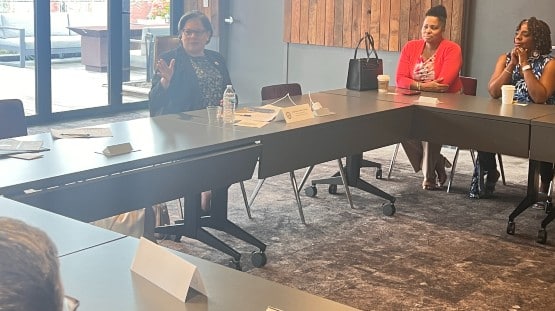 Last Tuesday, Congresswoman Jennifer McClellan of Virginia, the Metropolitan Business League (MBL), a Biden-Harris Administration official and local Black-owned businesses convened a roundtable discussion.
In honor of National Black Business Month in August, McClellan listened to the concerns and challenges of Black business owners, including lack of access to capital and the need for increased federal resources.
"Small businesses play a vital role in our local communities, generate billions of dollars in economic impact, and employ over 1.6 million Virginians across the Commonwealth," McClellan said. "To celebrate National Black Business Month and Black entrepreneurs in Virginia, I was proud to partner with the Metropolitan Business League to host this roundtable discussion. It was a wonderful opportunity to connect Black-owned businesses with SBA officials and the federal resources made available by the Biden-Harris Administration and Congress."
MBL Vice President for Business Development Micah White said that McClellan's participation in the roundtable was "immeasurable."
"It builds trust in those we serve, proves her commitment to accountability, and bridges the gap for accessibility to resources needed to help those businesses succeed," White said.
Congresswoman McClellan also underscored House Republicans' proposed funding cuts to the Small Business Administration (SBA) advanced out of the House Appropriations Committee's FY2024 Financial Services Subcommittee funding bill. The bill includes:
$823.1 million for SBA, a decrease of $72.4 million below fiscal year 2023 levels and $163.5 million below the requested amount for fiscal year 2024.
$299.3 million for SBA's Entrepreneurial Development Programs, a decrease of $20.8 million below fiscal year 2023 levels and $20.8 million below the requested amount for fiscal year 2024.
"Small businesses, especially women- and minority-owned small businesses, face serious challenges like a lack of access to capital, affordable childcare options and other operational difficulties," McClellan said. "Despite this, House Republicans are proposing devastating cuts to critical federal programs upon which our small businesses rely. They deserve better. I will continue fighting in Washington to ensure our small business owners have the resources and support they need to succeed."