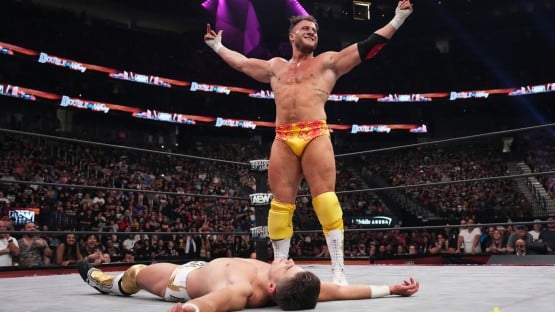 The AEW world title didn't change hands at "Double or Nothing," as expected, though the show did have one surprise, with Kris Statlander returning to defeat TBS champ Jade Cargill in an unannounced match.
The main event, pitting The Elite and Blackpool Combat Club, was a dud, but we knew that going in.
All told, an entertaining show, even if not much of consequence happened.
Match of the Night: FTR retains in tag-title match with Jay Lethal and Jeff Jarrett
The fear going in was that Tony Khan was going to turn Mark Briscoe, the special ref for this one, heel, given the hints that we had going in.
Briscoe was, not surprisingly, awkward as a ref in his debut in that role, counting way, way, way too fast on pinfalls, but otherwise, he played it down the middle.
The layout for the match was classic tag-title wrestling, with FTR gaining the advantage early, ahead of Lethal and Jarrett taking the low road to take control, ahead of a few false finishes, including a ref bump and a couple of guitar shots.
It's what you get when you put the best tag team in the world in a match with two polished guys like Lethal and Jarrett.
It was obvious storyline-wise going in that FTR would retain, but the way this one played out had us wondering, which is what a good match is supposed to do.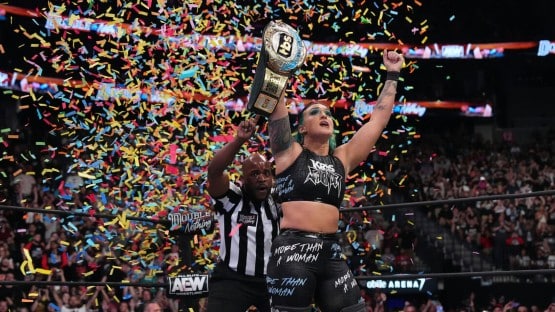 Surprise of the Night: Kris Statlander
Khan finally feels comfortable enough with Cargill, who briefly improved to 60-0 with her win over Taya Valkyrie last night, taking a Road to Valhalla in the process, to end her long undefeated streak.
There had long been speculation that the person to end it would be Statlander, who had been booked in the direction of a TBS title feud with Cargill before blowing out her knee last year.
What we didn't know was that Statlander was ready to come back.
The way this one was booked played out perfectly, with the hapless manager Mark Sterling issuing an open challenge after Cargill's hardfought win over Valkyrie, the fans popping at the arrival of Statlander, and then what amounted to a squash win.
Cargill can rightly say that she was sold out by her manager, who put her in a tough spot after a tough match, to set up a rematch program that should pay off at "All In" in August.
Good work here.
Blah: The four-way match for the world title
All you had to do to get a sense of who was going to win this one was look at the four guys in the ring as they were being announced.
Sorry, but Darby Allin, Sammy Guevara and Jack Perry just don't give off the world-champ vibe.
This one was a spotfest, because those three are spotfest wrestlers.
Here's to hoping that Khan comes up with a better dance partner for MJF going into "All In."
Not Over Yet? Why? Elite vs. BCC
The conclusion to the falls count anywhere nonsense match between The Elite and Blackpool Combat Club makes it clear that there's more of that type nonsense still to come.
Frustrating production note: one of the cameramen at ringside was in all black with a black face covering for several matches throughout the night, and it was obvious that the guy was eventually going to unmask and play a role in one of the big matches at the end of the night.
When he finally unmasked and revealed himself to be Konosuke Takeshita, turning heel to join BCC, the announcers had nothing to say about how he'd been hiding in plain sight all night.
So, there's that, and then also, as much as I love Takeshita from a talent standpoint, he's best-known to AEW fans for his losses to Bryan Danielson and Jon Moxley, with his 27-13 record in AEW puffed up by a string of wins over jobbers.
Ending a pay-per-view with a low-midcard guy unmasking and then turning heel is a dud on the level of that stupid exploding ring match from a couple of years ago.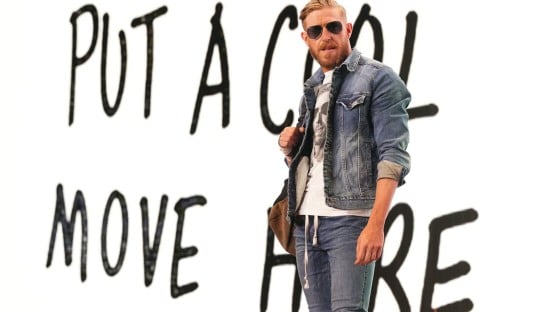 Lazy Booking Award: Orange Cassidy retains in battle royale
Khan just loves him some Orange Cassidy, which is what it is.
Khan needs to apply what he seems to have figured out with respect to Cargill and her long unbeaten streak and apply it to Cassidy, who is 25-2 this year and 98-24 over the past three years.
Cassidy is over with a portion of the fan base, no doubt, but he's a comedy gimmick wrestler – think: Jimmy "The Boogie Woogie Man" Valiant – with a title belt who seems to open every "Dynamite" and doesn't lose on pay-per-views.
It's hard to take the AEW product too seriously with Orange Cassidy being pushed as one of the company's top stars.
Also, have we reached a saturation point yet with all the damn battle royales?
Hotshot Booking: Gimmick Match Scorecard
There were 10 matches on the main card, including the two Cargill matches.
Among them was the battle royale, the unsanctioned match between Chris Jericho and Adam Cole, a ladder match for the TNT title with Wardlow retaining over Christian Cage, the four-way AEW world-title match, and the falls count anywhere main event.
That's five of the 10 matches being gimmick matches.
Of the other five matches, three were booked around outside interference (FTR vs. Lethal/Jarrett, Jamie Hayter vs. Toni Storm, Cargill vs. Valkyrie).
The only clean matches of the night were the six-man title match with House of Black retaining against The Acclaimed and Billy Gunn and the Statlander squash of Cargill.
When everything is overbooked to the nth degree, it's hard to get anything to stand out.