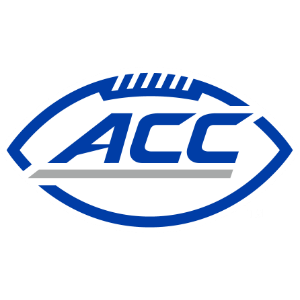 The ACC Football Players of the Week have been recognized following their performances in Week 10 of the 2018 season. The selections are determined by a vote of a 15-member media panel. The following are this week's honorees:
QUARTERBACK – James Blackman, Florida State, So.; Belle Glade, Fla.
Blackman made his first start of the season, completing 29 passes for 421 yards and four touchdowns in Saturday's 47-28 loss at No. 21 NC State • Blackman's 421 passing yards were the most for a Seminole since 2013, and his completions, yards and touchdowns were career highs • Starting for an injured Deondre Francois, Blackman had thrown just five passes on the season entering the game.
RUNNING BACK – Darrin Hall, Pitt, Sr., RB; Youngstown, Ohio
Hall was also named Walter Camp National Offensive Player of the Week for his efforts in Friday night's 23-13 win at No. 23 Virginia • Facing a nationally-ranked Cavalier defense that was yielding only 113 rushing yards per game, Hall more than doubled that total on his own • He rambled for 229 yards and three touchdowns on just 19 carries (12.1 avg.) and was not dropped for a loss the entire game • Hall's touchdown runs covered 41, 2 and 75 yards, the last giving the Panthers a 20-13 fourth-quarter lead • The victory lifted Pitt into first place in the ACC's Coastal Division and the Panthers scored their first road win over a ranked foe since their 2016 upset of eventual national champion Clemson.
RECEIVER – Tamorrion Terry, Florida State, R-Fr., WR; Ashburn, Ga.
Terry caught five passes for 142 yards and two touchdowns at No. 21 NC State • It marked his first career 100-yard game and second game this year with two touchdown catches • Ranks fourth nationally with 22.0 yards per reception on the season • Seven touchdown catches are second-most in the country among freshmen • Terry is averaging a touchdown once every 3.3 receptions, the third-lowest TD-to-reception ratio in the country for players with seven touchdown grabs • The seven touchdown receptions are the most for an FSU freshman since 2011.
OFFENSIVE LINEMAN – Mike Herndon, Pitt, Sr., OG; Greenville, Va.
In a return to his home state, Herndon had one of the finest games of his career in helping to spearhead Pitt's powerful rushing attack in a 23-13 win at No. 23 Virginia • Graded out at 95 percent while surrendering no sacks or pressures and committing no mental errors • Responsible for several big blocks in the running game, including one that blew open a hole for Darrin Hall's 2-yard touchdown run in the third quarter that gave Pitt the lead for good at 14-10 • The Panthers finished with 254 rushing yards against a Cavalier defense that was surrendering only 113 per game.
DEFENSIVE LINEMAN – Anree Saint-Amour, Georgia Tech, Sr., DE; Suwanee, Ga.
Saint-Amour set career highs with nine tackles and three quarterback hurries and made a terrific play for a game-clinching interception in Georgia Tech's 38-28 win at North Carolina • Saint-Amour's career-high nine tackles included one for loss • With Georgia Tech clinging to a 35-28 lead and less than three minutes to play, Saint-Amour dropped off the line of scrimmage and into coverage to make his decisive interception • Returned the interception 16 yards, which set up a 22-yard field goal that put the game out of reach with 46 seconds to go • He also had one pass breakup.
LINEBACKER – Cole Holcomb, North Carolina, Sr., LB; New Smyrna Beach, Fla.
Holcomb registered a career-high 22 tackles in Saturday's 38-28 loss to Georgia Tech • Holcomb, who was the first Tar Heel since 2007 to top the 20-tackle mark, also forced three fumbles on the day, two of which were recovered by UNC.
DEFENSIVE BACK – Brandon Sebastian, Boston College, R-Fr., DB; West Haven, Conn.
With the Eagles' ACC road game at Virginia Tech tied 14-14 late in the third quarter, Sebastian made the defensive play of the game with his first career interception to give the Eagles the ball at the Virginia Tech 19-yard line • Boston College scored one play later to take the lead for good en route to a 31-21 win • Sebastian added a career-best 10 tackles.
SPECIALIST – Christopher Dunn, NC State, Fr., PK; Lexington, N.C.
Dunn accounted for 17 of the Wolfpack's 47 points in Saturday's win over Florida State • Perfect 4-for-4 on field goals on attempts from 21, 26, 31 and 38 yards • Also 5-for-5 on extra points • Field goal total was the highest for a Wolfpack player since Nikolas Sade also had four against North Carolina in 2013 • Dunn now ranks third in the ACC in scoring with 9.0 ppg • With 14 made field goals for the season, Dunn has crushed Sade's previous school rookie record of 11 set in 2011.
ROOKIE – Tobias Oliver, Georgia Tech, R-Fr., QB; Warner Robins, Ga.
Second straight ACC Rookie of the Week honor for Oliver, who came off the bench to account for 224 total yards and three touchdowns in a little more than three quarters of play in Georgia Tech's 38-28 victory at North Carolina • Replaced starting QB TaQuon Marshall with 1:26 to go in the first quarter and finished with 120 rushing yards and two touchdowns on 28 carries and completed 2-of-2 passes for 104 yards and a score • His 86-yard touchdown pass to Qua Searcy in the second quarter was the sixth-longest pass play in school history and the Yellow Jackets' longest since 2009.