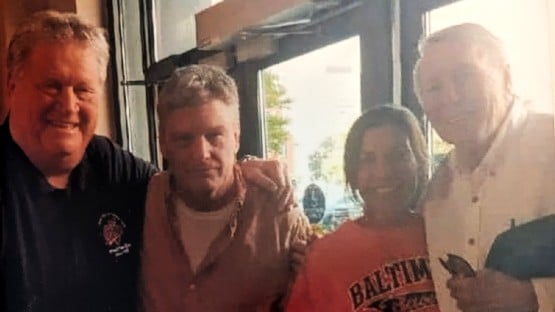 Baltimore Orioles Hall of Fame third baseman Brooks Robinson died Tuesday afternoon, shortly before the Orioles took the field in a game against the Washington Nationals.
Many people have a Brooks Robinson story. I have plenty as well.
Brooks was my first sports hero as a child, and as an adult he grew into an even larger hero in my eyes.
Known around Baltimore simply as Brooks, his name alone recreates memories of a ballplayer sprawled out in the dirt, his glove raised high, making sure everyone knew he had indeed made another impossible catch.
Brooks Robinson was the face of baseball in its golden age.
Brooks was what got me hooked on this great sport at the age of five.
Yes, five.
And in some way still has me hooked, 60 years later.
Not only was Brooks the face of the Orioles for more than 25 years, but he was also, and still is, what represents the city of Baltimore.
A hard-working, blue-collar type that went out to work every day, plying his trade to the best of his ability.
And oh, what ability he had.
Before Cal Ripken, there was Brooks Robinson.
Before Iron Man, there was Brooks, the Human Vacuum Cleaner.
In a city that knows icons, no other comes close.
My first Brooks Robinson story started when I was five, far removed from my first Oriole game. That was at age two, when my dad and uncle carried myself and my cousin Mike into Memorial Stadium.
By the age of five, my dad observed that Mike and I were wired a bit differently than most small kids attending a sporting event. We watched the game, and did not plead for popcorn or cracker jacks. More like asking questions about the game's nuisances.
Yep, at five years old, I was hooked. For life.
Now at age five, I will admit I was too young to really understand what a remarkable player Brooks was.
I was older until his greatness really sunk in. Six or seven, I think.
As I grew older and started attending more Orioles games, collecting Brooks Robinson autographs became a hobby for me.
No, it became an obsession.
I had Brooks sign anything. A glove, a baseball card, an Orioles program, an Orioles T-shirt. I had a closet full of Brooks Robinson autographs.
Once I attended a baseball card show in Richmond, where Mickey Mantle and Brooks were the main attractions.
I was puzzled to see that anything Mantle signed was far more expensive than similar Brooks Robinson autographs.
It was only a few years later that I learned why.
I asked a baseball card dealer why a Brooks Robinson autograph was less valuable than players far below players from his stratosphere.
The dealer replied, "Perhaps because he (Brooks) signed so many things for fans for free over the years."
That was Brooks Robinson's life, defined.
I spent many summers with my aunt and uncle who lived in Owings Mills, Md., a suburb of Baltimore. Brooks lived in a nearby community.
My friends reading this, knowing me, are thinking, That might not be a good thing.
Other than driving by his driveway a couple of million times, I did not trespass onto his property.
Looking back, I wished I had. Brooks would have understood.
It was not until I was much older that I got to meet Brooks personally.
I was in the press box covering an Orioles spring training game in Fort Lauderdale in the early '90s.
I met legendary Orioles radio broadcaster Chuck Thompson, who invited me to sit in the radio booth during the broadcast. Brooks was sitting alongside Chuck, as a color analyst.
At one point during a break between innings, I got up to get a soda. I asked both Chuck and Brooks if they wanted something to drink.
Brooks, with his recognizable smile, said, "Hey, grab me a Coke, please."
Yes indeed, Hall of Famer Brooks Robinson asked me to grab him a soda. That's just the kind of relationship we had.
Sitting in the Orioles radio booth with broadcasting Hall of Fame Chuck Thompson and Brooks Robinson 30-plus years ago, that seems like yesterday.
In the decades since, much has changed in professional sports. Free agency and big money move players from city to city. Even the greatest of players don't become the face of the city they play in.
Brooks stayed in Baltimore.
He was loved for that.
Brooks is one of six Orioles to have their numbers retired by an organization that doesn't make a habit of retiring numbers. He was The Star of the Orioles golden generation.
My last story about Brooks came just a few years ago. My cousin Sally and I were attending an Orioles game and somehow had found our way into the Orioles offices located in the outfield warehouse.
We suddenly spotted Brooks and former Orioles first baseman Boog Powell. Sally, as big of an Orioles fan as me, quickly started up a conversation with Brooks and Boog.
They talked with us as if we were lifetime friends. We reminisced about the "Orioles Way," Earl Weaver and much more.
They even asked us if we would like a picture together.
Yes, they asked us. Honest.
"Of course," we replied.
The old saying goes, "They named a candy bar after Reggie Jackson. They name children after Brooks Robinson."
I named my dog after Brooks years ago.
Today, there's plenty of players in the Majors that believe they're God's gift to this wonderful sport.
Brooks was.