M.J. Sharp legacy lives on in growing scholarship fund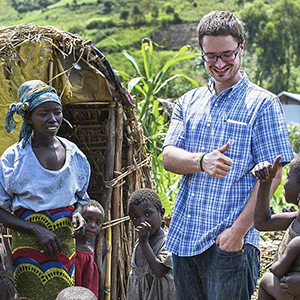 Significant progress has been made towards an endowed scholarship at Eastern Mennonite University to honor the memory of peacebuilder Michael Jesse "M.J." Sharp '05, who was ambushed and murdered in the Democratic Republic of Congo (DRC) in March 2017.
At present, more than $31,000 has been raised towards the $100,000 goal, and $3,675 of this is from the M.J. Sharp Crowdfunding campaign, which has a goal of $15,000 by May 6.
With a major goal to help those carrying on Sharp's work in Africa, an inaugural award has been made to a Congelese peacebuilder who will begin his graduate studies at EMU's Center for Justice and Peacebuilding (CJP) in fall 2018.
"In the 12 months since losing M.J., his friends and family and the EMU community, joined by those who did not know him but have been inspired by the gifts of his life and work, have stepped forward to honor his legacy," said said Lindsay Martin, associate director of development for CJP. "The Michael J. Sharp Peace and Justice Endowed Scholarship Fund continues to grow with each month, and we're so pleased that we can offer this inaugural scholarship to an experienced peacebuilder who shares M.J.'s vision for peace in the DRC."
The first recipient of this scholarship, David Nyiringabo Mazimpaka, is from the eastern part of the DRC, and works as assistant coordinator at Congo Peace Network and deputy coordinator of the Great Lakes Christian PeaceBuilders Network. His goals are to raise awareness of conflict dynamics in the DRC and to empower and mentor the next generation of young peacebuilders in nonviolence and conflict transformation.
"What joy to see funds awarded so soon!" said John Sharp, M.J.'s father and a professor at Hesston College. "This is deeply satisfying to us and would be a delight for MJ. Our profound thanks to all who are making this possible."
A life dedicated to peace
A UN expert on armed groups,  Michael J. Sharp was on his way to meet with leaders of a new militia group in central DRC when he was ambushed. With colleague Zaida Catalán, he was seeking to better understand the militia's structure, support networks, recruitment and use of child soldiers, and use of magic. The two were murdered by unknown assailants, and the investigation into their deaths continues today.
Prior to this work, Sharp, a 2005 graduate of EMU, was with a repatriation program in the Democratic Republic of Congo (DRC) that returned more than 1,600 combatants and 23,000 civilians to Rwanda and helped facilitate four public disarmaments of FDLR fighters.
Soon after his death, Sharp's friends and family decided to honor his memory through the Michael J. Sharp Peace and Justice Endowed Scholarship Fund. The fully funded endowment will provide an annual $5,000 scholarship for a graduate student studying conflict transformation and restorative justice at CJP.
CJP has more than 615 alumni in 78 countries around the world, applying the skills in conflict analysis, inclusive decision-making, reconciling relationships, acknowledging and healing past harms, and promoting a restorative approach to issues of justice.
Scholarship supports 'new wave of peacebuilders'
Longtime friend Keith Grubaugh was an early supporter of the endowed scholarship fund. He traveled from Vancouver, British Columbia, Canada, for the October 2017 Homecoming and Family Weekend to be with Sharp's parents as they accepted the EMU Life Service Award on M.J.'s behalf.
While on campus, he met CJP graduate students and spoke of his support for the peacebuilding program.
"Meeting these students and learning about this program is what has motivated me to give as I can, as often as I can," he said. "I believe we are all called to do our parts in making a difference in the lives of those around us and I believe that is exactly what we are doing when we support this scholarship. We are helping to prepare a new wave of peacemakers that will come to EMU to learn the skills they need to go back out into the world and pick up the torch that my dear friend was carrying in his own special way."
Read more
The day Kevin Ressler '07 arrived on campus to meet with EMU classes and to speak in chapel was the day after he heard of the death of his friend, Michael J. "M.J." Sharp '05. His sermon was a powerful remembrance. Read the text or listen to a podcast.
Listen to a podcast of John and Michelle Sharp speak about M.J.'s life and work at 2017 Homecoming and Family Weekend.
An April 2017 article by Mennonite Central Committee shares more about M.J.'s work with their organization.
###
by Lauren Jefferson