The much-anticipated spot Bitcoin exchange-traded fund (ETF) has reached a critical point in the approval process, making it a significant step forward in the crypto space. Many analysts predict the ETF will attract big institutional investors into Bitcoin while making it a good time to invest in crypto projects relating to ETF approval.
Currently, one project that's gaining traction as a prime asset to invest in is Bitcoin ETF Token ($BTCETF). This new project lets you speculate on and potentially profit from the SEC's pending approval of spot BTC ETF with its unique token-burning mechanism that's tied to real-world ETF milestones. Keep reading, as we'll find out why now is the best time to invest in this Bitcoin alternative.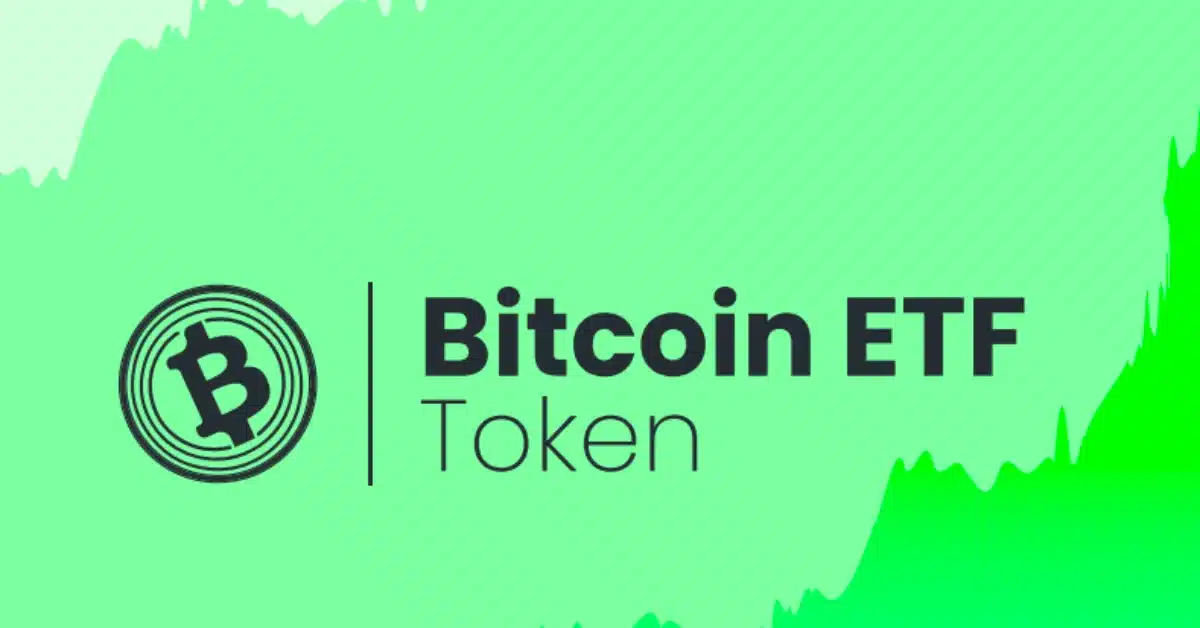 Revolutionizing Crypto – SEC Nod to Bitcoin ETFs Sparks Surge in Alternatives like Bitcoin ETF Token
A Bitcoin ETF allows you, as an investor, to gain exposure to Bitcoin's price movements without purchasing or holding it directly yourself and making crypto investments accessible, regulated, and liquid for mainstream investors. The SEC approving a Bitcoin spot ETF would give cryptocurrency more legitimacy, capital, and attention. 
A big development happened in August of this year, with Grayscale Investments winning a court case against the SEC and finding that the regulator denied Grayscale's spot BTC ETF application in an arbitrary manner.
Reports indicate that the SEC is currently reviewing 12 ETF applications submitted by various asset managers, including BlackRock, VanEck, and Fidelity. Considering the positive momentum behind these applications, analysts believe at least one of them is likely to be approved by early 2024.
If this happens, Bitcoin's price will rise significantly due to institutional investors and funds. In fact, CryptoQuant estimates that Bitcoin spot ETFs could boost cryptocurrency market capitalization by $1 trillion. This could also lead to a surge in the popularity of Bitcoin alternatives such as Bitcoin ETF Token. 
As alternatives like $BTCETF provide new use cases and diversification, investing in this coin could pay off big time after the ETF approval. So, let's dive into the details of what this new alternative offers and why it's making a splash.
Bitcoin ETF Token ($BTCETF): More Than a BTC Alternative – Your Comprehensive Guide to ETF Updates and High Staking
Bitcoin ETF Token (BTCETF) is a new project that has just launched at the right time and is poised to become a major success. As its name implies, this innovative ERC-20 token is gearing up for the imminent arrival of Bitcoin ETFs, perfectly capitalizing on the excitement surrounding the launch. 
BTCETF also features a highly rewarding staking utility and a burn mechanism, which puts it on the map as a viable and legitimate DEFI platform. It burns 5% of the total $BTCETF supply at five milestones in line with Bitcoin ETF approvals. This will create scarcity while maintaining the hype around Bitcoin ETFs.
BTCETF's stake mechanism offers an APY that's in the thousands right now, so joining right now can net you a big return. Moreover, staking could reduce the token's supply, so it's likely to see a rise in price due to incoming buy pressure.
Plus, BTCETF goes beyond just being a BTC alternative. The platform also features a daily news feed that provides users with the latest Bitcoin ETF news and updates. With all these unique features, BTCETF could be the best BTC alternative that you can invest in right now, with all the excitement surrounding the approval of Bitcoin ETFs.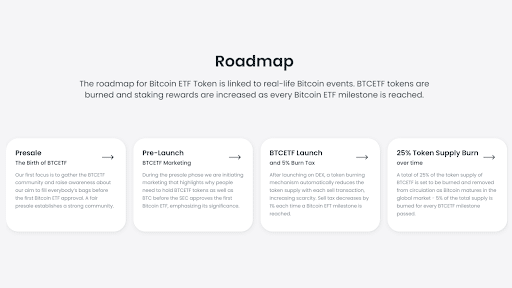 BTCETF Presale Unleashed – Community Ownership, Transparent Tokenomics, and More!
Apart from high stakings and news platform, BTCETF comes with a robust tokenomics framework that ensures that the tokens actually belong to the community, allowing them to move organically for the long haul.
During the presale stage, 40% or 840 million of the total 21 billion BTCETF tokens will be up for grabs. The event will stay open until all predefined tokens are sold to ensure fair distribution, and no team tokens will be distributed, meaning there will be no rug-pulling. Plus, a further 25% is dedicated to staking, 25% to burning, and 10% to exchange liquidity.
Once the presale comes to an end, the tokens will be launched on decentralized exchanges (DEXs) to make them more accessible to the general public.
In terms of the presale, it will be split into 10 stages, with $BTCETF's price rising after each stage. In the first stage, $BTCETF tokens are available for a ridiculously low price of $0.005 – a lot cheaper than the planned launch price of $0.0068.
Presale Power Surge: BTCETF Gains Over $500k in a Week – Best Time to Buy Now!
Although the BTCETF presale has only just begun, the amount of interest in it has already skyrocketed. In just a matter of days, it has already nearly raised a whopping $500k, which shows the popularity of the project. So, if you want to stay up-to-date about what is happening with the Bitcoin ETFs and make great gains at the same time, investing in this project is a no-brainer. The presale stage is about to end, and the BTCETF token price will rise in the next stage, so secure your token now.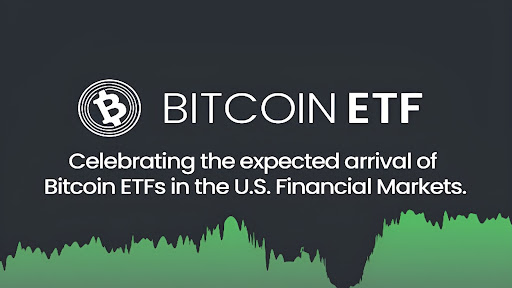 Conclusion
As the SEC inches closer to approving a spot Bitcoin ETF, Bitcoin ETF Token ($BTCETF) is positioned as a prime asset for those looking to take advantage of the pending ETF approval. With a unique burn mechanism, high-staking rewards with massive APY, and community-centric tokenomics, $BTCETF stands out as a complete solution. The ongoing presale, having already raised nearly $500k, offers a chance to get in early before the anticipated value surge. So don't miss the moment – secure your $BTCETF tokens now!