It looks like crypto gambling is taking over the industry once again, with GambleFi presale projects recording some of the hottest numbers over these past few weeks.
And one project in particular has stood out – TG.Casino ($TGC).
TG.Casino ($TGC) is one of the rare Telegram casino projects currently on the market, which means there's no risk of losing customer deposits as there is with unregulated projects swarming the industry.
Just minutes after the presale was launched, a whopping $100,000 of $TGC tokens were sold out, indicating strong Web3 whale activity.
But what's causing the hype? Let's check out the details.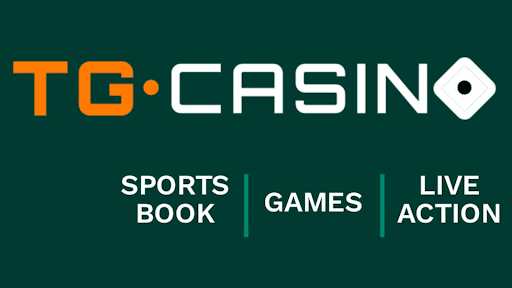 TG.Casino Looking to Outperform Unibot by Leveraging Telegram's Power and Bringing Innovative Ideas
In the crypto industry, Telegram is not just another messaging service – it's a powerhouse that attracts a large number of crypto enthusiasts.
And TG.Casino token harnesses the incredible capabilities of this platform. Much like Unibot, which has democratized advanced trading strategies for all Telegram users, TG.Casino is revolutionizing the GambleFi segment.
Moreover, the timing of TG.Casino token's presale launch aligns perfectly with the surging popularity of gambling tokens like Rollbit, Hamsters, and Bullet Game.
What sets TG.Casino token apart is its user experience. Sign up, deposit, and start wagering with TG.Casino token—all in under a minute. It's arguably the smoothest process you'll find in the multibillion-dollar online gambling industry.
TG.Casino also takes a fundamentally different approach compared to Unibot. Unibot levies a usage fee and taxes all trades of its token.
While this approach can be lucrative, TG.Casino token outshines these types of projects. Instead of relying on taxes to fuel interest, TG.Casino draws inspiration from traditional casino methods. It turns a profit using the Handle and House Edge, offering a unique and effective approach in the industry.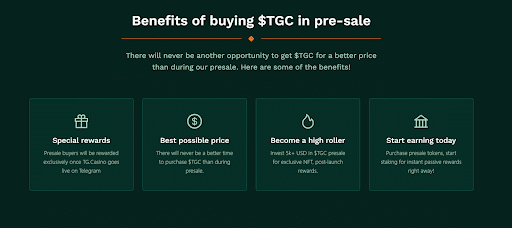 All $TGC Token Holders Are Eligible for a Share of Casino Profits and Staking Yield
Rather than the traditional casino model where the house solely reaps the profits, TG.Casino takes a different approach by sharing a portion of its earnings with all token holders.
This innovative system ensures that token holders, particularly stakers, enjoy substantial benefits. Every day, a segment of the casino's profits is used to acquire $TGC on the open market through a decentralized exchange. Additionally, stakers earn an annual percentage yield (APY).
According to a recent tweet from TG.Casino X account, early stakers are currently enjoying an impressive APY of 4,660%.
The $TGC buyback process is split into two parts: 40% of tokens are permanently removed from circulation, while the remaining 60% are allocated for rewarding token holders.
The burning mechanism introduces a deflationary aspect to the $TGC economy, enhancing its overall value. Simultaneously, the rewards distribution system encourages the ongoing growth of the TG.Casino ecosystem and fosters active player engagement.
Furthermore, TG. Casino places fairness at the forefront of its ecosystem tokenomics. Notably, there is no special allocation for the team. Instead, the token distribution is divided as follows: 40% for the presale, 20% each for staking and the liquidity pool, and 5% each for marketing and affiliate partners. This equitable distribution ensures transparency and a level playing field for all participants.
Price Support and Stability Ensured With Advanced Buyback Mechanism
TG.Casino's buyback mechanism serves a dual purpose – not only does it distribute profits among token holders, but it also contributes to price stability.
TG.Casino adopts a strategic approach to avoid the pitfalls associated with the Unibot business model. In Unibot's case, the taxation system can ultimately exert downward pressure on the token price.
This aspect partially accounts for the significant drop in the Unibot token price. Once soaring to an all-time high of $240, shortly after its listing on Uniswap at $12.65, it has since settled at the $50 mark. This fluctuation serves as a compelling example of how tax-heavy models can impact token prices over time.
For crypto investors, this is yet another reason why the TG.Casino presale is one of the best new opportunities on the market. If you want to join these early investors, now is the perfect time to invest.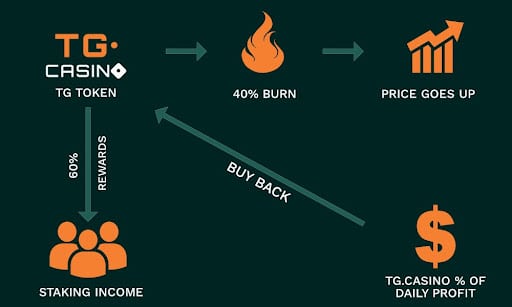 Conclusion
All eyes are on the crypto gambling market right now, and for good reasons.
There have been so many exciting projects in this niche coming out lately, but it looks like TG.Casino is bound to outperform all of them.
TG.Casino has already surpassed several huge milestones and its disruptive technology and ideas are pushing it toward even bigger successes. 
Want a chance to profit from its success? Join the presale before the prices get too high and other investors grab the tokens for themselves!