The subscription model has also become prevalent in the gaming industry in recent years. Sony's PS Plus is the most popular gaming subscription service in the United States. According to the numbers presented by AugustaFreePress.com, the reach of Sony PS Plus among the US gaming subscription base is 41%.
Amazon Prime/Luna in the second spot with 39% reach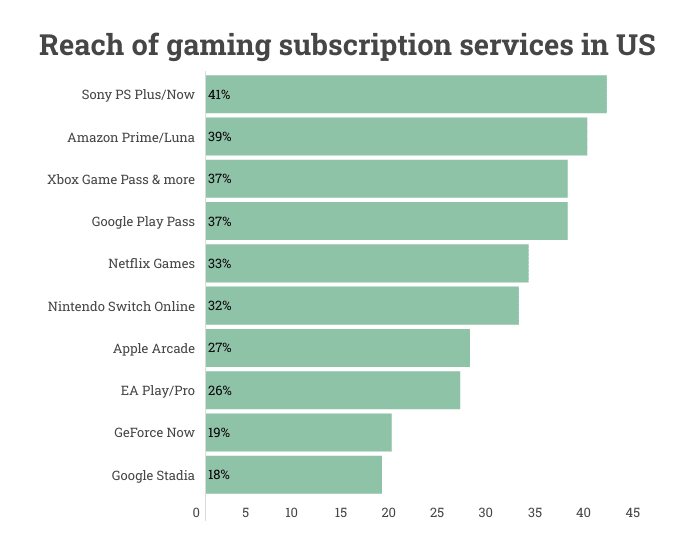 According to a recent survey from Statista, Sony's subscription service PS Plus is the most popular among US viewers. The survey, conducted in May, asked 1099 US video game subscribers whether they have spent money on various gaming subscription services during the past year.
41% of those surveyed said they had paid for PS Plus/PS Now. The second spot is occupied by Amazon Prime Gaming/Amazon Luna. 39% of gamers said they had used Amazon services during the past year. Luna is a cloud-based gaming service provided by Amazon in the United States. It was launched to the general public in 2021.
Microsoft is in the third spot for its collection of services such as Xbox/PC Game Pass and Xbox Live Gold. 37% of gamers surveyed said they had used one or more of these services during the past year. In the fourth spot, Google Play Pass was also used by 37% of the survey base during the past year.
Netflix Games completes the top five with a 33% reach among video game subscribers. Nintendo Switch Online is the least used service among services offered by three major console companies. The Nintendo service has a reach of only 32%.
Apple's ambitious Arcade service is the seventh-most popular service in the United States, with a 27% reach. The top ten list is completed by EA Play/Pro (26%), GeForce Now (19%), and Google Stadia (18%).
It must be noted that Sony's subscription services underwent significant restructuring in May. Before June, Sony provided two subscription services: PS Plus and PS Now. During the restructuring in June, Sony decided to merge two services and introduced the new PS Plus with three different tiers. The impact of this change is not visible in the survey. However, it is very likely to have provided a boost to PS Plus' reach among US gamers.