AiDoge ($AI), one of this year's most anticipated meme coins, has marked its entry into the global cryptocurrency stage with a listing on the renowned MEXC exchange. 
This significant milestone follows a remarkably successful presale, which raised an impressive $14.9 million in just four weeks. Investors who participated are now eagerly claiming their $AI tokens.
As of 9 a.m. today, June 19, $AI tokens have become directly available on MEXC's platform, signifying a new chapter in this coin's journey. But what exactly is driving investor interest in this particular token?
Here, we'll explore the unique technological backbone of AiDoge, and shed light on the reasons behind the high demand for $AI. We'll unpack why investors are keen to get their hands on $AI, which one crypto influencer predicts can reach 100x gains.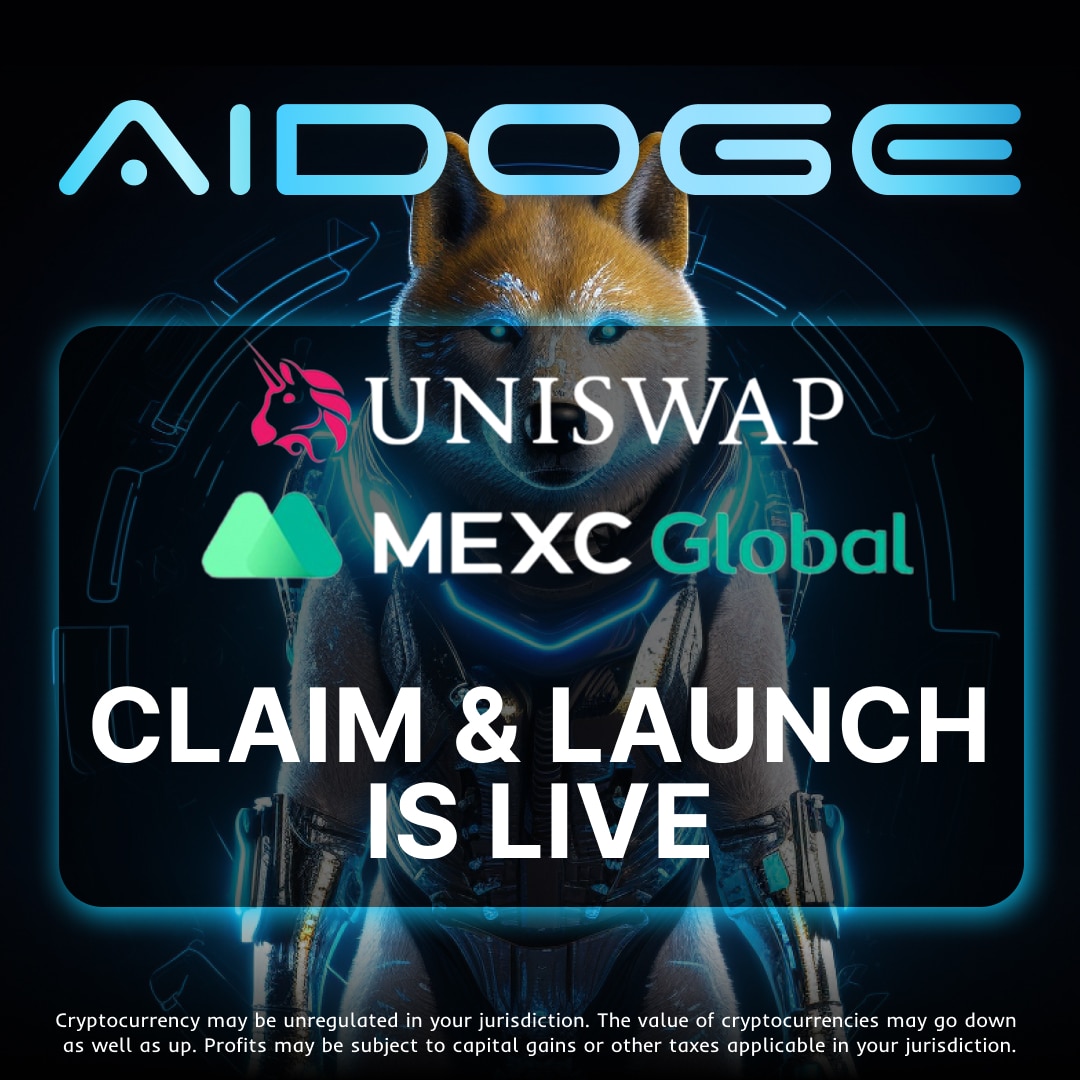 What's Next in Line for $AI? – 100x Gains on the Horizon
As the crypto world potentially teeters on the brink of another bull run, the prospects for AiDoge seem particularly promising. 
The team behind AiDoge will continue to follow its roadmap, amassing a large, engaged community in the process, the potential for a x100 return seem more probable than ever.
This prediction draws strength from the recent performance of Pepe, which momentarily touched a market cap of $1.9 billion despite lacking a substantial use case. 
Further encouraging signs come from meme coins like Dogecoin and Shiba Inu, which, despite their lack of utility, have managed to achieve market caps of roughly $10 billion and $5 billion.
Unlike its counterparts, $AI finds itself uniquely positioned at the junction of meme culture and AI technology. 
This strategic positioning allows $AI to tap into the viral power of memes while offering tangible use cases, creating a truly distinct proposition in the crypto market.
MEXC Is Only the First Stop – Possible Binance Listing Next?
Today marks AiDoge's impressive debut on MEXC, signaling thrilling opportunities for both the project and its potential investors. 
Yet, the excitement doesn't end here! Coinciding with AiDoge's MEXC listing is a special kickstarter event. By participating, you stand a chance to scoop a slice of the airdrop pool, teeming with over 1.4 billion $AI2 tokens. 
Just be careful, MEXC already has a token listed with the $AI ticker so AiDoge will be listed under the $AI2 symbol. As for the other expected listing, ticker will remain $AI.
While MEXC marks the first exchange listing, keep an ear out for potential rumblings about a future Binance listing.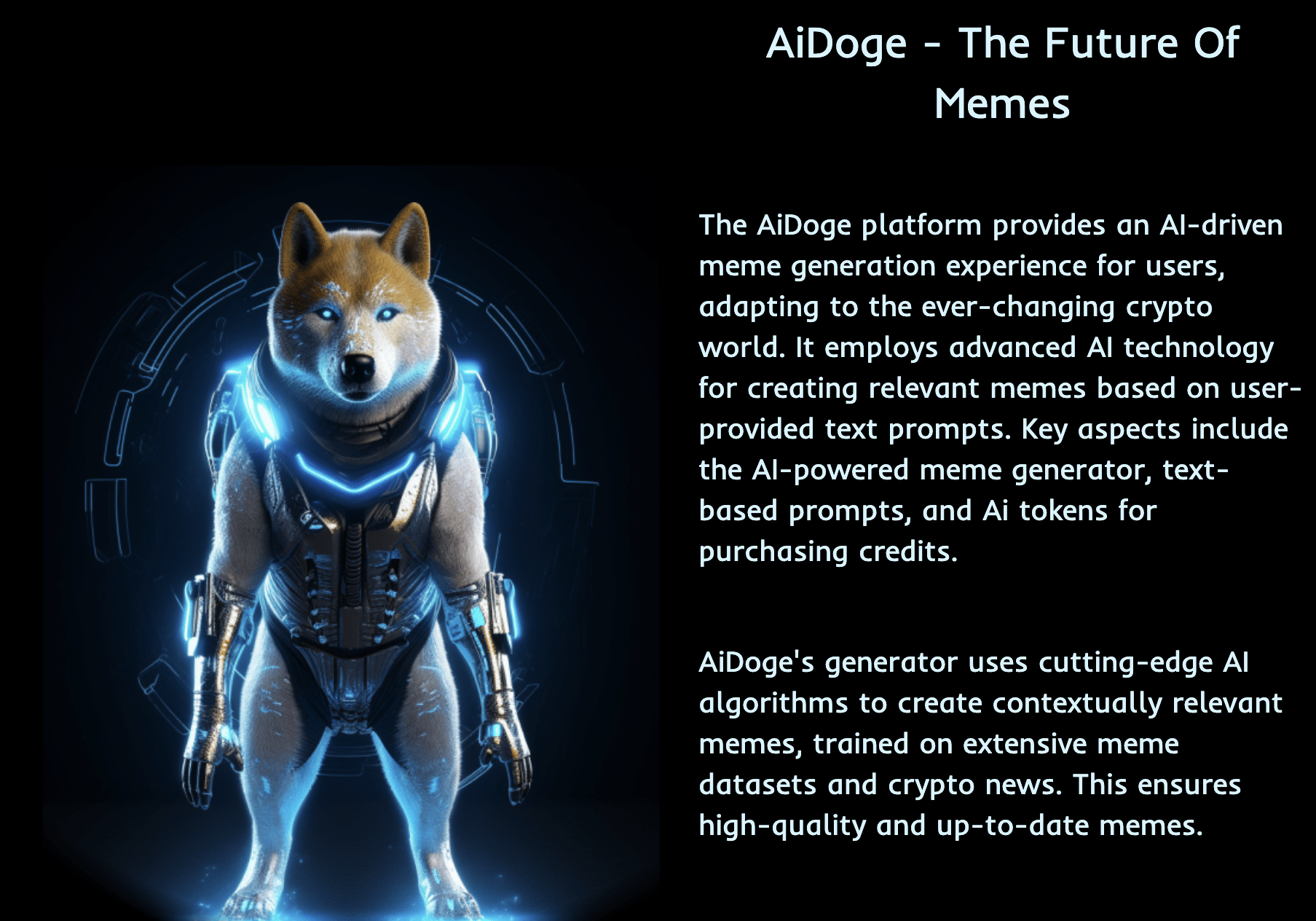 A Revolutionary Blend of Memes, NFTs & Real-World Utility
AiDoge is not your run-of-the-mill meme coin. With its cutting-edge AI-powered meme generator, AiDoge brings its users an original twist on viral humor. 
This innovation, however, isn't the end of the story. AiDoge steps further into the future by granting users the ability to mint their side-splitting creations as NFTs, effectively resolving the perennial issue of ownership associated with viral memes. 
It's not just about laughs; it's about ownership of your original content!
And there's more! AiDoge's distinctive public wall offers a platform to display all memes born within its ecosystem. Users can browse this treasure trove of digital humor, vote for their favorite pieces, and actively participate in the meme revolution.
The unique offerings of AiDoge's platform, coupled with the tangible value it provides, largely explain the rapid presale success of the $AI token. The project's potential is vast, a sentiment echoed by investors who've already joined the movement. 
AiDoge is not just about speculation; it's about participating in a fun, engaging, and potentially profitable digital community.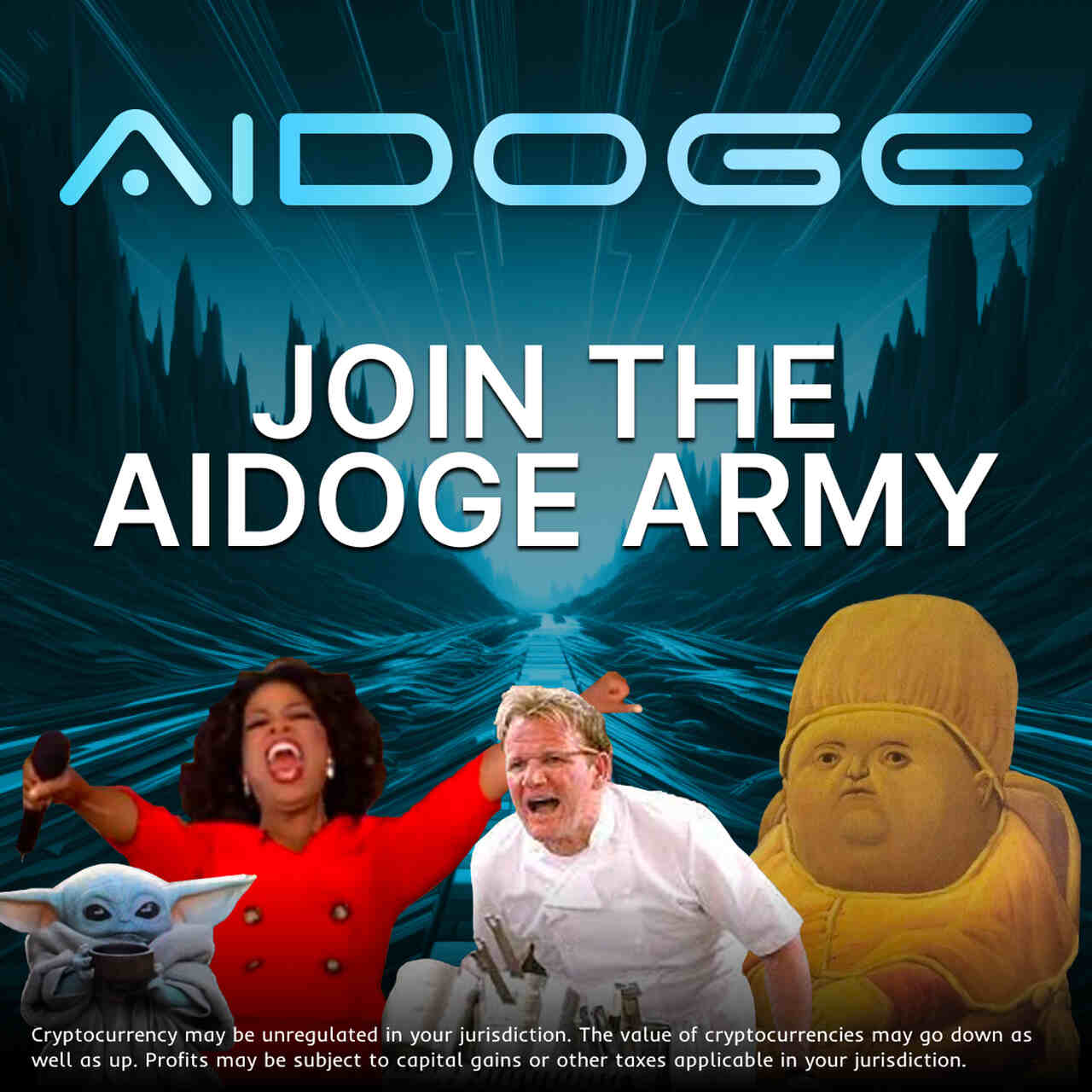 The Conclusion
AiDoge is creating quite a stir in the crypto community as it hits the renowned MEXC exchange. 
Its successful presale was a clear sign of what's to come, and now with the direct availability of $AI tokens, the excitement is only escalating. 
The unique blend of memes and AI technology, accompanied by the added value of real-world utility and NFT minting, sets AiDoge apart. But what truly captures the investor's imagination is the potential 100x gains on the horizon, a promising prospect fueled by the recent performances of similar meme coins. 
While the journey starts with MEXC, rumors of a possible Binance listing keep the anticipation high. 
AiDoge isn't just another meme coin; it's a chance to be part of a revolutionary digital community where fun meets profitability. 
So, as AiDoge makes its grand debut, one can't help but envision the potential for PEPE-like gains and beyond.