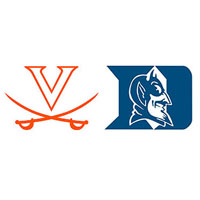 The 10th-ranked Virginia women's lacrosse team (11-8) ended its season with an 11-9 loss to sixth-ranked Duke in the first round of the NCAA Tournament Sunday at Koskinen Stadium. Sophomore Katie Slater (Kensington, Md.) matched her career high with four goals for the Cavaliers.
Freshman Morgan Stephens (Olney, Md.) registered a pair of goals while seniors Josie Owen (Gibson Island, Md.), Julie Gardner (Severna Park, Md.) and Ainsley Baker (Corning, N.Y.) also scored for Virginia.
Duke (12-6) finished with a 23-18 advantage on shots, including a 10-5 margin in the second half. The Blue Devils also won 15 draw controls compared to seven for UVa.
"Duke did a nice job of really controlling the tempo in the second half," Virginia head coach Julie Myers said. "They had possession time on us and with 10 minutes to go they were able to make our defense play a little bit of a different style and take more risks. They worked hard for their win today."
Slater's fourth goal came with 17:06 to play in the game to knot the score 9-9, the fifth tie of the contest. Duke rebounded quickly for a 10-9 lead and then had an open net opportunity to expand its lead to 11-9 with 2:47 remaining.
The Blue Devils outscored Virginia 4-2 in the second half after the first stanza ended in a 7-7 tie.
Duke opened the scoring before Slater answered, and when the Blue Devils went up 2-1, it was again Slater who connected for a 2-2 tie. After Stephens' notched her first of two goals on a free position opportunity, Slater and Baker scored back-to-back goals to give the Cavaliers a 5-2 lead with 15:21 to play in the half.
The Blue Devils then scored three consecutive goals to match Virginia at 5-5, forcing the Cavaliers to call timeout. Gardner ended the drought and Stephens followed with her second goal to put UVa back out in front, 7-5, with just under six minutes remaining. Duke tallied two more scores to pull even just before the half.
"The first half was much faster and much more athletic," Myers said. "Both teams were making plays all over the field. Duke was able to really sit on the ball in the second half. They scored when they really had to and did a good job and managed the clock well."
Junior goalkeeper Kim Kolarik (Riva, Md.) tallied eight saves between the pipes.
The contest marked the last in a Virginia uniform for Baker, Gardner, Owen, Charlie Finnigan (Twickenham, Middlesex, England) and Annie Taylor (Alexandra, Va.).
"The seniors have done so much for us over the years," Myers said. "They had great careers. Endings are hard and we've had our share of endings. We are really proud of how hard the girls played today. The seniors did a nice job of teaching the younger players what being on this team is all about. It's more about lacrosse and gamedays, it's about every day in between."