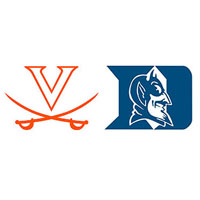 The eighth-ranked Virginia women's lacrosse team earned an at-large berth to the 2012 NCAA Tournament and willtravel to seventh-seeded and seventh-ranked Duke for a first-round game on Sunday (May 13) at 2 p.m.
The Cavaliers (11-7) are unseeded and face the Blue Devils (11-6) for a second time this year, having won the regular-season match-up in Durham, 14-12, on March 24.
The at-large berth marks the 17th-consecutive year that Virginia has participated in the NCAA Tournament (23rd overall). The Cavaliers have an all-time record of 29-21 in the postseason and have won NCAA Championships in 1991, 1993 and 2004.
Under head coach Julie Myers, the Cavaliers have advanced to the NCAA Tournament in all 17 years of her tenure. Her squads hold an overall record of 22-15 in the tournament and her team won the 2004 NCAA title.
The Cavaliers and Blue Devils have faced each other four times in the NCAA Tournament, most recently in 2009. Duke won that match-up in overtime in Durham, 15-13, while the Cavaliers won NCAA Tournament contests in 1999, 2005 and 2007.
The winner of this weekend's contest will advance to the quarterfinal round to face the winner of Notre Dame vs. No. 2 seed Northwestern. The semifinals and final of this year's NCAA Tournament are scheduled for May 25 and 27 at Kenneth P. LaValle Stadium in Stony Brook, N.Y.