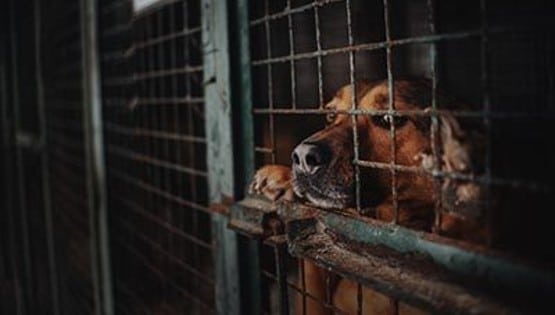 Legislation was reintroduced Tuesday in the U.S. House that would end safety testing of cosmetic products on animals.
The Humane Cosmetics Act would also prohibit the sale of products developed using animal testing in the United States.
U.S. Reps. Don Beyer of Virginia, Vern Buchanan of Florida, Tony Cárdenas of California, Ken Calvert of California and Paul Tonko of New York led a bipartisan delegation in reintroducing the bill.
"Cosmetics testing on animals is cruel, unnecessary, and outdated, and Congress should finally put a stop to it," Beyer said. "Much of the cosmetics industry has already moved to more scientifically sound methods that do not result in animal cruelty. The Humane Cosmetics Act would outlaw an obsolete and inhumane practice without damaging American businesses. I thank my colleagues for supporting the Humane Cosmetics Act, which I hope will receive swift consideration."
Buchanan is co-chair of the Congressional Animal Protection Caucus.
"Subjecting animals to painful experiments to test cosmetics is inhumane and entirely unnecessary. "Scientific advancements have created viable alternatives to these cruel experiments, while still ensuring that cosmetic products are safe for human use. As countries around the world work to prohibit animal testing in cosmetics, it's time for the United States to get on board," he said.
According to Cárdenas, it is time for the U.S. to move past the cruel, inhumane practice.
"I've been a champion for animal rights throughout my years in public service, and we've come a long way — now there are non-animal, cost-efficient research methods that we should be using instead of horrific, unacceptable tests on animals. I'm proud to join my colleagues on both sides of the aisle in introducing this bipartisan bill to protect animals from abuse," Cárdenas said.
Calvert said the bill "will protect animals from being subjected to unnecessary testing by banning the production and sale of animal-tested cosmetics. I have and will continue to advocate for the expanded use of scientific alternatives to animal testing as a way to protect animals as well as lower costs for consumers and taxpayers."
Tonko said that thousands of animals suffer from cosmetic testing every year in the U.S.
"This cruel practice continues even as scientific advancements have created viable alternatives that make animal testing unnecessary. Our Humane Cosmetics Act would institute national restrictions on animal testing for cosmetics, all while supporting the development and implementation of testing alternatives that will ensure the continued growth of the U.S. cosmetics industry. I'm proud to support this legislation that will restore America's position as a world leader in cruelty-free safety methods that promote the well-being of humans and animals alike," Tonko said.
Sara Amundson, president of the Humane Society Legislative Fund, said that 11 states and 44 countries have already "slammed the door shut on new animal testing for cosmetics. In fact, the U.S. is essentially the only country in the North America that hasn't passed legislation to end it. We want consumers to be safe. Non-animal tests are faster and more relevant to human health, and that's why the Personal Care Products Council supports the bill. In this divided Congress, leadership matters and Reps. Beyer, Buchanan, Tonko, Calvert, and Cardenas should be applauded for protecting consumers and animals while promoting good science."
Monica Engebretson, Head of Public Affairs North America, Cruelty Free International, said her organization applauds the renewed effort.
"This is a unifying issue that has earned bipartisan support and will match the progress we are seeing at the state-level and around the world as consumers, companies, regulators, and advocates come together to achieve a common goal of ensuring that animals won't suffer for the sake of cosmetics anywhere," Engebretson said.
Companion legislation in the U.S. Senate is expected later in the session.