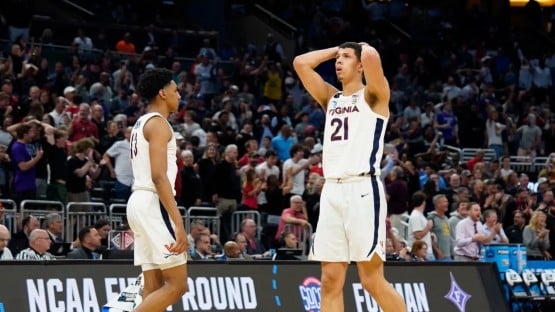 Be a responsible journalist and not write falsehoods about people and click bait articles! Fake News! I can't help you if you fail to see how you maligned him.
– UVA Fan 111
---
Whoever "UVA Fan 111" is seems to want another article on why the second half of Kadin Shedrick's season played out the way it did.
The way you can tell: "Fake News!"
Seriously, invoking Donald Trump?
The issue, such as it is, involves a reader Q&A from Thursday addressing why Shedrick, who started 14 of the first 15 games of the 2022-2023 season, was suddenly, and for an uncomfortable period of time, banished to the bench, before being brought out of the mothballs for the ACC Tournament and Virginia's one NCAA Tournament game, where he played the best basketball of his life.
On the surface, just from watching games, and looking at the counting stats, the move made no sense.
Up through the Jan. 10 home game with North Carolina, Shedrick was leading the ACC in box plus/minus, defensive box plus/minus and defensive rating, and ranked second in block percentage and fourth in player efficiency rating.
In 22.6 minutes per game up until the Carolina game, Shedrick averaged 9.4 points, 4.5 rebounds and 1.9 blocks, and was shooting 69.7 percent from the floor.
The one thing limiting him from having more of an impact was his propensity to get into foul trouble. Shedrick averaged 5.8 fouls per 40 minutes this season, and over his three years on the floor at UVA, his career average is 5.6 fouls per 40 minutes.
The Carolina game would be a line of demarcation for Shedrick's redshirt junior season. Tony Bennett, trying to shake up a dormant offense, inserted Ben Vander Plas at the five spot in the second half, and the move sparked Virginia to a 65-58 win, and led to Bennett going with Vander Plas at the five thereafter.
Over the next 14 games, through the conclusion of the regular season, Shedrick logged a total of just 107 minutes, 7.6 minutes per game.
It stands out that roughly a quarter of those minutes came in one game, the 63-50 win over NC State on Feb. 7, in which Shedrick played 26 minutes, scored 10 points and pulled down six rebounds.
Shedrick didn't get off the bench at all in three games – the 74-68 loss at Virginia Tech on Feb. 4, and the final two games of the regular season – the 64-57 win over Clemson on Feb. 28, and the 75-60 win over Louisville on Senior Day, on March 4.
Those are called DNP-CDs – the acronym standing for, Did Not Play-Coach's Decision.
The lack of playing time in the Senior Day game stood out like a sore thumb, in that Bennett emptied the bench in the final minute, with walk-ons Chase Coleman and Tristan How getting floor time, but, no Shedrick.
You wouldn't be much of a reporter if you didn't inquire as to what was going on.
Was Shedrick dealing with an injury that we hadn't been told about, was one question that came to mind.
Two people with knowledge of the inner workings of the program told us that the playing time issue for Shedrick was a function of performance in practice.
That's it.
Practice.
We first reported this after the Clemson game, incidentally, because that was the first time we asked.
The issue was still there, clearly, with what went down on Senior Day.
And our understanding, going into the ACC Tournament, was that the practice issue was one that could still have impacted playing time for Shedrick.
Things changed, obviously, when Vander Plas broke his right hand in the final practice before the ACC Tournament.
It may be worth pointing out here that Bennett went with Francisco Caffaro as the starter at the five for all three games in Greensboro, though Shedrick would end up getting more minutes – averaging 18.3 minutes per game in the ACC Tournament, to Caffaro's 11.7.
Shedrick also significantly outperformed Caffaro in Virginia's three-game run in the tournament – with Shedrick contributing 17 points, 15 rebounds and seven blocks over the three games, shooting 6-of-10 from the field and 5-of-6 at the line, to Caffaro's eight points and five boards, no blocks, on 4-of-5 shooting from the floor and 0-of-2 shooting at the line.
Caffaro didn't get off the bench in the 68-67 NCAA Tournament loss to Furman. Shedrick started, played 29 minutes, stayed out of foul trouble – he had three fouls, one on a block at the rim with 12.2 seconds left that looked 100 percent clean – and his counting numbers were old-school Georgetown center-like: 15 points, 13 rebounds, four blocks.
It was the kind of effort from Shedrick that you hate wasting, it was so good.
You were reminded how he had 17 points in the win over Baylor out in Vegas in November, 12 points in the gutty road win at Michigan in the ACC/Big Ten Challenge, 16 points in the loss to Houston in JPJ before Christmas, and thinking back to last season, 16 points (on 8-of-8 shooting) in the upset win at Duke.
Shedrick's ceiling is fringe NBA prospect; his floor is 7.6 minutes per game and three DNP-CDs over a two-month stretch.
This "UVA Fan 111" person wants to believe that the reporting on why Shedrick wasn't getting minutes – to repeat: two people with knowledge of the inner workings of the program told us that the playing time issue for Shedrick was a function of performance in practice – is a "falsehood," "fake news" and something that "maligned" Shedrick.
It's not at all.
I get it that truth is often uncomfortable, but that doesn't make it any less true.
And to me, the story isn't that he was relegated to the bench because of practice; it's that the kid could have easily thrown in the towel after being replaced in the starting lineup for the second time in two seasons, and though it took him a while, he played his way back in.
That's not what most kids do in this day and age of the transfer portal.
The easy way out with the portal is, I'll just take my talents elsewhere.
Which may still happen here, who knows, but even if that ends up being the case, Shedrick played his heart out when he got back out there, and that's the real story here.
And that's what I like about the story about how Shedrick's season ended for him, is that he was playing the best basketball of his college career after two months of being in limbo.
It reminded me of how Mamadi Diakite had briefly played his way into reduced minutes with two listless performances in the 2019 ACC Tournament, had a heart-to-heart talk with Bennett ahead of the NCAA Tournament, then turned himself around, averaging 10.5 points, 8.0 rebounds and 2.7 blocks per game, shooting 60.0 percent from the floor, to help Virginia to the 2019 national title.
Diakite went on to have a solid senior season, which has helped him get looks in the NBA.
My hope for Shedrick would be that he works to build on the conclusion to his 2022-2023 season with the idea of having a solid senior season that can get him ready for the next level.
He has the talent to earn a camp invite that he can use to earn himself a job in the NBA at some point down the road.
That much, from his past four games, is obvious.