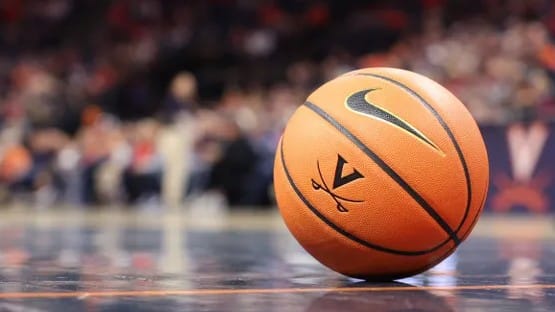 It was more the 1-3-1 zone
Kihei Clark tried a boneheaded pass, and that's what led to Furman's game-winning three with 2.2 seconds to go. But the game should have been over long before it came down to a boneheaded pass.
Furman coach Bob Richey, after reinserting his leading scorer, Mike Bothwell, with 10:54 to go, with four fouls, went to a 1-3-1 zone that Tony Bennett said later the analytics told him the Paladins used less than 1 percent of the time on defense this season.
Because they didn't use the zone much, Bennett and his staff hadn't prepared their players for it.
"I think point-six percent on Synergy or whatever. That was a good, the 1-3-1. And I think we saw it one time, I think it was Old Dominion early, an early game in Charleston, but not hardly at all," said Bennett, who called a timeout at the 10:02 mark after a turnover on a bad pass by Taine Murray, to try to get his guys on the same page against the 1-3-1.
Virginia never could get the offense, to that point purring, back on track.
The 'Hoos were was just under 50 percent from the field before the switch to the 1-3-1, but went 4-of-13 from the field in the final 10:54.
"I think our offense was really cooking. That sort of stood us up," Bennett said.
Richey conceded postgame that the 1-3-1 was a bit of a wild idea he'd had earlier in the week.
"It's been keeping me up all week. I've talked to coaches all around the country, how do you speed them up, how do you speed them up. I didn't think we could press them, because they handle the ball too well, and they pass it, stay on two feet. They're very disciplined," Richey said.
"I had this wild thought a couple days ago. This is a zone we don't hardly play, played 10, 15 possessions all year, but I thought it would stagnate it to where we don't have to guard all the screening action," Richey said. "That's what it ended up doing. They still did some things, but they weren't getting them off of their standard action."
Dude is a genius.
The pressure from the 1-3-1 forced Virginia to try to initiate offense from well beyond the three-point line, sometimes 30 feet-plus out from the basket.
The Cavaliers had just one turnover against the zone, the bad pass by Murray ahead of the Bennett timeout.
But five of the nine misses were on threes, on an afternoon that saw Virginia shoot just 2-of-12 from three, and another miss was on a long Clark jumper.
The long misses gave Furman chances to get the ball into transition – the Paladins ended up scoring 15 points in transition, right at their average over the past 10 games, and 11 more than Virginia had been allowing its opponents to score in transition over its past 10.
It was a perfect storm – Virginia got out of its offense, and lost its defensive balance, leading to easy buckets for a Furman team that had been struggling to score.
Tempo
It felt like the game got speeded up in the last 10 minutes, didn't it?
Looking at the numbers, the second half did speed up quite a bit.
The first half saw the teams at 30 possessions each, a 60-possession pace for 40 minutes, Virginia's tempo.
The second half played at 35 possessions each. That's a 70-possession pace for 40 minutes.
Furman's tempo.
Kadin Shedrick played his ass off
Kadin Shedrick, up until around Jan. 10, was leading the ACC in a number of deep-data stats, but he found himself glued to the bench in favor of Ben Vander Plas, who was inserted as the starter at five for the remainder of the regular season, as Bennett tried to use BVP's shooting to stretch the floor on the offensive end.
It was to the point that Shedrick recorded three DNPs – the acronym standing for Did Not Play – down the stretch, including the Senior Day win over Louisville two weeks ago.
Vander Plas broke his right hand in practice last week, and suddenly, Shed was back in the rotation, blocking five shots and throwing down the clinching two in the ACC Tournament win over UNC, then going for eight points and seven boards in the semifinal win over Clemson, and five points and seven boards in the tournament final loss to Duke on Saturday.
Shedrick got the start against Furman on Thursday, and put up big numbers – 15 points on 5-of-9 shooting from the field, 5-of-6 from the line, 13 rebounds, and four blocks.
"I thought Kadin really responded, stuck his free throws and played good, tough basketball, so I was happy for him and proud of him," Bennett said.
Kinda understated there by Coach.
My memory of today's game won't be as much the three at the end as it will be Shedrick collapsing to the floor after it went through the net.
Kid gave his all.
What about the hard foul on Ryan Dunn?
Remember how Ryan Dunn was fouled hard on a breakaway dunk by Furman's Jalen Slawson with 4:24 to go?
Virginia was down 57-54.
A flagrant foul, which seemed to be in order, given that Dunn was knocked out of the game, and was a bloody mess, would have given Virginia two free throws and possession.
After a review, the officials decided, common foul.
Armaan Franklin came in and made the two free throws.
And that was the end of that.
The NCAA pool report tells us that the officials, after the game, said that they had "ruled that Slawson made a play on the ball and that the contact did not rise to the level of being excessive or unnecessary. The existence of blood does not automatically result in a flagrant foul."
So, after the Duke game from a few weeks ago, that the Dookies are still whining about, we had the ACC putting out a mea culpa, but after this one, a hard foul that knocked a guy out of the game, and had him looking like Jon Moxley on a Wednesday "Dynamite," nothing.
Actually, less than nothing.
"The existence of blood does not automatically result in a flagrant foul."
Point of order: it's not so much the "existence of blood" that was the issue here.
Blood flows through all of our veins.
It was more that the foul was hard enough to cause blood to flow outside Dunn's veins so that the rest of us could see it, and also knock him out of the game, that was the issue here.
Anyway.
Beeks is … back?
I'm seeing the speculation about Reece Beekman, and yes, I saw it, too, what he said postgame.
A reporter asked Beekman and Isaac McKneely what they could take away from the tournament experience "possibly with another year to go."
That one, for Beekman, is tinged with, he was a first-round NBA Draft pick on several boards earlier in the season, but his stock has taken a tumble into the late second round as the season went on.
Beekman's answer: "I would just say the little things, how crucial they can be to play out in these type of games. This game came down to the last play, and it was just a lot of little things early in the game that could have changed the outcome. Just being in those moments, in these situations is good experience for me and Isaac, so we'll just take that going into next year."
Next year.
Sounds like he's back.