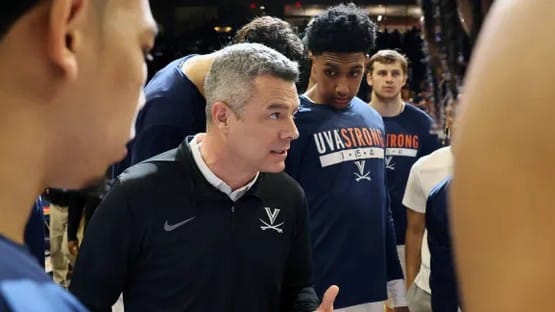 Why didn't Kadin Shedrick play?
Francisco Caffaro got nine minutes in Tuesday's 64-57 Virginia win over Clemson, with a very Francisco Caffaro-like statline: two points, three rebounds, four fouls.
Ben Vander Plas, who we've been hearing for a couple of weeks has been dealing with a bad back, got 21 minutes, had four points and seven boards, and was 0-of-4 at the line, one of the misses the front end of a one-and-one, so effectively, he was 0-of-5.
Taine Murray, for god's sake, got five minutes, his first rotation minutes since the ACC road opener at Miami back in December.
Kadin Shedrick: never took his warmups off.
The issue wasn't addressed directly in the postgame with coach Tony Bennett, but the understanding, per my colleague, Scott German, is apparently that Shedrick didn't get minutes because he didn't practice well.
OK, then, so, what about Ryan Dunn?
The question I'd've asked postgame would have been, why didn't Ryan Dunn get more minutes, considering how well he played in the win?
Dunn had eight points and four rebounds in 13 minutes in the first half, then got all of five minutes in the second half – the same floor time that Caffaro got.
Dunn finished with 10 points and five rebounds.
If Vander Plas is dealing with the back issue, as is the word going around – and that's all we get in covering this team, whatever the word going around is – Dunn should be getting more minutes.
Maybe he needs to practice better.
More data you won't like about BVP
Vander Plas has been Vander Minus for the past five weeks – averaging 6.5 points and 5.1 rebounds per game over his last 11 games.
His shooting splits over that stretch are abysmal: 39.4 percent from the floor, 27.8 percent from three, 5-of-19 (!!!!) from the free-throw line.
Eleven games, mind you, is a huge sample size.
The Reece Beekman-Kihei Clark-Armaan Franklin-Jayden Gardner-Ben Vander Plas lineup now ranks 49th in the ACC (out of 95 five-man lineups that have played at least 50 possessions together this season) in adjusted team offensive efficiency, per the data website EvanMiya.com, averaging 1.110 points per possession.
Sub in Shedrick for Vander Plas, and EvanMiya.com has that lineup generating 1.311 points per possession on offense – doing the math, 18.1 percent more offense.
Both units, per EvanMiya.com, allowed 0.896 points per possession on defense.
Whatever … Shed seems to be done at UVA.
Fun with numbers
If you're a regular reader of this column, you know that I'm in love with the plus/minus stat, because it's literally a reflection of the score when a guy is in the game.
Isaac McKneely, who had 12 points on 4-of-6 shooting in 16 minutes – why only 16 minutes? – had a team-best +10 plus/minus.
The team-worst plus/minus wasn't from Vander Plas, who was a modest -1 in his 21 minutes.
Reece Beekman wins the pony, oddly.
Beeks had nice counting numbers – seven points, eight assists, four steals and two blocks in 36 minutes.
But his plus/minus was -5.
Looking at the box score, Beekman subbed out at the 11:54 mark of the first half, with Virginia up 12-7, and when he checked back in, at the 10:05 mark, it was 17-7, so, the 'Hoos were +5 in that 1:49 stretch.
In the second half, Beekman subbed out at the 15:06 mark with Virginia up 34-27. When he subbed back in at the 12:44 mark, it was 41-27, so, that's a +7.
Again, that's just odd.
Practice
As much as I like that Chase Coleman kid, I'm not rooting for him to have any breakthroughs in practice this week, if you catch my drift.