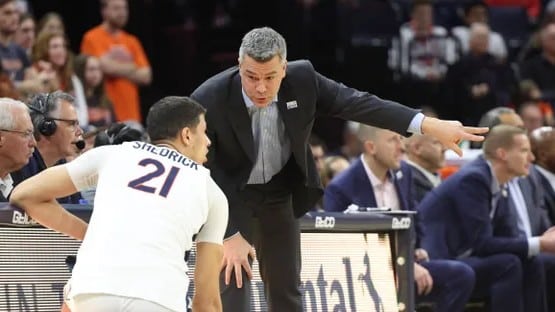 Kadin Shedrick, in going from starter and darling of the basketball metrics crowd to glued to the bench, was the Ron Burgundy line from "Anchorman" – "Well, that escalated quickly" – come to life.
As of Jan. 10, Shedrick, a 6'11" redshirt junior, was leading the ACC in box plus/minus, defensive box plus/minus and defensive rating, and ranked second in block percentage and fourth in player efficiency rating.
And then, well, things escalated quickly once Tony Bennett went to Ben Vander Plas in the second half of that night's game with North Carolina, trying to find a spark.
Vander Plas, as a small-ball five, scored 14 of his 17 points in the second half to key the come-from-behind 65-58 win, and has started the past seven games at the five spot, as Shedrick fell into a backup role, all the way down to being a healthy scratch in last Saturday's 74-68 loss at Virginia Tech.
Still a crowd favorite, Shedrick got a nice ovation from the home crowd when he subbed in for Vander Plas, who'd picked up an early foul, at the 16:59 mark of the first half Tuesday night, and over 26 minutes of floor time in UVA's 63-50 win over #22 NC State, it was like Shedrick had never left.
Shedrick scored 10 points, pulled down six rebounds, and provided his usual top-shelf post defense and rim protection.
"I think it's a great lesson as to why you just you keep working and you stay ready," Bennett told reporters after the game. "Kadin had, you know, he practiced well, the last couple of practices, and again, the practices matter, and he came ready. And you know, he kept himself ready, his length was there, he fought. We thought if we were going to trap, Kadin's length would be good."
Shedrick had played just 38 minutes over the past six games coming in, but with Vander Plas having an off-night – the grad transfer had a quiet four points and three rebounds in 19 minutes – Shedrick's return to his earlier-season form was a necessity Tuesday night.
The double-digit effort was Shedrick's first since the 73-66 win over Syracuse a month ago, on Jan. 7, in which he had 11 points and six rebounds.
He may have played himself back into the starting lineup with his effort, and with Vander Plas struggling mightily of late – BVP, over his last five games, is averaging 4.2 points and 5.0 rebounds in 25.4 minutes per game, on 36.0 percent shooting.
Bennett, being Bennett, liking to keep his cards close to his vest, didn't address playing time in the future in the postgame Tuesday night, but he did share with reporters that he'd liked what he'd seen from Shedrick in the win.
"I thought Kadin, you know, did some nice stuff, and that was the lift we needed, and he protected the rim at times," Bennett said.
"I was so happy for Kadin to respond like that, and help us out, and that made our defense different," Bennett said.