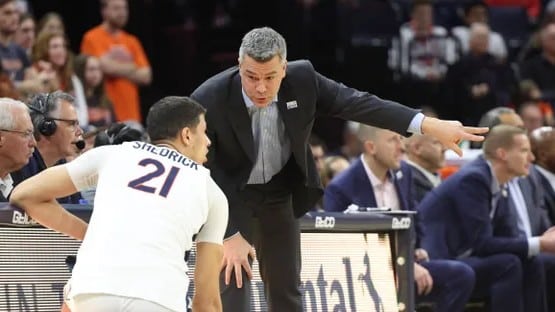 Tony Bennett fixed Virginia's December rough patch by going small, but he's finding out that nothing is ever really fixed for good.
The rest of the ACC has adjusted to Bennett's small-ball lineup, and it's looking like it's time for Bennett to adjust back.
Kadin Shedrick, a 6'11" redshirt junior, started 14 of Virginia's first 15 games, and as of Jan. 10, Shedrick was leading the ACC in box plus/minus, defensive box plus/minus and defensive rating, and ranked second in block percentage and fourth in player efficiency rating.
Since being benched at the under-16 timeout in Virginia's 65-58 win over North Carolina on Jan. 10, Shedrick has been a fixture on the sidelines, logging just 38 minutes total over UVA's last six games, including being a healthy scratch in the 74-68 loss at Virginia Tech on Saturday.
"Kadin is available to play," Bennett told reporters after the loss at Tech. "You can't play everyone, but we were having some trouble that I thought offensively against their stuff, we wanted to go with some small guys, which I liked, and then we decided to switch and use our mobility. So, I mean, those are decisions you make all the time."
It's odd to see Shedrick go from starting and putting up league-leading numbers to being a healthy scratch in a game in which it would appear that his team could have used him – so odd as to make you wonder if Shedrick has earned himself a spot in the proverbial doghouse for effort, or lack thereof, in practice, or maybe in not taking the demotion to the bench as well as Bennett would have liked to see.
The benching came as Bennett was looking for a spark on the offensive end, and the insertion of 6'8" grad transfer Ben Vander Plas into the starting lineup did just that for a several-game stretch.
Starting with the final 15:12 of the win over Carolina, and then through the next four games, Virginia averaged 1.217 points per possession with the new lineup getting the bulk of the minutes, a figure that would lead the nation for the season, so, pretty good.
Last week, though, Syracuse and then Virginia Tech were able to throttle down the UVA offense. In the two games, the Cavaliers averaged just 1.063 points per possession, which would rank in the 150s nationally, basically, mid.
This is with Vander Plas struggling mightily in his past four games, averaging a modest 4.3 points, 5.5 rebounds and 2.8 assists, on 31.8 percent shooting, including putting up a goose egg – zero points, 0-of-4 shooting, with five rebounds and two assists in 29 minutes – in the loss at Tech.
With Vander Plas playing more like Vander Minus the past couple of weeks, the issues that going with a 6'8" guy at center have come center stage.
Oddly enough, BVP's individual numbers on defense are stellar – he limits opponents to an effective field goal percentage of 31.0 percent and 0.561 points per possession, both numbers being elite on their own.
But in both the Syracuse and Tech games, he needed help to check 6'11" Jesse Edwards, who scored 14 points on 5-of-8 shooting for the Orange, and the versatile 6'7" Justyn Mutts, who had 17 points on 7-of-11 shooting for the Hokies.
Both Edwards and Mutts were good at spinning the ball out of the double teams that Bennett sent to get the ball out of their hands, the difference being that Syracuse was only able to knock down three of its 15 shots from three in the 67-62 loss in the Dome, while Mutts was able to find shooters who were able to knock down shots (the Hokies were 7-of-18 from three) and cutters who finished at the rim (where Tech was 18-of-27 on the game).
That last number – repeated, for emphasis: Virginia Tech had 18 makes at the rim on Saturday – is a factor of not having a guy like Shedrick, an elite shot blocker, around to clean up messes on the back end.
And this has been an issue since Bennett went small, even when things were going gangbusters on the offensive end.
Four of Virginia's last five opponents have scored over a point per possession, dating back to the Cavaliers' 78-68 win over Virginia Tech two weeks ago.
Over that span, the D is allowing opponents 1.031 points per possession.
Virginia is still second in ACC games in adjusted defensive efficiency, per KenPom.com, allowing 0.988 points per possession on the defensive end in conference play.
What we're seeing defensively in this latest stretch is clearly not going to cut it, though.
And if Vander Plas can't be a consistent presence on the offensive end – he has more games this season in which he scored three or fewer points (eight) than he does double-digit games (seven) – he may be more of a liability going forward as a starter than he would be coming off the bench.
Getting Shedrick back in the starting lineup would establish things on the defensive end from the outset, allowing Bennett to go to Vander Plas and hot-shooting freshman Isaac McKneely, who is shooting 58.1 percent from three over his last eight games, to inject offense off the bench.
And on nights when it's obvious early that BVP isn't plugged in, Bennett could give some of Vander Plas' minutes to athletic 6'8" freshman Ryan Dunn, who had been pressing the starter at the four, Jayden Gardner, a run at that starting four spot until Gardner's recent resurgence – Gardner is averaging 17.7 points and 8.0 rebounds in 27.7 minutes over his last three games, and shooting 59.5 percent from the floor.
Bennett fixed what had been ailing his team through the December slog, but now that opposing coaches seem to have his fix figured out, it would seem to be time for Bennett to adjust to the adjustment, so that he can continue to get the most out of his team.