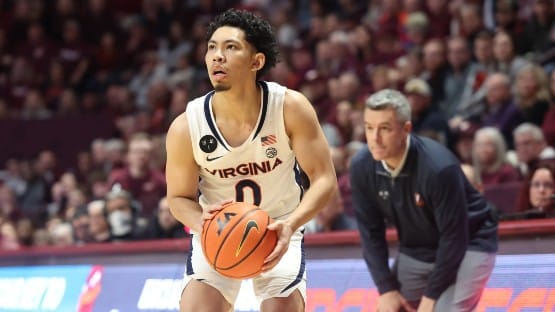 Tech jams the lane, and Virginia's shooters don't take advantage
Virginia shot 50.9 percent in its 78-68 win over Virginia Tech two weeks ago in JPJ. The rematch saw Tech coach Mike Young mix things up defensively, almost throwing a version of Tony Bennett's Packline back at him.
"They're very physical," Bennett told reporters after the 74-68 loss, in which UVA shot just 41.0 percent from the field. "They did a good job, you know, holding our cutters, not holding, but, like, making us fight to get open off screens. And they just spread out and worked and made us shoot some contested shots."
Make that, a lot of contested shots. Virginia got into the lane and to the rim consistently, but only made 15 of its 27 shots at the rim – that's 12 misses on layups and dunks.
The perimeter shooters, meanwhile, were only able to knock down 6-of-18 from behind the arc.
With Tech jamming the lane, "you have to hit some outside shots," Bennett said.
Armaan Franklin, who had scored in double figures in each of his last 10 games, had a quiet six points on 2-of-9 shooting from the floor, 1-of-4 from three, and was just 1-of-3 at the line.
Ben Vander Plas, who has been the starter at the five the past six games, put up a goose egg – zero points, 0-of-4 shooting, 0-of-3 from three, in 29 minutes.
Freshman Isaac McKneely, his parking brake obviously still on, had eight points on 3-of-4 shooting, 2-of-2 from three, but, the kid needs to shoot it more.
Tech exploited the small-ball lineup on the other end
Vander Plas has been getting the minutes at the five spot because of his ability to stretch defenses with his perimeter shooting.
The 6'8" grad student not been making many of late – BVP has scored a cumulative 17 points in his last four games, on 7-of-22 shooting from the field, and 3-of-10 from three.
When he's not contributing on offense, it makes his lack of size in the post stand out on the defensive end.
Bennett needed to strategize to help Vander Plas with Tech grad student forward Justyn Mutts, who was efficient when he had one-on-one opportunities – hitting on 7-of-11 from the field – and when UVA tried to double him, spinning the ball out of the doubles for eight assists.
"We switched some in the second half, and they went inside, and we tried to trap the post, and sometimes we missed some assignments, but you know, I know they made a concerted effort to you know, really attack in the paint, and they made some good plays," Bennett said. "And then when we kept guys in front, you know, guys were cutting at the right times, but they run a lot of action, whether it's, you know, dribble handoffs, fakes, keep, so they keep you on your toes, and it takes incredible, I think, discipline to keep them in front and keep them out of the paint. And if you don't, they'll get some easy ones."
In case you were wondering: Shedrick was a healthy DNP
Seeing what the Hokies were doing on the offensive end, shooting 50.9 percent, getting 18 makes in 27 attempts at the rim, you might have been thinking, maybe some Kadin Shedrick could help here.
Shedrick, the 6'11" redshirt junior, who started the first 14 games, but has logged just 38 minutes in Virginia's last six games, was a healthy scratch.
"Kadin is available to play," Bennett said. "You can't play everyone, but we were having some trouble that I thought offensively against their stuff, we wanted to go with some small guys, which I liked, and then we decided to switch and use our mobility. So, I mean, those are decisions you make all the time."
Heading into his last start, in the UNC game on Jan. 10, three and a half weeks ago, Shedrick was leading the ACC in box plus/minus, defensive box plus/minus and defensive rating, and ranked second in block percentage and fourth in player efficiency rating.
He's fallen out of the ACC leaders just because of his limited playing time of late.
It's odd to see him go from starting and putting up league-leading numbers to being a healthy scratch in a game in which it would appear that his team could have used him.
That's all I'll say there.