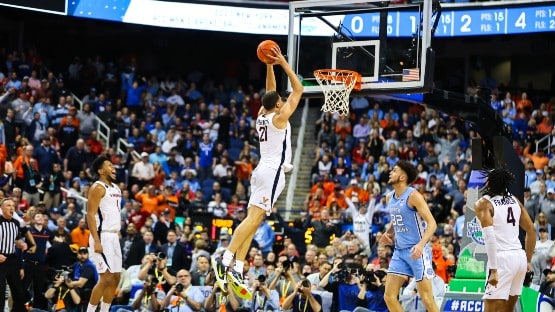 Tony did some serious overcoaching this season. When small ball proved successful in January, it should have resulted in Ben Vander Plas getting relatively more minutes, and Kadin Shedrick relatively less. Instead, Shedrick and Francisco Cafarro were banished to the bench for a month. In retrospect, that was simply a wrong decision. If not for Shedrick's heroic play today, we would have lost by double digits.
Players' minutes aren't yet posted, but today Taine Murray provided nearly nothing in his time, and really hasn't since he inexplicably started playing in the last few games. I understand that BVP's injury thinned the rotation, but we played many games with seven earlier. If Murray is good enough to be playing now, he should have been playing earlier. Suddenly inserting him so late in the season is overcoaching.
– Jim G.
---
Tony would say, and has said, that Taine Murray earned his way into starting time with his work and performance in practice.
Murray played 11 minutes in today's loss to Furman, had one point and one turnover, and a +3 plus/minus.
No, he didn't do much. But he'd earned the minutes, and Tony put him in thinking he would be able to contribute based on what he'd done to earn those minutes.
Tony could also say, but hasn't said, because he wouldn't say this, but it's true, that Kadin Shedrick didn't respond well to being demoted to the bench, and his poor work and performance in practice led to him getting almost no floor time for a month.
Then, and again, Tony wouldn't say this, but if he did, it would be true, that Shedrick played well of late because he finally got the message that was being sent to him, that he needed to work harder, every day, not just on game days.
That's not "overcoaching," that's "good coaching."
---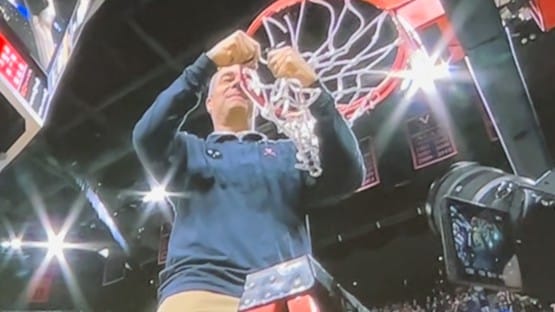 2019 … a long memory ago. The program needs a jolt of energy. Two first-round losses since.
The equity from 2019 is starting to wear off. Tony needs to change things up. Not sure where, but it usually starts with his staff.
It never hurts to bring in new ideas, new voices, new everythings. Let's see if Tony is able to do what Bronco couldn't.
I really like the assistant coaches, especially Jason Williford, but the lack of development of big men is glaring. At best, the big men we have play terribly inconsistently, at worst, they never get any better.
If you're not recruiting four- and five-star big guys, then you have to rely on developing the ones you are able to get.
– Scott G.
---
Where to start here … I guess with, the 2022-2023 season is in no way analogous to the end of the Bronco Mendenhall era in Virginia football, back-to-back .500 seasons, the latter of which wasted the best offensive season in school history.
Bronco was approached with an ultimatum to make a change at defensive coordinator that he ultimately decided he wasn't able to make, and now Virginia football is in Year 2 of a completely unnecessary teardown rebuild from the ground up under Tony Elliott that is doomed to go nowhere.
If Carla Williams dares to get anywhere near Tony Bennett with anything resembling an ultimatum, she should be fired on the spot.
That's the first thing.
Second thing is, this year's team overachieved.
It was preseason fringe Top 20, if you remember, a distant third in the ACC preseason rankings to UNC and Duke, and vaulted into the Top 10 after two emotional wins in Vegas over Baylor and Illinois, days after the Nov. 13 tragedies on Grounds.
We didn't see it then, but that was when the team peaked.
This was pretty much the same group that finished out in the third round of the NIT, the only differences being the additions of a grad student from the MAC and two first-years.
That this team spent most of the year in the Top 10, won a share of the ACC regular-season title, made it to the ACC Tournament championship game and got a #4 seed in the NCAA Tournament, a year after being left out, that's a lot for this group.
I wrote this in another column today, but we never got to realize the full rewards of the 2019 national title in terms of recruiting. The seeds in recruiting are planted with kids who are high school underclassmen, kids that Bennett and his staff didn't get to see in person for how long because of COVID.
Yes, everybody else had the same problem, but not everybody else had a national title to show off to kids and their mommas and daddies that they couldn't because they weren't allowed in the living room.
We're just now, four years later, starting to see the fruits of that national title on the recruiting trail.
Isaac McKneely averaged 21.3 minutes per game, which is the most for a UVA freshman under Bennett since a guy named Malcolm Brogdon.
The fact that Bennett trusted McKneely with that many minutes is a sign of what he thinks of him.
Ryan Dunn emerged as a rotation guy in the post. Two other four-stars in the Class of 2022, Leon Bond and Isaac Traudt, redshirted.
The Class of 2023 adds two more four-stars, Blake Buchanan, a 6'9" forward from the Pacific Northwest that Bennett was able to steal out from under the nose of Gonzaga, and Elijah Gertrude, a 6'3" combo guard who is the top-rated recruit ever to sign with Virginia in the Bennett years.
Virginia will also get Dante Harris, a coveted point guard transfer from Georgetown, who will step in to fill the opening left by the departure of Kihei Clark.
Reece Beekman signaled today that he is coming back for his senior season. Armaan Franklin has said he would like to return, if Bennett wants him back.
Kadin Shedrick played the game of his life today. I assume he's back.
That's a helluva core of guys to build around.
And people want to Tony to get rid of somebody on his staff … for what?
Coaches do that kind of thing when everything is going wrong.
There will be a new banner hanging in the rafters at JPJ next year for the 2022-2023 regular-season championship.
A talented group of players who just put in nine months of hard work, day after day, dating back to their summer trip to Italy, and had their season end on a 27-foot three with 2.2 seconds to go, are ready to run a few more sprints, do a few more reps on the bench, shoot a few hundred more jumpers, until it feels just right.
This season didn't end the way anybody wearing orange and blue wanted it to.
Don't throw the baby out with the bathwater.