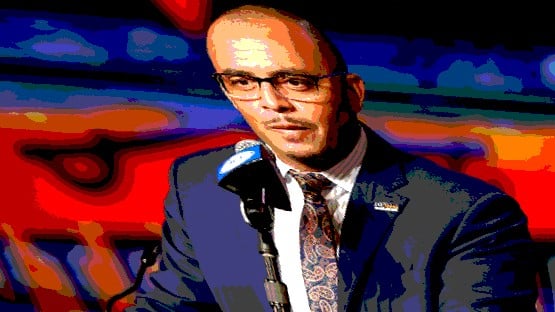 We've reached the point where UVA Football coach Tony Elliott is quoting Teddy Roosevelt's "man in the arena" speech to push back at critics.
It's not quite Al Groh and "The Guy in the Glass."
Not yet.
We may be getting there.
"At the end of the day, the credit goes to the man in the arena. Everybody is going to be a critic, right? What these guys, they would not be in the position they are if they didn't listen to the inside voice as opposed to the outside voice. So, nothing I can do other than try to model that. I don't listen to what anybody says. I'm not on Twitter. Not on social media. I'm trying to focus on what I can do better each day to be able to serve the people I'm around," Elliott told reporters at his weekly press conference on Tuesday.
Here we go.
Some important context: football is a business, which is why Elliott gets paid a lot of money – $4.25 million a year – to coach the football team at the University of Virginia.
The reason college football coaches are paid at that absurd level isn't because there's something inherently socially redeeming about football.
Football coaches don't lead labs searching for cures for cancer.
They're not bringing us together to combat structural racism, deepen our cultural understanding of universal truths.
Football is an entertainment business.
And like it or not, football coaches get judged on wins and losses.
Wins, go figure, are more entertaining than losses.
The more you win, the more people want to be a part of what you're doing.
The more you lose, the more those people think they know why, and chatter about it endlessly on social media.
Which gets us to "everybody is going to be a critic."
It's not just coaches with 3-11 win-loss records like Elliott who chafe about critics.
Nick Saban and Bill Belichick are two of the many who win a lot and still bristle at perceived slights.
They're all perceived slights, by the way.
Football being an entertainment business, the people being marketed to – to be the butts in seats at the stadium, to watch at home around the endless commercials for chicken, pizza and something to wash it all down with, to buy the gear, to write the donor checks – are going to weigh in.
You want their money, you've got to accept that they want to have a say.
It's part of the business.
In this context, it's a fact of life for Elliott and other coaches way, way overpaid to do the jobs they do – and they're all way, way overpaid – that they have to strategize how to keep the criticisms that are out there all over the place from impacting their guys.
Elliott's message to his guys: "Put it in perspective. Everything they've had to do to get to where they are should be encouraging that we're going in the right direction. Stay the course. Stay the course."
"One of the things I tell them is research shows most accidents happen within a mile of the destination. We can't lose sight now. Got to put two hands on the wheel and keep pushing," Elliott said. '''
I Googled him on that, and what I kept finding, over and over, is that research into car accidents shows that a bare majority of car accidents happen within five miles of home, and that the reason for that should make sense – most of your driving is going to be done within five miles of home.
A minor detail, that one.
I mean, was it over the Germans bombed Pearl Harbor?
Forget it. He's rolling.
"You challenge them from a competitive standpoint," Elliott went on. "The competitor wants to compete no matter what the situation. A big word for us has been competitive stamina, and competitive stamina is the ability to compete regardless of the circumstances.
"So, showing them the progress that's being made, right, putting in context what they have accomplished despite what the record says. I don't think anybody in that locker room believes we're an 0-4 football team, but our actions and the things that we did is a result of where we are."
Or, quoting Bill Parcells here: "You are what your record says you are."
"We believe that we can continue to improve. We believe we can compete. That's what it takes," Elliott said. "You're going to have situations that are always going to challenge you. Biggest thing is, simplify your life. Don't listen to the outside voices. Talk to yourself. Don't listen to yourself. So, really just challenging the young people to keep that inside-out mentality, and the results will come."
Because, you see, the issue here isn't the critics; it's the man in the arena.
Good talk.