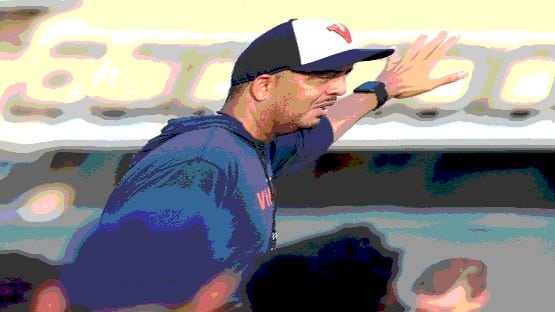 UVA football coach Tony Elliott was asked after practice on Monday about the Tennessee job that he turned down back in 2021, and Elliott talked at length about why he turned it down, with the reason boiling down to, just wasn't the right time.
Tennessee's AD, Danny White, doesn't seem to know what Elliott is talking about, as far as having been turned down.
"Interesting… don't remember offering," White tweeted last night, quote-tweeting a headline from a UT sports blog about Elliott's comments.
"Ignored this the first time, can't do it again," White said. "An interview doesn't constitute an offer. Interviewed several candidates, offered 1."
The first comment beneath the tweet from White: "The most polite 'get the fuck out of here' of all time."
Yeah, ouch, babe.
So, we'll have that storyline going for us going into next weekend's season opener in Nashville.
To be fair, Elliott would have had good reason, after getting a call and interview, to want to avoid UT, which was coming down from the Jeremy Pruitt era, a failure on the field – Pruitt was 16-19 in three seasons – and off – the NCAA forced the program to vacate the eight wins in 2019 and the three in 2020 due to myriad violations under his watch.
Elliott, when he interviewed for the job, was looked at as the next sure thing among Power 5 assistants yet to hold a head coaching job, based on his success at Clemson, where he was the play-caller on offense for two national championship teams.
"Tennessee is, in my opinion, one of the one of the blue bloods, you know, one of the top tier programs in the country. When I evaluated it, there were a lot of positive things about it. It just wasn't the right time for me, when it came down to it," Elliott said.
In addition to the looming NCAA sanctions, Tennessee's roster was a mess – more than 30 student-athletes entered the transfer portal after the dismissal of Pruitt following the 2020 season.
"You know, I prayed about it and said, I want, Lord, your spirit to lead me in the direction that you'd have me to go. It was close, but at the end of the day, when I looked at the totality of everything, it just wasn't the right time and the right fit for me," Elliott said.
White ultimately hired Josh Heupel away from Central Florida, where Heupel had gone 28-8 in three seasons, though just 6-4 in 2020.
Heupel got Tennessee to 7-6 at the end of 2021, and the Vols were a national-title contender in 2022, finishing 11-2.
"I'm happy for him, and I'm excited for him and what he's doing there," Elliott said of Heupel. "Obviously an extremely passionate fan base, has all the resources that you need to be a top tier program, so I'm excited about our matchup, you know, when we play them to kind of see where we are as a program.
"I think you have to play games like this to get a barometer to gauge, you know, where we're at," Elliott said. "It either tells us, OK, we're ahead of where we need to be, or, you know, we still got a good significant amount of work to do. I'm excited about the opportunity to play these guys."