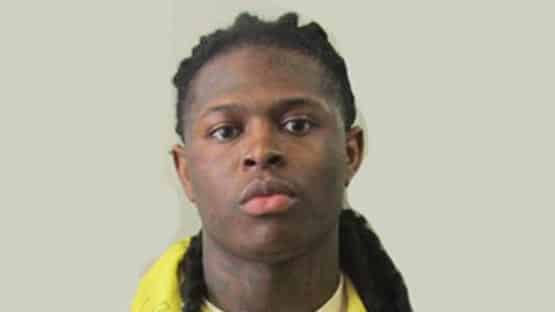 An additional reward of up to $10,000 has been announced for information that leads to the arrest of Naseem Isaiah Roulack, aka "Lil Nas," an inmate who escaped from a Virginia hospital in August and is also a suspect in a Sept. 1 automobile theft in Maryland.
The Montgomery County Department of Police in Maryland announced the reward today.
A $5,000 cash reward is also being offered by the U.S. Marshals Service.
Roulack, 21, escaped the supervision of two Virginia Department of Corrections security officers at Bon Secours St. Mary's Hospital in Henrico County on Aug. 12.
After his escape from the hospital, Roulack allegedly broke into a nearby residence and stole money, a credit card, and presumably clothes, from the home. His hospital gown was found on the floor at the home.
The Montgomery County Police Department announced yesterday that Roulack is also a suspect in a Sept. 1 armed theft of an automobile.
Roulack was serving a 13-year sentence for aggravated malicious wounding, grand larceny and hit-and-run.
Roulack is considered armed and dangerous. If you encounter Roulack, you are warned not to approach him.
Roulack is described as a Black male, 5'8" tall, 225 pounds with brown eyes. He has four identified tattoos, including one on his chest that reads "Marie," one on his left arm that reads "RIP Ish," one on his right cheek that reads "Cut Throat" and one on his right arm that reads "Faith Is Seeing Light With Your Heart When All Your Eyes See is Darkness."
Anyone with information on the whereabouts of Roulack is asked to visit the Crime Solvers of Montgomery County website at www.crimesolversmcmd.org and click on the P3tips link at the top of the page or call (866) 411-8477. The U.S. Marshals Service can be contacted at (877) WANTED2.
Related stories
VADOC: Escaped inmate armed and dangerous; top priority to get Roulack back into custody
Virginia inmate still on the run one month after escape from Richmond area hospital
Inmate escape aided by bumbling authorities, who dawdled on notifying nearby residents
Virginia prison inmate who walked out of hospital over weekend still at-large
Developing: Prison inmate escapes custody while being treated at Virginia hospital