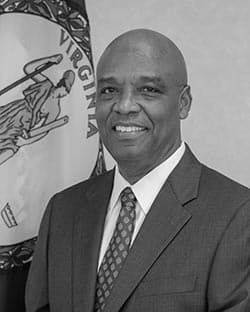 The Virginia Department of Corrections has a new director starting Friday.
Judge Chadwick Dotson, currently the chair of the Virginia Parole Board, was named the new director.
Before joining the parole board, Dotson served as Dean of Students and Distinguished Professor of Law at Appalachian School of Law. Dotson previously served as Chief Judge of the 30th Judicial Circuit.
Director Harold W. Clarke previously announced his retirement to Virginia Gov. Glenn Youngkin.
Clarke served more than 49 years in the field of correctional services.
Clarke was appointed VADOC Director in 2010 and previously served as the top corrections official in Nebraska, Washington and Massachusetts. His 13 years as VADOC director make his tenure the longest in the department's history.
"I am very proud of what we have accomplished together over the last 13 years at the VADOC, consistently operating safe, secure, and humane correctional facilities and providing effective probation and parole supervision through transformative offender programming," Clarke said. "Our efforts have culminated in Virginia having one of the lowest offender recidivism rates in the nation, ranking first or second for the last seven years."
Related stories
Female suspect caught attempting to supply Virginia inmate with drugs, cell phone
Department of Corrections investigating death of inmate at Virginia prison 
Department of Corrections discover drugs hidden 'inside' body of visitor to facility
Former corrections employee charged with sending drugs, contraband to inmate
Fans, extra ice in store for 5,000 plus inmates in Virginia without A/C this summer
'Unconscionable' solitary confinement practices in Virginia will see day in court
Authorities: Death investigation under way at Augusta Correctional Center
Virginia Department of Corrections seeks veterans for employment opportunities
Brunswick County: Privately-run prison is 'failed business transaction,' according to sheriff
Virginia Department of Corrections announces new notification tool for crime victims