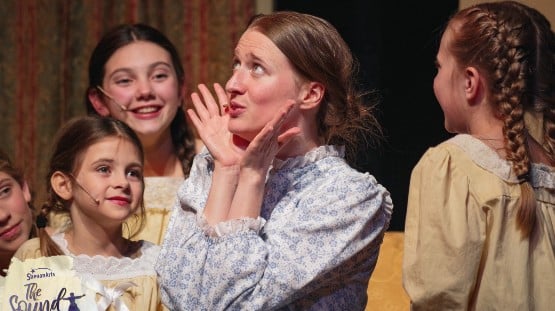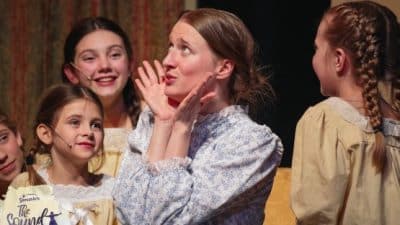 The story of the murder of 21-year-old gay University of Wyoming student Matthew Shepard was my introduction to local theater.
I saw a performance of "The Laramie Project" during my first year as a student at the University of Mary Washington.
The following year, I joined my college's newspaper and wrote previews of theater productions for two years. My first was about "To Gillian, On Her 37th Birthday."
I was hooked. Actors right there on stage in front of you, and the music! Musical theater is my favorite.
I confess I am a Renthead.
And interviewing actors, especially high school and college students, is the best. They are learning their craft and so excited to share the process with someone. I also appreciate their artsy side and how eccentric and unique are actors to interview for a story.
"Kindertransport," "Antigone," "Godspell" and "Love's Labour's Lost" are a few I enjoyed before I graduated college. But I have returned to see "Proof," "She Stoops to Conquer," "Our Town," "Romeo and Juliet," "Rent," "Into the Woods" and many more. In April, I hope to see "Pride and Prejudice." I cannot wait.
I mention all of these shows in the hopes of reminding you of your favorites. Which have you seen? Which have you not yet seen?
The Shenandoah Valley is full of opportunities to see local theater: ShenanArts in Staunton, Waynesboro High School, Augusta County's high schools, including Wilson Memorial and Stuarts Draft High schools, The Wayne Theatre in Waynesboro, the Waynesboro Players, the Crimora Players and The American Shakespeare Center in Staunton.
The Crimora Players donate proceeds from their shows to benefit a local child battling cancer.
Shenandoah Cabaret, a group of local actors, just officially formed after their inaugural performance of show tunes at Barren Ridge Vineyards in January, which raised nearly $13,000 for local high school students to participate in local summer theater opportunities.
Yesterday's performance of "The Sound of Music" at ShenanArts, which I wrote about last week, was sold out, and all of this next weekend's performances are sold out.
Since moving to the Valley in 2015, I've seen so many wonderful local theater productions: "The Newsies," "Footloose," "Grease," "Anastasia," "The Importance of Being Earnest," "A Christmas Story" and "Miracle on 34th Street."
Support local theater. Support local youth in theater.
Performing in local theater gives youth an opportunity to learn team-building skills, time management and social skills. The skills acquired while working on a theater production are transferrable to any job industry. Working on your high school's spring theater production is just as skills-building as joining the basketball or football team.
This past Saturday night, I was at Blue Ridge Community College for the Waynesboro Players' performance of "Crimes of the Heart," which I wrote about a couple weeks ago. Beth Henley's play has a special place in my heart, because I studied it in college and wrote a paper about it. I don't remember what my paper's thesis was, but during Saturday night's performance, I remembered the reason for the cat's death. That detail has always stayed with me, as well as the story of the three Magrath sisters, and not just because the youngest is named Rebecca (her family calls her "Babe").
Henley, one of four daughters herself, was born in Mississippi in 1952. "Crimes of the Heart" was her first professionally produced play, and it opened in the Actors Theatre of Louisville in 1978. In 1981, the play was awarded the Pulitzer Prize for Drama and the New York Drama Critics' Circle Award for Best American Play.
We have wonderful local organizations working hard to bring productions to life on the stage.
Local theater can make you laugh and have a good time, or cry and think about the challenges of life.
This Saturday night, I know where I'll be: sitting at ShenanArts enjoying "The Sound of Music," Thankfully, I reserved my ticket months ago.