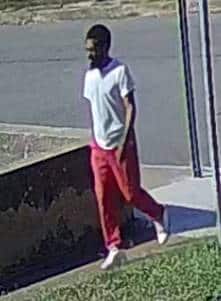 Richmond Police detectives are asking for the public's assistance in identifying a Black male who is a suspect in a double shooting that occurred earlier this month.
Detectives are investigating and have determined the male in the photos is a possible suspect in these shootings and are seeking information to identify him.
The shooting was on Sept. 6 at 9:55 a.m. on Whitcomb Street. Two adult males were found on the sidewalk who had suffered gunshot wounds. Both were transported to local hospitals for non-life-threatening injuries.
If you have information on the suspect, call Detective K. Hyde at (804) 646-3613 or Crime Stoppers at (804) 780-1000.