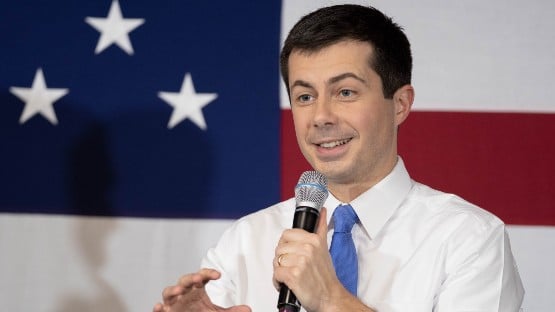 If you were wondering whether Transportation Secretary Pete Buttigieg is aware that Waynesboro Vice Mayor Jim Wood referred to him as "ol' Pete Buttplug" in a Facebook talk show last week, oh, yeah, he's aware.
His most recent post on Facebook is about Rush Limbaugh. I think we all know where he stands on homophobia.

— Chasten Buttigieg (@Chasten) February 22, 2023
That's Chasten Buttigieg, Pete Buttigieg's husband, tweeting there.
Wood has issued a half-hearted apology, which he put out after trying to claim that "Pete Buttplug" was "a play on his name only," and was not "absolutely NOT a reference to his sexual orientation."
This from a guy who made headlines back in November for making homophobic comments about the attack on Paul Pelosi, the husband of then-House Speaker Nancy Pelosi, on his Facebook talk show.
How this matters in the bigger scheme of things is that the "Pete Buttplug" slur came literally two days after Waynesboro City Council approved a resolution to request a federal grant from the U.S. Department of Transportation, headed up by Buttigieg, for a city transportation project.
Wood's name appears on the letter formally asking Buttigieg to approve a federal grant for a project to connect Waynesboro to the Claudius Crozet Blue Ridge Tunnel.
The heat on Wood for his slur of Buttigieg is also heat on Waynesboro.
The mayor, Lana Williams, is trying to do damage control, issuing a harsh rebuke of Wood, saying she "cannot condone Mr. Wood's comments in the podcast," adding that (a)lthough Mr. Wood was speaking as a private citizen, his comments have a negative impact on the City, its residents, and Council."
"Even if Mr. Wood did not mean for the comment to be interpreted as a slur, he should have at least recognized that others in the community would take his comment as a slur. Because it is a slur," Williams said.
Any hope that the slur wouldn't have an impact on the grant request is now, well …
The Buttigiegs are aware of what the city's vice mayor said.
Perhaps a phone call from Jim Wood to Pete Buttigieg to apologize personally is in order.
Related stories
Waynesboro mayor rebukes Jim Wood on 'Pete Buttplug' slur: 'No place in our City'
Waynesboro Vice Mayor Jim Wood offers half-hearted apology for 'Pete Buttplug' slur
UPDATE: Waynesboro vice mayor defends 'Pete Buttplug' slur of Pete Buttigieg
Letter: Shame on Jim Wood for his hateful comments on Pete Buttigieg
Waynesboro vice mayor hits Buttigieg with gay slur after asking for federal money
Waynesboro's vice mayor joked about the Pelosi hammer attack: How funny is it now?
Waynesboro: The vice mayor vote, the swastikas on the mural, are part of a pattern
Waynesboro elects Facebook talk show conspiracy theorist Jim Wood vice mayor
Waynesboro is good at doing nothing: Now we have somebody who will blame it all on the libs
Waynesboro: Don't vote in the MAGA guy who thinks it's funny to hit Democrats with a hammer
Video: Waynesboro Republican clowns have a laugh over the attack on Paul Pelosi
Waynesboro Republicans cast doubt, then joke about attack on Pelosi