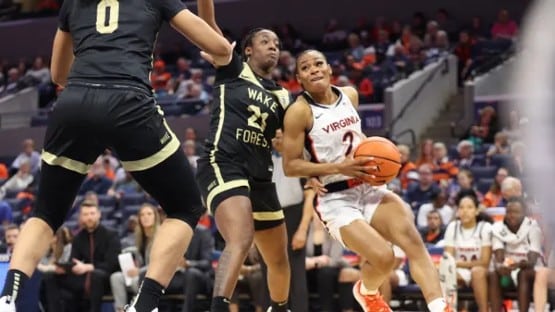 Off to its best start in decades, tough sledding lies ahead for the Virginia women's basketball team, which is about to find out if it can hang with some of the country's best.
The Cavaliers (13-1, 2-1 ACC) will face four ranked conference opponents — one of them twice — in the month of January, after not going up against any up to this point this season.
On the immediate horizon is a daunting three-game stretch between tonight and next Thursday night, as UVA travels to face No. 9 Virginia Tech this evening at 7 p.m., then plays at 10th-ranked NC State on Sunday at 3 before hosting No. 22 North Carolina next Thursday at 7 (all three of those games will be broadcast on ACCNX).
In a few weeks, the Wahoos will hit the road again to take on No. 4 Notre Dame in South Bend on Jan. 22, then close out the month with a rematch against the Hokies in Charlottesville a week later on the 29th.
Virginia first-year coach Amaka Agugua-Hamilton knows that her team has come a long way in a short amount of time, but she is also aware that not many of the teams her team has faced this season are quite on the level of the next three on the schedule.
"It's an opportunity. Respect all, fear none; we talk about that," Coach Mox said after the win over Georgia Tech last week in regards to the three-game stretch. "So we're gonna respect those teams and we're gonna respect them by being prepared and giving our best effort, but it's an opportunity to prove ourselves and we don't take that for granted.
"So I'm excited about it, our players are excited about it, but first we've got to recover. You know, celebrate [the win over the Yellow Jackets]. Obviously, every win means something. This is one of the best conferences in the country, so we don't take wins for granted, but at the same time, we've got to recover our minds and bodies — it's been a grind — and then get ready for that next week."
All three upcoming opponents have been ranked all season, and ironically, all three are coming off of a recent loss, but they will all present unique challenges for the Hoos.
"We definitely do have more to prove, and these three games are the perfect time to do it," senior guard Carole Miller said, "and if we stay together and do what we're supposed to do over break, I think we'll come out 3-0 in this little stretch that we have next."
The Hokies have lost two of their last four games after starting the season 10-0. Tech's Elizabeth Kitley, the reigning ACC Player of the Year, is one of the top players in the nation, averaging 18.3 points, a conference-best 10.9 rebounds and 2.1 blocks per game.
Kitley, a 6-foot-6 senior, has plenty of help around her as well, with junior point guard Georgia Amoore contributing 13.4 points and a team-high 5.8 assists per game. Three other senior teammates — Kayana Traylor (11.4 ppg), Taylor Soule (10.9 ppg) and Ashley Owusu (10.4 ppg) — are also putting up double figures.
Agugua-Hamilton is excited about the opportunity to throw on the gloves, go toe to toe with some true heavyweights, and see what her team is capable of. She's only worried about the rivals from Blacksburg until the clock hits triple zeroes this evening, and then it's onto the next one.
"We want to be the best team in the state," Coach Mox said last week. "So there's a lot that goes into that, but we're not going to get too high on it, it's the next game. It's the most important game on our schedule because it's the next game. We prepare the same way — I say that all the time — for every team, so no, I haven't even looked at [the Hokies] yet. I've watched some of their games just on ACC Network and things like that, but I haven't started scouting them because Georgia Tech was the most important game to me."
Looking ahead to the weekend matchup, the Wolfpack are led by junior guard Diamond Johnson (13.9 ppg, 4.7 rpg, 3.9 apg) and senior forward Jakia Brown-Turner (10.4 ppg, 4.0 rpg). State was a perfect 5-0 in December until Duke pulled a 72-58 upset last Thursday in Raleigh.
The Tar Heels, meanwhile, have dropped three in a row after a 9-1 start. They have four players listed among the top 20 scorers in the conference — Deja Kelly (16.3 ppg), Alyssa Ustby (14.0), Kennedy Todd-Williams (13.8) and Eva Hodgson (12.5).
Of the 14 UVA opponents so far this season, the highest NET ranking among them (through Tuesday's games) is No. 8 Duke, which is the only team that handed the Hoos a loss. Aside from the 19th-ranked Blue Devils, of the 13 teams Virginia defeated, the next-highest would be Penn State, which checks in at No. 59 in the NET. The average ranking of the 14 Cavalier foes is 173.
Conversely, Virginia Tech is No. 15, NC State is No. 10, UNC is No. 25 and Notre Dame is No. 7. That's an average of around 14, so just on paper alone, that should give an indication of the step up in competition over the next few weeks.
A couple of wins against those upper-echelon opponents would obviously go a very long way in terms of postseason hopes, but even just hanging around, being competitive for 40 minutes and having a chance to win at the end would also be a major step forward for the program.