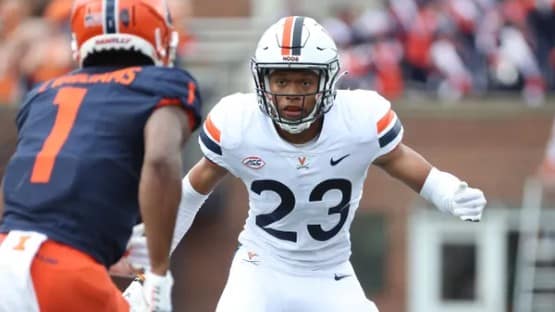 Virginia cornerbacks Fentrell Cypress and Anthony Johnson were among the best corners in the country last year, but both are gone – Cypress to Florida State, Johnson to the NFL Draft.
Head coach Tony Elliott prioritized the secondary in the offseason, landing Iowa State cornerback Tayvonn Kyle and North Carolina safety Cam'Ron Kelly off the transfer portal.
And he's thinking that he's not done in the talent acquisition game heading into the fall.
"I think in this next (transfer) window, we probably need to go in and see if we can we find an available corner, to give us some depth, because you lost your top two guys with all your production," Elliott told reporters on a weekend Zoom call.
Cypress (661 snaps, 35 tackles, nine pass breakups, 58.2 NFL passer rating against, 87.8 Pro Football Focus grade) and Johnson (734 snaps, 58 tackles, two INTs, 9 pass breakups, 53.3 NFL passer rating against, 82.5 PFF grade) were maybe the best corner duo in the ACC a year ago.
"In terms of what they were able to do, it's just, it's all kudos to them. They bought in, they learned," secondary coach Curome Cox said.
The focus in spring practice isn't so much on trying to replace Cypress and Johnson, as it is trying to get a feel for what the staff has to work with, and then get those guys ready.
"That's where the confidence comes from, is preparation, just being students in the game," Cox said. "I feel that every day, we're just trying, that's our focus, win the day, be positive and just focus on that part. So, what we're trying to do is build those guys with confidence."
Kyle, a former three-star prep recruit from Valdosta, Ga., was on the field for Iowa State on 372 snaps in '22, according to Pro Football Focus. On 206 coverage snaps, he allowed 17 receptions on 28 targets for 159 yards and four touchdowns, with three pass breakups.
Opposing QBs had a 115.9 NFL passer rating on their targets against Kyle in 2022, according to PFF.
Kyle was an honorable-mention All-Big 12 guy in 2019 and 2020, the latter of which was his best year statistically. In the 2020 season, Kyle, on 255 coverage snaps, allowed 23 receptions on 45 targets for 230 yards and one touchdown, with one INT and six pass breakups, and a 64.1 NFL passer rating against.
Kelly, a physical 6'2", 210-pounder who played safety at UNC, just finished his fourth season at rival North Carolina, getting on the field for 785 snaps, recording 58 tackles, showing versatility as a run-stopper who can also cover the slot.
In four seasons at Carolina, Kelly played on 1,867 snaps, had five INTs – four in 2021, when he was a third-team All-ACC pick – and was in 191 tackles.
"We were fortunate to get two guys in Cam and Tayvonn just with experience, you know, great knowledge," Cox said. "I mean, Tayvonn was asking questions that make you sometimes be like, OK, hold on, he was asking level questions that was just showing the maturity he had, and understanding, the passion. Cam, big personality, that's what drew us. And they wanted to be here with us.
"You know, that was what we're trying to do, move forward. Get guys that want to be here. UVA is unique, and it's special to wear the V sabres, so we've got guys that wanted that part, and that's what drew us to them most. Now it's working out, and hopefully at the end of the day, we'll see how it ends up. But I think it'll be positive, because we got two great kids."
The approach to secondary play in defensive coordinator John Rudzinski's 3-4 stack requires defensive backs to be able to do a little bit of everything in terms of coverages and providing run support, so even though Kelly's college experience is at safety, he'll likely get snaps at safety and corner in Rudzinski's system.
"We play with five defensive backs, we focus on just being defensive backs," Cox said. "I mean by that, we move guys around. That's the way we recruit guys. So, we have some guys stepping into new roles trying to help us as much as we can, and we're really just trying to teach them all the techniques in wherever position they are. So, you know, corners are safeties, at times, based on the rotation or the defensive calls."
Coen King, a rising sixth-year senior who graded out at 72.8 by PFF on 348 snaps at safety in 2022, is getting more reps at corner in the spring, which is something that he said will help show the NFL scouts that he can be a "versatile player."
"You know, last year, I started at two of the three safety positions, and then the year before, I started at the third that I didn't start last year. So, if I can get on the field at corner and say I played every single position, I think that'd be, it's pretty exciting for me," said King, who thinks the Virginia defense, which improved dramatically in 2022, allowing 357.6 yards per game, down sharply from the 466.0 yards per game the UVA D allowed in 2021, still has room for improvement.
"Just how we were able to grow from '21 to '22, I think the confidence going into the '23 is even more," King said. "So, I do think we did come with a little bit of confidence, just from like you said, from a big-picture standpoint of where we were to where we're trying to be."
Rudzinski is instilling that thought in his defense this spring.
"The other day, Coach Rud read out our stats in the ACC, and he's like, I'm not satisfied with being average, we didn't come here to be average, and if you want to be at play average football, go ahead and go to the other side of the ball," said rising junior safety Lex Long, who graded out at 61.5 by PFF on 381 snaps in 2022, and is confident that the Virginia secondary will be better in 2023.
"We have a lot of great athletes that can do a lot of different things, so, you know, we're not afraid to move people around and see what they can do in multiple different facets of the game," Long said. "I don't think we're worried about that, and then we're also, I think, we might be getting some freshmen in. But at the end of the day, I know our back end is very talented, and we're going to get the job done, regardless of the experience."