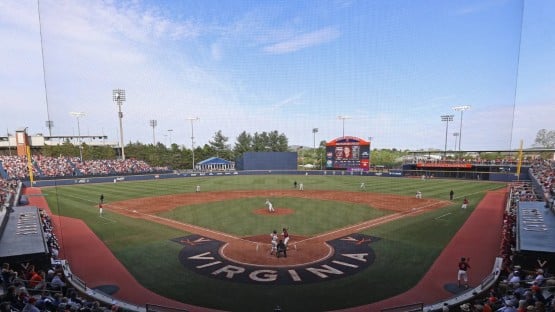 Good news on the UVA baseball coverage front: Scott German will be representing Augusta Free Press on press row at The Dish this weekend when the 'Hoos hook up with Duke in the Super Regionals.
Yeah, I know, big whoop in the grand scheme of all the real problems in the world, right?
Virginia's SID, Jim Daves, called last night to let me know that the move last weekend that kept us out of the park for the regional round wasn't related to any issues on the part of Virginia Athletics with our coverage.
It was because we (supposedly) hadn't covered the baseball team at all this season.
Thing is, we've been covering UVA baseball all season – home and away, game stories, columns, analytical pieces, the rest.
But because we hadn't officially requested a seat in the press box until the regionals, or made it in person to any of Coach O'Connor's weekly media availabilities, our coverage didn't register with the media-relations folks.
They really ought to read us more.
We write some good stuff, most days.
Anyway, that part of the misunderstanding is now cleared up.
The second misunderstanding, on my part, was my impression that there was more to the story because Jim had let us know that we weren't getting a seat last weekend in the same email that he brought up the issue with a column on Tony Muskett that I wrote last month.
Actually, it seems that was more a function of Jim being a busy guy running a sprawling media-relations department, and trying to kill two birds with one stone, than anything else.
Which I can totally understand. I literally work 365 days a year running AFP, so I know busy, and trying to kill as many birds with the same rock as I can.
Jim and I, busy as we both are, talked for a good 45 minutes last night, and at the end of the day, I think we're, if not on the same page, at least in the same library.
Moving forward, then, it's on to Super Regional weekend, with Scott in the press box, and in the media room postgame, there to ask questions about the pitching staff, late-inning bunts and whatever else may come up in the course of nine (or more) innings.