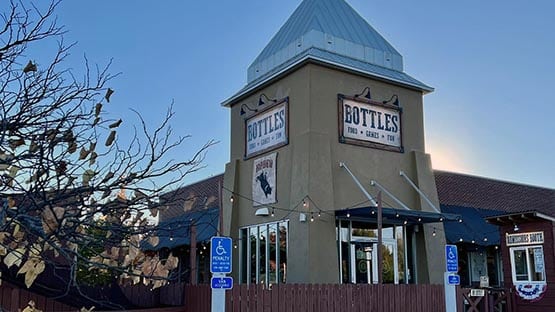 Bottles in Waynesboro is marking three years June 15-18 – a four-day celebration years in the making.
John and Kate Hayes are the duo behind the successful venue which opened during the COVID-19 pandemic. Thirty six months after opening their doors, they are holding an official ribbon cutting with the Greater Regional Chamber of Commerce on Friday, June 16, at 5 p.m.
Why the wait, you might ask.
John Hayes, who handles business operations for the restaurant and game venue, said "it feels like the right time to celebrate."
Bottles was originally opened with John's father, Brett, as the majority owner of the restaurant. But his son soon got the itch to take over operations of Bottles.
"One year into operations, we struck a deal for Kate and I to purchase Bottles outright," John said.
Quite an accomplishment for the now 28-year-old.
His father continues to be a huge supporter of his son and daughter-in-law's work, John said. Brett is the owner of Zeus Theaters, located across the parking lot from Bottles on Osage Lane, and a regular at Bottles, hosting trivia nights, chilling at a fire pit and chatting with guests. Kate serves as General Manager of Bottles.
The concept for Bottles was hatched in the early stages of the pandemic in 2020, John said. His father ran a Moe's franchise out of the location which proved to be a less than ideal setup during COVID.
"To open a venue while thousands of others were closing down was quite a risk," John said. "On top of that, we had to very quickly adapt to constantly changing public safety guidelines all while working through the normal growing pains of launching a brand new concept. Ultimately, the experience proved that Bottles is a permanent fixture of Waynesboro and our team can overcome any challenge."
Bottles has seemed to fill a niche in Waynesboro that keeps the venue busy with different times appealing to the different demographics of the Shenandoah Valley as well as guests visiting the region and looking for a local hot spot.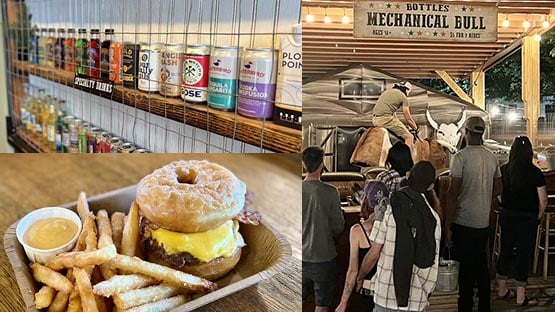 A Sunday afternoon, for example, is likely to have Bottles bursting at the seams with families there for good food, video and outdoor games (not to mention free admission for guests age 17 and under).
A Friday night might have families chilling at a fire pit for an early dinner and hoops challenge between a couple of buddies or father and son.
And after 9 on Friday and Saturday nights, Bottles shifts to more of a night club – "perfect for a date night or for returning college students to have a safe place to enjoy."
Every Friday night, Bottles has a dance party with DJ Groovematic, with special theme nights like a tiki party or traffic light party.
Another highlight for all ages is the mechanical bull.
"One of our most popular annual events is Pussypalooza which takes place every September where we hand out cat ears and raise money for local animal shelters," John said. "Everything comes back to the idea of having a great time and being creative and even a bit edgy with it."
From the outside looking in, Bottles seems to always be a work in progress, with the Hayes' adding new murals, upgrading equipment and adding on to the extensive decking or game options at the venue. Most of the work, John said, is done after hours or on off days by John and Kate, and "plans are in the works for further improvements."
"Bottles has so many unique aspects that make us a destination venue," John said. "It's a place to socialize with friends and meet new people. It's a place to play games, dance, sing, eat, drink and chill."
Guests are able to move around the space, inside and out, creating a relaxed social atmosphere for meeting new people or connecting with old friends. With an admission fee, all games and activities are predominately free once you are through the doors including indoor and outdoor on-demand karaoke.
"That means you can play games like Big Buck Hunter with your friend all night long if you want without breaking the bank," John said.
The menu offers a bar food vibe with items like loaded nachos and the donut bacon burger.
The highlight, of course, is the wide selection of bottles and cans of beer available, all served in buckets of ice.
"All of this is wrapped in an Americana style atmosphere that plays well with the idea of freedom and independence," John said.
One of the challenges for John and Kate is to educate the public about "what exactly we are" for people who may not be "in the know" about the venue. But, John said, private events including birthday parties and corporate retreats have brought people of all ages to Bottles to experience the entirety of the venue.
"We are so proud of what we have created," John said. "So much hard work, sweat and tears have gone into this project and to see folks enjoying themselves week in and week out is incredible."
For more information, visit facebook.com/bottleswaynesboro or bottlesandgames.com