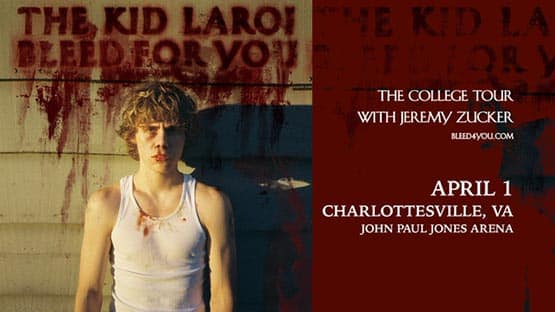 Shortly after wrapping up his first sold out headlining End of the World Tour late last year, GRAMMY® Award-nominated multi-platinum recording artist The Kid LAROI is back on the road with the 2023 Bleed For You Tour.
The tour will take the Australia-born The Kid LAROI to college campuses including John Paul Jones Arena at the University of Virginia in Charlottesville on April 1 at 8 p.m. – and to Coachella in California April 15-22.
The Kid LAROI will perform newly released songs from the upcoming project The First Time, as well as hits from the R.I.A.A. certified platinum and No.1 project, F*CK LOVE.
After just one #1 major label debut, a couple platinum records, and millions of streams across platforms, the rapper, born Charlton, is proving that for an incoming generation filled with promising talent, yesterday's borders aren't today's barriers, and anyone can make it in America as a musician.
Born and raised in Sydney, LAROI was raised by his mother and his uncle in a gritty environment. When they weren't at The Fact Tree, a local youth center where they played video games and pool, LAROI and his friends were on the streets.
LAROI grew up consuming one of America's most adored exports, listening to hip-hop and R&B icons like Tupac, Erykah Badu, The Fugees, Lil Wayne and Kanye West.
LAROI started out writing raps as a kid, filling notebooks with rhymes and finessing his skill as a lyricist. But it wasn't until he started uploading freestyle videos online that he began to find an audience for his stories and record his work.
Not unusual for a 19-year-old, LAROI's lyrics can be unrefined and audacious. The 2020 song "Without You" demonstrates LAROI's penchant for raw, at times crude, love stories.
"I love everything I make. I take music super seriously, and I look at it as art," said LAROI.
Tickets to the show at JPJ are on sale now.
Related stories
Reba McEntire brings live concert to John Paul Jones Arena in March
Carrie Underwood set to return to John Paul Jones Arena in 2023
Country music artist Thomas Rhett to perform at JPJ in September 2023
Luke Bryan to return to JPJ in Charlottesville with 'Country On' tour