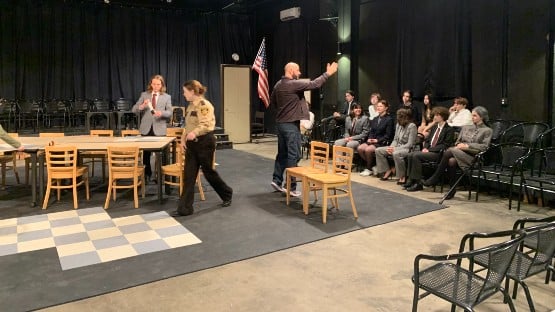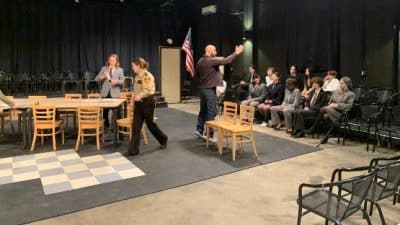 When Jeremy West was considering the next theatre production for students with Silver Line Theatre Exchange, he knew that local high schools would be planning musicals this time of year.
"I specifically chose a nonmusical for that reason," West said.
West, Founding Artistic Director of Silver Line in Staunton, chose "12 Angry Jurors," the story of jurors who must decide the fate of a teenager. At first, 11 of 12 agree the teenager is guilty. As deliberations continue, more and more jurors come to consider the reasonable doubt of his guilt.
"I think it's incredibly relevant today," West said of the need to communicate, not react to bias and to examine each situation carefully.
He said he spoke with the 14 cast members, who represent high schools and homeschool students across the Valley, about the concept of innocence versus not guilty, and the shadow reasonable doubt casts on guilt. The theatre production shows the teenage actors the importance of having a conversation.
"And, that's what the play is all about," West said.
West has taught stage combat and fight choreography for 20 years. In addition to his role with Silver Line, he is an adjunct professor at Bridgewater College and teaches stage combat at UVA. He and his wife have lived in Staunton for 15 years.
He said "12 Angry Jurors" is an important show for his young actors but also teaches them about the judicial system in the United States.
This show will also be a challenge because the performance style will be in the round, in a black box.
"That makes the audience feel like they're part of the journey, they're in the room with the actors," West said. The smaller space of a black box theater creates a sense of intimacy between the actors and the audience. The actors will have the audience on all four sides of them and be able to see the faces of audience members.
"I think it's a good experience for them to build that confidence of you know where the audience is," West said.
The actors will also not only hear the audience when they laugh, but see on their faces whether they are enjoying the show. Performing in a black box is compatible with Silver Line's purpose to be an educational theater company.
"I hope that they watch the show and see how it resonates with what's going on in our world today," West said of the audience's response to the show.
He hopes the audience also realizes the show contains no music or actions or grand spectacle.
"There's nothing for the students to hide behind. It's a conversation," West said.
The show is teenagers having a very adult conversation about a murder trial. West said that in teaching teenagers for so many years he has learned not to underestimate them. He knows to believe that they are capable of bringing this show successfully to the stage.
"They're all coming together to create this and now they're creating bonds and friendships," West said.
Charlotte Hadfield, 17, is a homeschool student in Staunton who will graduate this year. She began performing in church plays when she was a child and joined community theater at age 8. This weekend she will portray juror no. 4.
"This is probably one of the hardest shows I've done, because it is so heavy on dialogue," Charlotte said. "There's no where to hide. You have to be ready."
She last performed in "Puffs" in the Queen City Mischief & Magic weekend. "12 Angry Jurors" is a challenge for Charlotte because she usually performs in musicals and comedies. But, she said, West has been helpful in teaching her and her castmates ways to memorize lines and prepare.
Juror no. 4 stands out from the others, according to Charlotte, because she is a mediator.
"She's understanding but she is very fact based," Charlotte said.
Her character diffuses angry conflicts and calms loud voices among the jurors. She wants to avoid drama.
"It is a drama so we definitely want plenty of that," Charlotte said.
Charlotte said she always knows to expect a show with West will be a challenge.
"It will help me grow as an actor," she said.
"12 Angry Jurors" is set in a different time in America, when women stayed home and men worked.
"It really speaks to us as a society now, and how different we are now."
The show is also thought provoking and forces audience members to look inward. Charlotte said each audience member will see themselves in one of the jurors.
"12 Angry Jurors" will be performed at the Warehouse, 211 N. Lewis Street, Staunton at 7:30 p.m. today and tomorrow, Feb. 4, and 4 p.m. on Sunday, Feb. 5.
Tickets are available online.