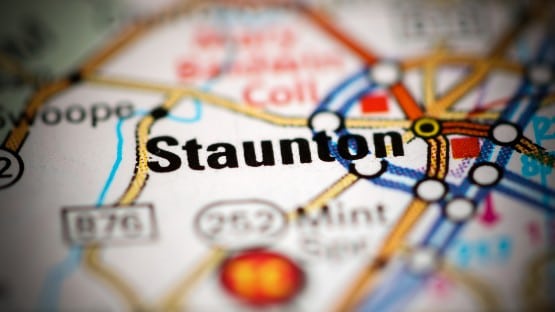 Staunton City Council on Thursday approved the purchase of the former Big Lots shopping center on West Beverley Street on the city's West End, which the city intends to be the new home for the Staunton Juvenile & Domestic Relations Court.
The move preserves the Hardy Lot downtown that had been the planned home for the court facility.
The Hardy Lot location had met with intense public backlash given the space's proximity to the Woodrow Wilson Presidential Library, the American Shakespeare Center and businesses on the eastern side of the downtown district.
Losing the lot would have created a big hole in terms of parking spaces on the eastern side of Downtown Staunton, critics of the Hardy Lot court plan noted.
The new site in the Chestnut Hills Shopping Center on West Beverley Street offers ample parking, potential for improved security and accessibility, and the city staff thinks it can be operational by the fall of 2025.
"We are excited about moving forward with the Chestnut Hills site as our location for the new Juvenile & Domestic Relations District Court facility, and we thank the public for the feedback that factored heavily into our decision-making process," Mayor Stephen W. Claffey said.  "This site is in alignment with City Council's Strategic Plan and invests the City's capital dollars into a project that will create a functional and accessible court facility and provide both short- and long-term returns in the West End."
"The location makes an outstanding site for the court; the size of the parcel and the existing structures on this site will offer opportunities for added uses and services to the community," City Manager Leslie Beauregard said.  "In addition, this public investment will help existing businesses and encourage new business development along the West Beverley corridor."