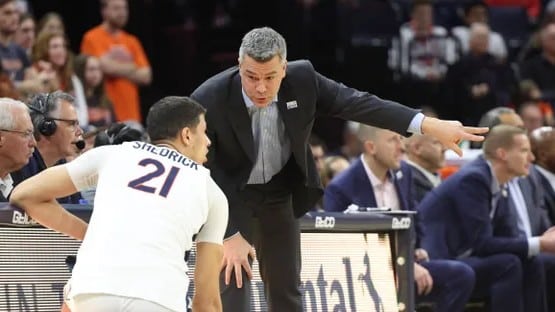 Kadin Shedrick is headed to Texas from the transfer portal, and he's sticking the knife in the back of his former coach on his way out the door.
"I'm looking forward to play in a free offense while still playing defense at a high level. I feel like I can show more of what I can do on both ends of the floor at Texas," Shedrick told On3.
Reality check: Shedrick is a 6'11" guy without a post-up or mid-range game who, yes, can finish at the rim on lane cuts and pocket passes, but that's it, as far as his offensive game goes.
Basically, he's a motor guy.
Nothing wrong with a guy being a motor guy, but Texas will find out he's good at setting screens, occasionally scoring off the roll, and being in early foul trouble.
The high level D he promised Texas fans is even a bit suspect.
His shot-block numbers – 3.3 blocks per 40 minutes at Virginia in 2022-2023 – suggest elite rim-protector, but SynergySports data tell another story.
Opponents shot 50.0 percent against Shedrick on shots at the rim, ranking 61st among 98 ACC players who faced 20 or more attempts at the rim from opponents last season, and ranking in the bottom third nationally, per SynergySports.
For context, Ben Vander Plas, the 6'8" stretch five who replaced Shedrick in the starting lineup at UVA in mid-January, held opponents to 41.9 percent shooting at the rim in 2022-2023, according to SynergySports, despite averaging just 0.6 blocked shots per 40 minutes.
Shedrick has also shown himself to be particularly foul-prone, averaging 5.6 fouls per 40 minutes over his three-year Virginia career, 5.8 fouls/40 minutes last season.
He fouled out of three games last season – Virginia's November wins over Baylor and Michigan, and the ACC Tournament semifinal win over Clemson – and had four fouls six other times.
Foul trouble was the reason he was limited to 21.4 minutes per game in his starts in 2022-2023.
When he's on the floor, he'll get a couple of weak-side blocks, but otherwise be overpowered in the post, finish at the rim, but not do much else on the offensive end, and step off the bus with two fouls, because the refs seem to err on the side of blowing the whistle and pointing his way whenever there's contact.
All of that, by the way, was Tony Bennett's fault.